Student Spotlight
Elisa Castaneda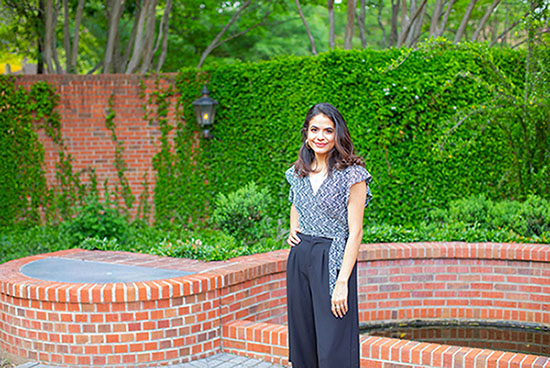 Elisa Castaneda is a fourth-year architecture student and the 2022 recipient of the Aydelott Travel Award. Castaneda is from Madison, Alabama, and she received an honorable mention in the fall 2022 Line Scale Form design competition. 
Read more about Elisa's original travel proposal.
Why did you decide to apply for the award? 
I had seen this award on the architecture school's website back when I was a first-year student and knew it was an opportunity I couldn't pass up. As my academic career developed, it only became more and more apparent that I was interested in research and developing my own. The Aydelott became the perfect opportunity for me to explore my ideas and hear a dialogue I felt I was missing in architecture school.
What was your biggest high during your travels? 
It's hard to decide when was my biggest high; so many amazing things happened, and I met so many amazing people. But, if I had to pick, then it would be the time I spent within the walls of the Hagia Sophia in Istanbul, Turkey. I cannot describe the feeling; I wasn't expecting to feel so moved, but the history and immense architectural accomplishment and beauty of the place left me speechless. 
Would you recommend this experience to your peers? 
Oh, absolutely! It would be a mistake if students at MSU didn't apply for the chance to travel and research this way. It is true a once in a lifetime experience. I mean, when will I ever again be able to say that I circumnavigated the globe in the matter of two months? And it was paid for, at that. It gave me the chance to explore architecture in a way that was unique to me and my interests; I was able to go to all the continents (minus Antarctica). I literally started at one end of the world and came back around the other. How could you pass that up? I cannot stress enough how much I think the students should apply for this award.
How will this experience help you in the future? 
I actually think this opportunity has opened a lot of potential doors for me. It has me thinking about applying for a Fulbright Scholarship, where I could potentially do my own independent research abroad for a year. And because I already have some international research experience under my belt, I may actually have a shot. The research I conducted also has me interested in international development programs, and I am looking into scholarship opportunities for grad school in this field as a part of my five year plan. The work I did and experiences I had only further affirmed my goals for the future. My ten year plan is to either work for the United Nations Development Program or the State Department.
Did anything surprise you about these locations/buildings from what you had expected? 
Actually, yes. I knew before hand that one of my sites was being deconstructed, but what I did not know was at what point in the process they were with that. So when we looked for the site, I came to discover that it was in fact completely gone. It worked out for that particular building because there were multiple projects within the city that were a part of the same program, but I was still surprised by it.
Were you nervous about traveling so far away? 
I wouldn't say nervous, it was more so excitement. There is only so much you can do to feel prepared and then you just have to go for it, and I was looking forward to it more than anything.
Have you done a lot of traveling in the past and what is the farthest you had gone before this trip? 
Every few years my family would save up enough to take us on a trip. Typically, it was either to a national park here in the States or a cruise/resort space. I had traveled once before with my mom to Spain, and the reason that worked out was because she is a high school teacher, so she was able to work with a travel company to take a whole group of high school students with her. Spain remains my most favorite place on this Earth.
Tell me about your timeline – when you went and how long you stayed in each spot:
I tried my best to see as much as I could. A few things worked out in my itinerary that were influenced by pre-existing circumstances, as well as what was most efficient budget-wise. My first part of the trip was to Colombia, and that was the only portion of the trip that I went to the country and immediately returned to the States. I spent about ten days in Colombia, two and a half days in Cartagena (as an excursion) and eight days in Medellin. I tried to spend at least a week at each site. Then two days after that, I turned around and left with my mom for Spain because she is a high school teacher and was taking a group of students to Spain and Portugal for 11 days through a travel company. It worked out to where their return flight itinerary had a layover in Amsterdam, which is close to Copenhagen. So when they went back home, I stayed behind and ended up having a few days in Amsterdam as well before departing for Copenhagen. I spent eight days in Copenhagen, then took two excursions before traveling all the way to South Africa. The way the pricing of airfare worked out was that it made more financial sense to bunny-hop in between sights, rather than take 23+ hour flights across continents. So I went from Copenhagen to Paris, spent five days there, then landed in Istanbul, Turkey, and spent three days there. I wish I had more time in Turkey. From Turkey we caught our flight to Johannesburg, South Africa, where we had a layover in Cairo, Egypt. I had seven days in South Africa, where I went to Pretoria, Kliptown and Sowetto just outside of Johannesburg as well. Then I finally made it to New Zealand. It was a two-day flight, with layovers in Dubai and Melbourne. I spent seven days in Christchurch, and then finally returned home to Huntsville. I quite literally started at one end of the globe and came back around the other and it was an exhaustive but amazing journey. 
See photos from Elisa's travels! 
An exhibition of Elisa's photos is on display in the Charlotte and Richard McNeel Gallery in Giles Hall through February 2023 and can be viewed during regular business hours.