Student Spotlight
Savannah E. Wilson
Savannah E. Wilson, a fourth-year architecture student from Picayune, Mississippi, is in Associate Professor Alexis Gregory's fall 2021 Herrington Topical Studio.
This student-led studio is examining the challenge of designing memorials.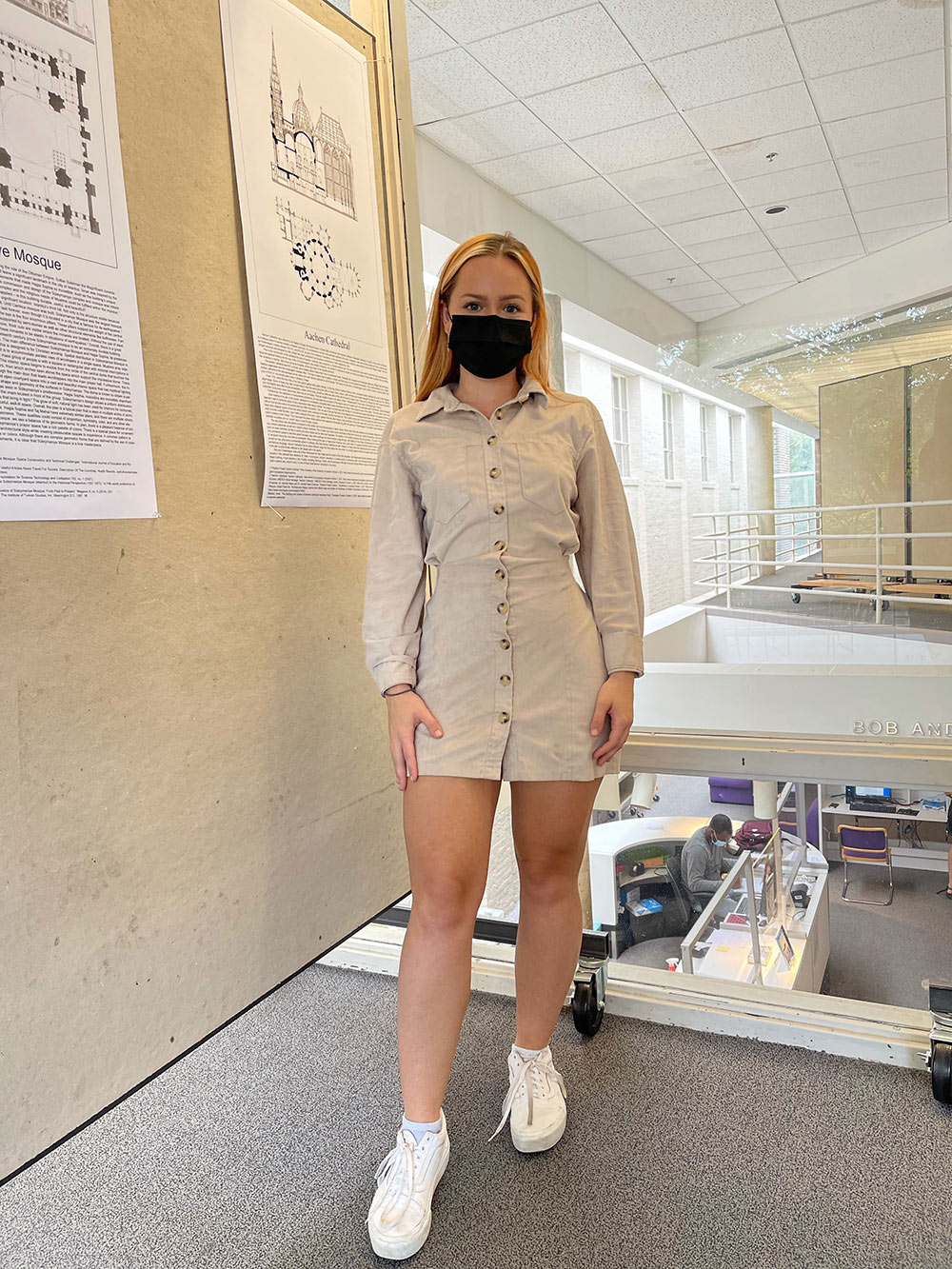 Wilson said the goal of the ethics and empathy studio is to teach students to empathize with others whose everyday experiences may completely differ from ours.
"Learning this has taught us to take the time to understand other people, so we can design for them in an accurate and respectful way," she said. "Rather than just designing something that is pretty or expensive, we can make a difference with the things we do."
After a few weeks of researching a chosen topic, students got to work designing their memorials.
"We took something that happened in history and are trying to pay our respects to in an architectural way," said Wilson. 
She chose the 1969 Stone Wall Riots, an event which is regarded as the catalyst of the modern LGBTQ movement for civil rights in the United States.
In her research Wilson discovered that most of the participants were transgender women of color.
"They never got recognized," said Wilson, which is why she dedicated part of her memorial specifically to them.
Wilson emphasized that architecture can be used to reinforce an idea.
Her design includes six buildings, all circles that each represent a different color on the pride flag.
"The circles reflect that progress is not linear, and progress doesn't stop," she said.  
She designed the buildings as a place for healing, and they contain a community center, museum and mental help therapy center to aid in the healing process.
Some of the other chosen topics in the studio include memorials for Japanese internment camps, slave cemeteries and sexual assault.
Read about other projects and see some work from the studio.
---
Q&A with Savannah Wilson
Where do you see yourself in 10 years?
In ten years, I hope to have started my own residential architecture firm in New York City and to become an inspiration for other young women to chase their dreams, too, no matter how big. I would love to somehow pour into the young women in this field long after I graduate, whether that's by creating a scholarship, making visits annually, etc.  
What is your favorite tradition at MSU?
My favorite tradition at MSU is the Harrison Lectures. Throughout my time here it has been so inspirational to see different people from all places come and share their work with us. It has been a great way to see what options are out there, ask questions, make connections, and discover interests I did not even know I had.
What has been your favorite thing about your program at MSU?
My favorite thing about my program is the people. I believe that many of those I have met have helped me to grow not only in terms of my degree in architecture, but also as a person, and I am very grateful for that.
What advice would you give to an upcoming senior at Mississippi State?
The absolute best piece of advice I could give is to not be afraid of life after graduation. Follow your dreams, go after your goals, and do not let anything stop you. Starting the next chapter can seem scary, but you can't let that fear keep you from creating the future you want. Trust that your time here at MSU prepared you for success.
What are your plans for after graduation?
After graduation I plan to move to the city (hopefully New York City) and begin my career in residential architecture. Other than that, my biggest goal is to stay connected with the Young Women in Architecture organization that I have founded, and to be as supportive of that as I can in any way they need.
Christie McNeal | November 2021