Student Spotlight
Alysia E. Williams
Alysia E. Williams, a fourth-year architecture student from Kennesaw, Georgia, is finishing up the fall 2021 semester in Assistant Professor Christopher Hunter's Mound Bayou Master Planning and Community Center Design studio.
For this Herrington Topical Studio, Hunter challenged his students to address the needs of Mound Bayou, a town in the Mississippi Delta founded by former slaves. Once with a population of 8,000, roughly 1,400 citizens now live in the community.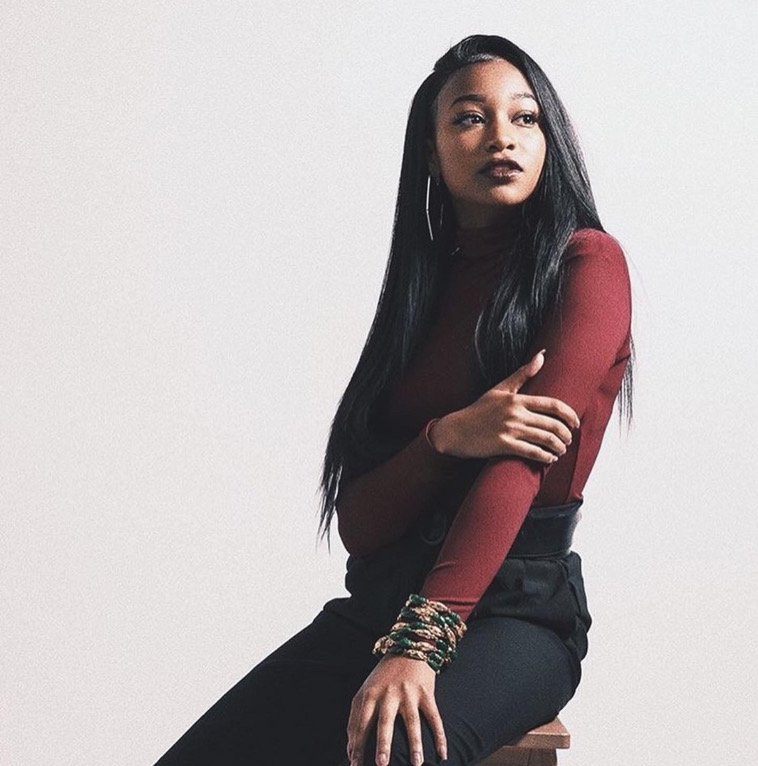 Students in the studio began the semester helping to complete and present to the community master planning work that was started by a group of students in Hunter's independent study class last spring.
Next, students split up research that was necessary to complete their individual projects for the semester – designing community/vocational centers.
Williams took on building code and zoning research for the studio and is now focused on sticking to the narrative of her design for a community center.
Williams, a 2020 Method Studio Fellow, said her work with Method Studio prepared her for the project this semester.
"By seeing a vocational center and the programs in action, I was able to get a better understanding of how a community center is the 'living room' of the community," she said, "how it brings people together and is a place for all ages. A lot can come out of a simple building, and so many experiences happen there."
Williams said all of her classmates' projects will be different, but she hopes the residents and officials in Mound Bayou are pleased with their work.
"I want them to see that architecture is an experience, and we try to achieve that through our designs," she said. "That it's not just four walls. I hope it sticks out to them what creative minds we have here, and they chose a good program to work with.
See work and photos from the studio.
---
Q&A with Alysia Williams
Where do you see yourself in 10 years?
My top goal as a future architect is to develop multiple rehabilitation and education shelters for the homeless and afflicted. In the next ten years, I would like to assemble a collaborative team of architects, attorneys, community leaders, and developers and form a nonprofit architecture firm to help and push the research pertaining to sustainable solutions to the crisis of affordable housing and homelessness.
What is your favorite tradition at MSU?
My favorite tradition at MSU is the gathering at The Junction during football season. It always made me happy to see friends, student organizations, family, and faculty all sharing the enjoyment of football with food, smiles, and laughter. Football season is the best season here at MSU.
What has been your favorite thing about your program at MSU?
My favorite thing about the School of Architecture is the amount of creative minds there are. When all of us come together, it's beautiful to see what ideas and designs are created. I also always look forward to final reviews. The reviews are always bittersweet because you finally get to display all of your hard work, reminding you that what you do will matter one day.
What advice would you give to an upcoming senior at Mississippi State?
My advice to an upcoming senior here at Mississippi State would be to have faith that your journey is perfectly set out for you. I would tell them to use their senior year to prepare for the foundation they will soon be building after graduation, and allow yourself to be open to as much knowledge and information than ever before. And when it comes to finding opportunities to do the thing you love, let other people be the one to tell you "no". Never stop, be persistent, and don't disregard the drive you know you have within yourself.
What are your plans for after graduation?
Upon graduating, I plan to work for a firm that specializes in affordable housing and preservation and then eventually move into my own means of practice. I always knew that in the pursuit of architecture I wanted to specialize in housing. However, growing up around the city of Atlanta, Georgia, and observing the developments built in comparison to the low-income and homeless populations, my focus immediately shifted. Caring for people and creating positive and sustainable communities is important to me. 
Christie McNeal | November 2021