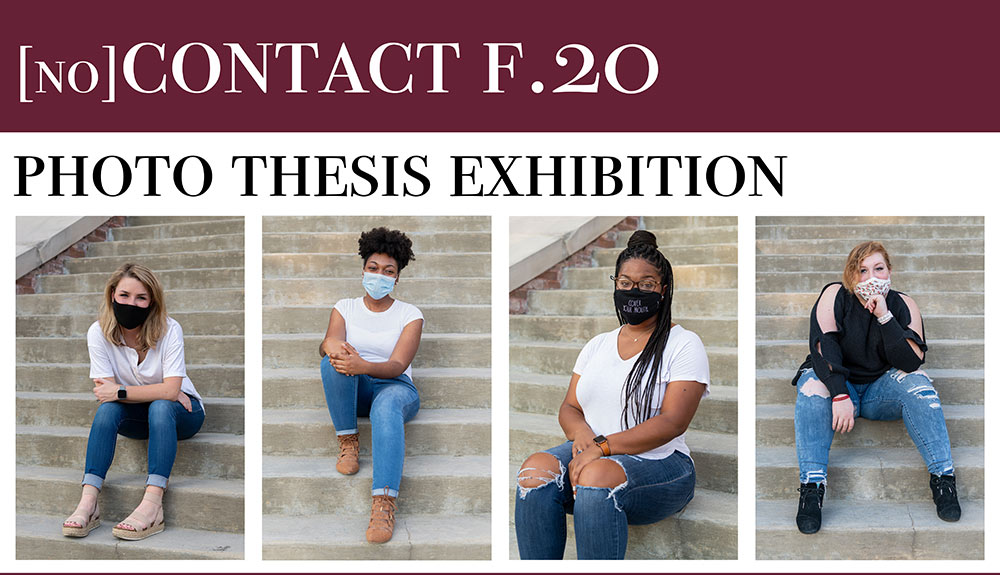 By Sasha Steinberg | Mississippi State University
Four student members of the Mississippi State family are celebrating their final year of studies with a virtual photography exhibition.
Available for online viewing starting Nov. 9, the "[no] Contact F20: BFA Photography Thesis Exhibition" features works by graduating seniors Taylor Fikes of Tupelo; Alexandria Johnson of Southaven; Hailey Nickels of Elida, New Mexico; and Allyson Parker of Holly Springs.
View the [no] Contact F20 exhibit.
"[no] Contact F20" reflects the students' successful conclusion of departmental research, writing and presentation requirements, as well as four years of foundational coursework, survey, art history, and academic and emphasis classes. The word "contact" in the exhibition's title refers to the traditional process of photographers making contact sheets in the darkroom to see what they captured on a roll of film.
During their time at MSU, the soon-to-be graduates have benefited from the expertise and support of fellow students, artists, photographers and advisors, including Professor Marita Gootee, Associate Professor Dominic Lippillo, Instructor Angela Latham and Lecturer Candace Hitt. All teach in the department's photography emphasis area, of which Gootee is longtime coordinator.
For her photographic series, Fikes explores the themes of family, home, heritage, faith, love and truth through images of her childhood home and loved ones.
Through her body of work, Johnson seeks to convey the importance of familial relationships, in particular those among siblings.
Nickels' collection of images sheds light on challenges that domestic violence victims face in discussing this serious topic.
In her artist's statement for the exhibition, Parker said her photographs focus on the relationship between child sexual abuse and family. She hopes her work inspires conversations and efforts aimed at bringing healing to victims.
Part of MSU's College of Architecture, Art and Design, the Department of Art is the state's largest undergraduate studio program. In addition to photography, it offers concentrations in graphic design as well as fine arts, with emphasis areas in ceramics, drawing, painting, printmaking and sculpture. Learn more at www.caad.msstate.edu.
MSU is Mississippi's leading university, available online at www.msstate.edu.