November 9, 2020
Location
Online Exhibit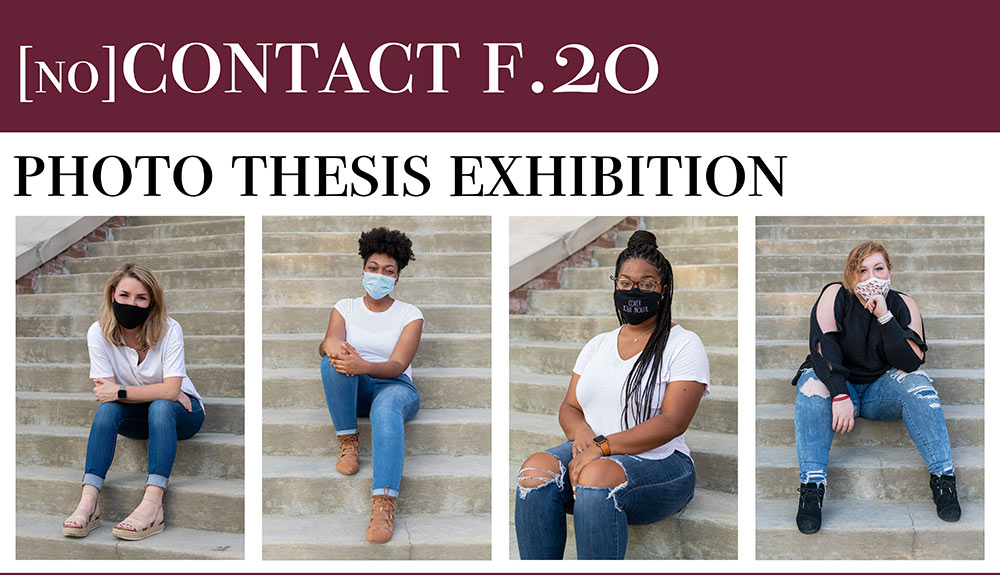 The COVID-19 pandemic prevented this year's photography students from installing a physical exhibition. Instead the artists created an online exhibition, "[no]Contact F.20," to display their photography to a wider audience. The exhibition features Taylor Fikes, Alexandria Johnson, Hailey Nickels, and Allyson Parker.
Thesis Committee Members:
Professor, Marita Gootee
Associate Professor, Dominic Lippillo
Lecturer, Candace Hitt Arthur
Instructor, Angela Latham
---
Taylor Fikes of Tupelo, Mississippi, is daughter to Craig and Samantha Fikes.
"When it came to selecting a concept for my most important photographic series thus far, I chose themes that I admire: family, home, heritage, faith, love, truth. This series captures my childhood home and highlights the presence of the people I love most. I am thankful they allowed me to photograph their private spaces and present them to the public through my series."
For inquiries and/or commissions email tsfikes22@gmail.com
---
Alexandria Johnson of Southaven, Mississippi, is daughter to Jonathan and Ruth Bunch.
"My project portrays the nonsexist relationship between my sister and me. We are five years apart ,and we did not grow up close. Due to the age difference, I rejected her. Because of that, it affected her emotionally. However, we have a relationship now that we are older. In this project, I have captured photographic images of her different emotions towards the relationship, while also capturing us and the relationship now. This project is personal because it is my way of apologizing to my sister. Having relationships with your loved ones are so important because tomorrow is not promised."
For inquiries and/or commissions email dria.1437@gmail.com
View Alexandria Johnson's work
---
Hailey Nickels of Elida, New Mexico, is daughter to Montie & Michelle Nickels.
"Domestic violence is a very serious topic that has plagued society for many years and has been a difficult topic for many to discuss. In creating this collection of images I intend to shed some light on how difficult it is for victims to discuss these issues by using the organic forms of the flowers as a stand-in for the emotion and physical trauma that victims may feel."
For inquiries and/or commissions email h_nickels@yahoo.com
---
Allyson Parker of Holly Springs, Mississippi, is daughter to Willie and Karon Parker.
Allyson explains that her work is about the relationship between child sexual abuse and family.
"This series is personal to me because it is something that I have seen and know many others who have experienced this as well. My intent in creating this work is to create conversation on the issue and work toward bringing healing to those who were traumatized."
For inquiries and/or commissions email allylind2189@bellsouth.net