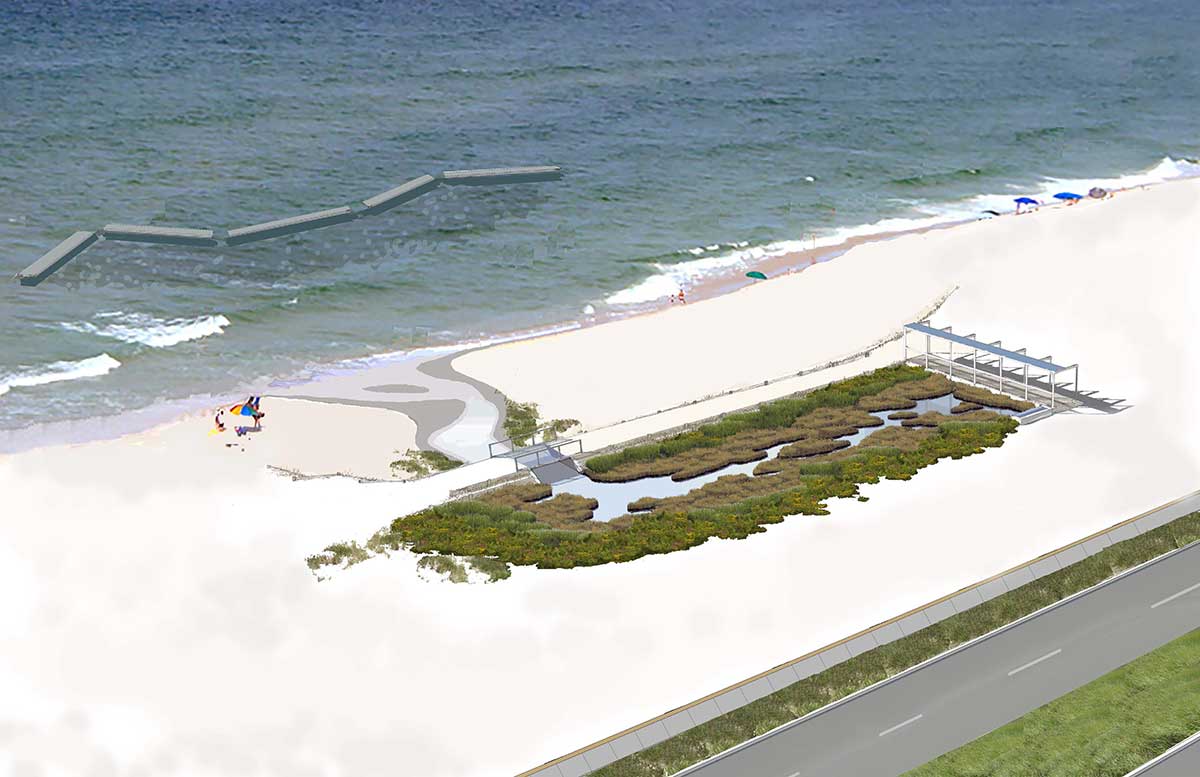 Two Mississippi State University Gulf Coast Community Design Studio (GCCDS) projects will be highlighted at the Mississippi Department of Environmental Quality (MDEQ) 2019 Restoration Summit, set for Nov. 12 at the Mississippi Coast Coliseum and Convention Center.
Tracy Wyman, landscape architectural designer and Healthy Communities liaison with the GCCDS, will be presenting on the MDEQ-funded Low Impact Development (LID) Gulf Coast outreach and education program. LID Gulf Coast has been working with area high school students in hands-on education programs to help them understand the impacts of stormwater runoff on our natural water bodies, and the opportunities for designed solutions through Low Impact Development. Additionally, the program is engaging stakeholders across the coastal region including developers, engineers, landscape architects, municipal leaders and planning departments, as well as the general public to introduce ways that low impact development works to slow, filter and disperse stormwater to prevent flooding and solve many drainage challenges while also improving neighborhoods and water quality. You can follow LID Gulf Coast on Facebook to read new case studies each week that highlight Low Impact Development strategies at various scales.
Gulf Coast Community Design Studio staff will also be teaming with Moffit & Nichol, an engineering firm out of Mobile, Alabama, to display the team's winning design proposal for the Outfall Design Challenge at the summit's open house. In 2017, the team won a competition sponsored by MDEQ to design a stormwater solution for the removal of one of the over 200 unsightly beach outfalls along the Mississippi Gulf Coast. Staff will be on hand to discuss the design and project goals with design professionals, ecologists, scientists and members of the general public attending the summit who would like more information on the infrastructure work as the work progresses toward further design and eventual construction.
The 2019 Restoration Summit is open to the public and free to attend; no registration is required. 
Download the 2019 Restoration Summit schedule.
The Gulf Coast Community Design Studio was established on the Mississippi Gulf Coast in 2005 to work in communities impacted by Hurricane Katrina and has evolved from disaster recovery to addressing long-term issues of community resilience. Located in Biloxi, the GCCDS is a professional outreach arm of Mississippi State University's College of Architecture, Art and Design and operates with a full-time staff of around six architects, landscape architects and planners, always working in close collaboration with multiple non-profit, municipal and professional partners. The work of the GCCDS includes: 1) community-based housing design, 2) storm water and tidal ecology, 3) flood resilient buildings and landscape, and 4) public-driven decision making.