Acceptance to the School of Architecture is limited and highly competitive. Admission to Mississippi State University does not guarantee acceptance to the School of Architecture.
The acceptance process consists of two steps for all students:
1. Apply to Mississippi State University and indicate a major in architecture.
Once admitted, a student will have the major "undeclared-architecture."
 
2. Apply to the School of Architecture
Applications for the School of Architecture open on October 15th. Follow these steps on or after that date:
1. Log into your "MyState" home page
2. Under "My Resources," click on "More" (shown here)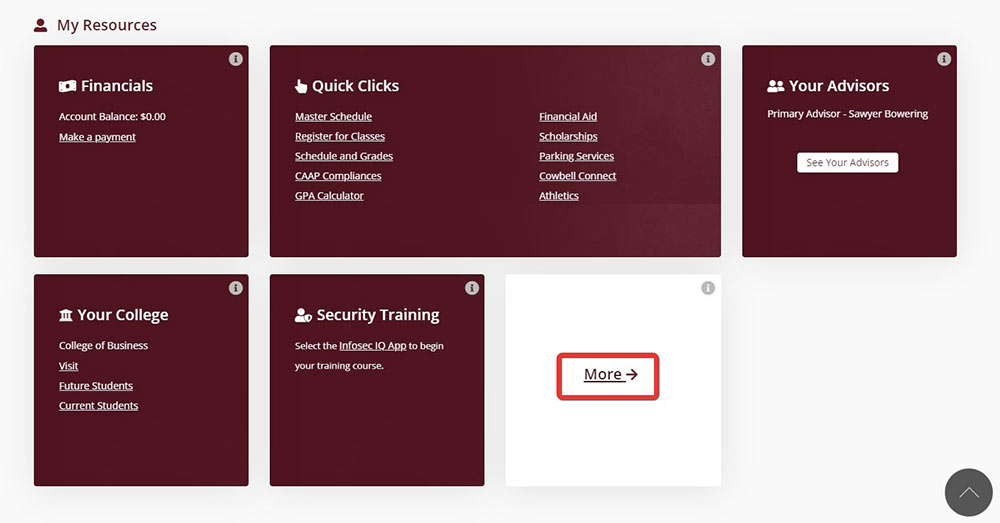 3. Under "Helpful Links," click on "Click here to apply to the School of Architecture" (shown here)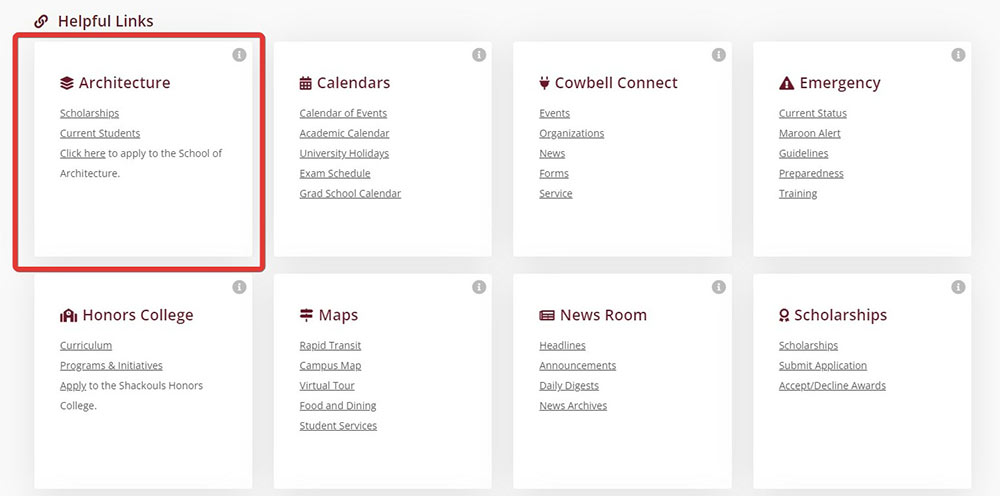 4. Complete the application, which consists of:
A 500- to 800-word essay on why you are interested in architecture (reviewed for content as well as composition, grammar, and spelling, pdf or word doc format).
A one-page resume of academics, work experience, service, awards and recognitions, and skills (pdf or word doc format).
Two required drawings:

On unlined paper, in pencil, draw a tennis shoe or a set of keys.
On unlined paper, in pen, draw a tennis shoe or a hand.
(Reviewed for communicating surface qualities, materials, textures, and details)

A portfolio that consists of six to twelve creative or artistic pieces, such as drawings, paintings, written compositions, poems, videos of performances, built works, ceramics, photography, sewing, knitting, and other similar works. Because the portfolio is a digital submission, all work needs to be photographed or scanned. '
From your application to MSU, the following will be transferred to the application to the School of Architecture:

Grade Point Average (high school GPA for high school applicants, community college GPA or university GPA for transfer applicants, MSU GPA for current MSU applicants)
Test Scores (ACT or SAT) While test scores are optional at MSU, students who do not submit test scores will receive no points for this portion of the application and not be considered for early acceptance.

These six parts are considered equally, with each part being scored between 1 and 6. Your submission of your GPA, essay, resume, two required drawings, and portfolio completes the application to the School.
School of Architecture Acceptance Timeline
---
If you have questions about or problems with the online application, please contact the School of Architecture at 662-325-2202 or Laura Mitchell, S|ARC Advisor, at lmitchell@caad.msstate.edu.