50th MSU Student Juried Exhibition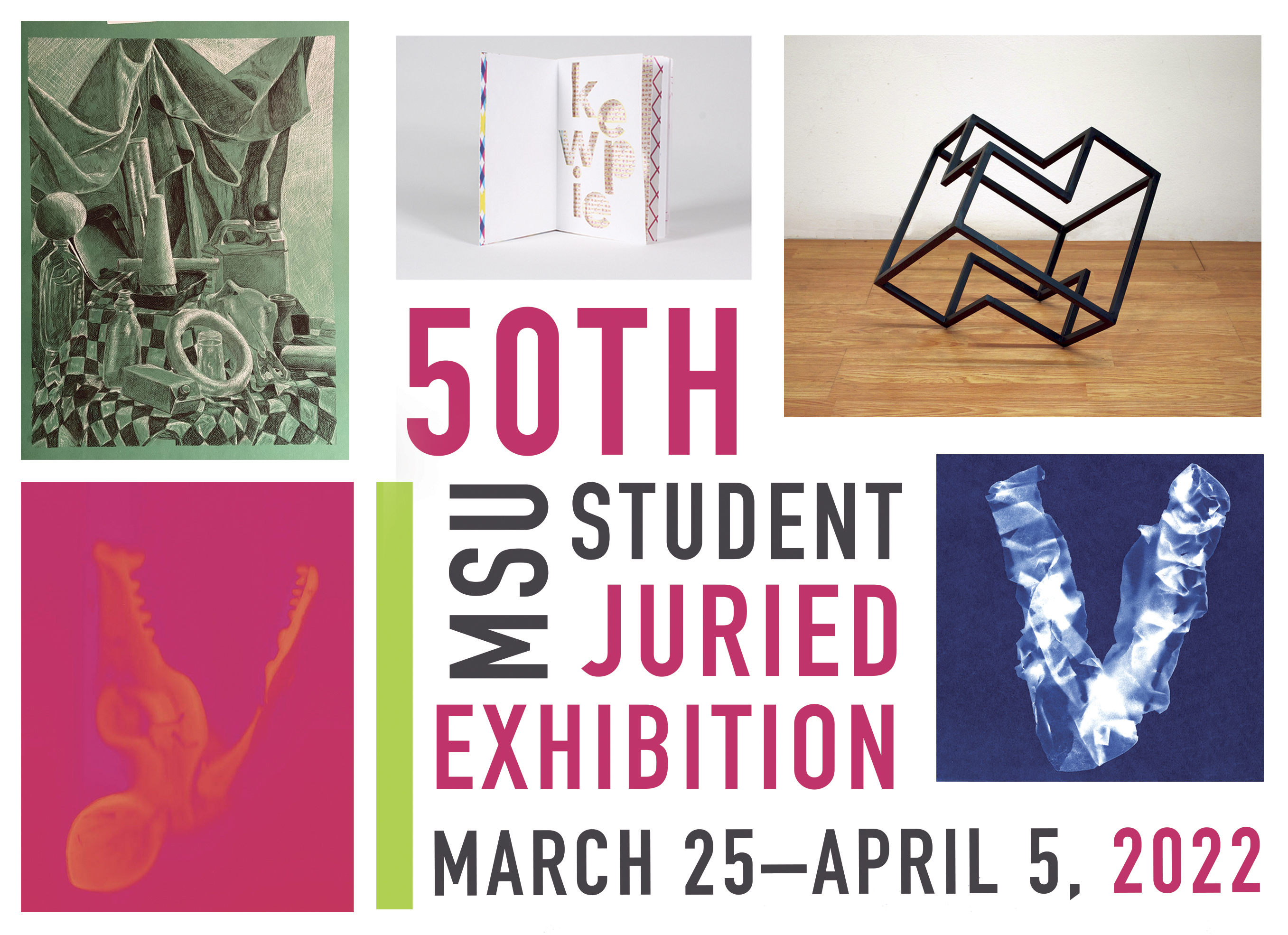 ---
Welcome to the 50th MSU Student Juried Exhibition
This annual student juried exhibit celebrates the achievements of participating Mississippi State University undergraduate students and recognizes outstanding student work in four categories: Foundation, Fine Art, Photography, and Graphic Design.
This year, 172 total works were submitted for consideration, and 77 final works were selected by three jurors. Along with making selections for the works into the exhibit, the jurors also chose four Best in Show and 12 Honorable Mention award designations.
An awards ceremony will be on Friday, March 25 from 5pm until 6pm in the gallery.
The exhibition is open in the Cullis Wade Depot Art Gallery on March 25 through April 5, 2022. The gallery is free and open to the public Monday through Friday, 9am until 5pm, closed university holidays.
About the Jurors:
Foundation and Fine Art
Sage Perrott. Printmaker and educator.
Sage Perrott, aka Haypeep, is an Assistant Professor of Printmaking at East Tennessee State University, and has been teaching classes in the Department of Art and Design since Fall 2018. Perrott earned a BFA from West Virginia University in 2010, and an MFA from Ohio University in 2013. Prior to teaching at ETSU, Perrott taught at Utah State University and Davis & Elkins College. She has also taught workshops at Penland School of Craft and Arrowmont School of Arts and Crafts.
Perrott's research interests include screenprinting, comics and zines, humor, and risography. Her artwork typically features lumpy, grumpy, ghost-like creatures, often found in cramped and humorous situations, made under the pseudonym Haypeep. She uses prints, zines, comics, paper objects, installation, and sometimes commercial products to communicate these ideas. She has shown nationally and internationally, presented her research at conferences, and given artist talks and demonstrations at various academic institutions. Additionally, Perrott has created promotional designs for a variety of clients, including the Lawrence Arts Center, Brett Kern (ceramics), Gamblin ink, and more.
Photography
Joy Christiansen Erb is a contemporary photographer and artist whose creative research explores themes such as memory, identity, and storytelling. Christiansen Erb's photography has gained recognition through regional and national exhibitions and lectures and a 2015 Ohio Individual Excellence Award from the Ohio Arts Council. Solo exhibition venues include the Pittsburgh Center for the Arts, Center for the Emerging Visual Artists in Philadelphia, the Women's Museum in Dallas, and the Galveston Arts Center. Group exhibitions include Newspace Center for Photography in Portland, OR, the Griffin Museum of Photography in Winchester, MA, the Center for Photography at Woodstock, and the Museum of Contemporary Art Cleveland.  A portfolio of her most recent work is housed at the Museum of Contemporary Photography as a part of the Midwest Photographers Project in Chicago, IL.
She currently resides in Youngstown, Ohio, where she is the Special Assistant to the Dean in Cliffe College of Creative Arts and a Professor of Photography at Youngstown State University. In 2016, she received a Distinguished Professorship for Excellence in Scholarship award from Youngstown State University.  She received her B.F.A. from Miami University, Oxford, OH, in 2001 and her M.F.A. from Texas Woman's University, Denton, TX, in 2005.
Graphic Design
Cat Normoyle. Designer, educator, and researcher.
Cat Normoyle's research and creative activity explore how design can make a difference in communities, acting as an agent for change in emerging theories, practices, and technologies. She is interested in a range of design topics including social design and impact, community engagement, digital experiences and technology, and speculative design. Her work is interdisciplinary, experimental, collaborative, and strategic at its core. It ranges from the physical to the digital, from the static to the dynamic, and from the 2-dimensional to the 3-dimensional.
She has presented her work nationally and internationally at notable design conferences such as Cumulus Association (International Association of Universities and Colleges of Art, Design and Media), College Arts Association, European Academy of Design, Digitally Engaged Learning Conference, AIGA Design Educator's Community, Design Principles & Practices Research Network, and Design Incubation (Research in Communication Design). She is a two-time alumnus of Design Inquiry, a non-profit educational organization devoted to researching design issues in intensive team-based gatherings. She has published in numerous design books and journals including the chapter, "Motion Design in the Context of Place," which appeared in the book, Critical Perspectives and Professional Practice, published by Routledge, 2018 and the journal paper, "A Catalyst for Change: Understanding Characteristics of Citizen-driven Placemaking Endeavors Across Diverse Communities," which won an International Award for Excellence, Vol. 10, for the Design Principles and Practices collection, 2016.
Originally from Boston, she has a bachelor's degree in Industrial Design from Georgia Institute of Technology and a MFA in graphic design from Georgia State University. Prior to academia, Normoyle worked at the Atlanta-based, brand strategy and innovation agency, Trend Influence, where she worked with Fortune 500 companies such as Coca-Cola, Toyota, and Levi's.