Alumni Spotlight
Robert "Bob" Luke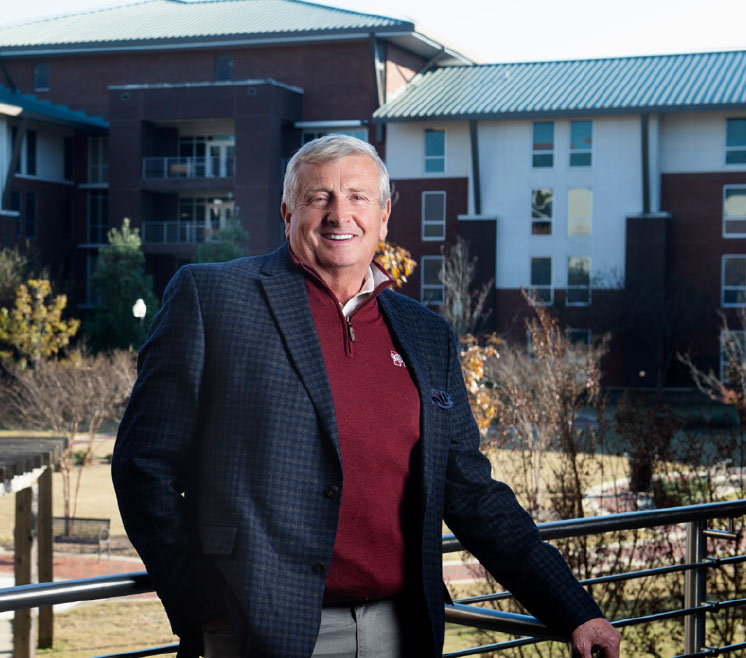 By James Carskadon, Alumnus Spring 2020, page 35
When Robert "Bob" Luke (BARC May1980) first came to Mississippi State in 1972, he was ready to embrace the social life. He was less enthusiastic about his studies.
A few years after leaving campus without a degree, Luke returned with a wife and young child, prepared to take his education seriously. In the time that he was away, MSU opened its School of Architecture, which appealed to Luke. He met with the school's first dean, Bill McMinn, and had a great conversation about his goals as a student and dreams about becoming an architect. Then the dean asked to see a copy of Luke's transcript.
"I had intentionally not brought my transcript because my grades were so poor," Luke said. "So, he told me to run over to the Registrar's Office and get a copy. When I got back, he looked at my transcript and said, 'The guy I spent an hour and a half talking to and the guy on this transcript cannot be the same guy.'"
The dean was willing to give Luke a chance with a one-year trial run taking the program's pre-requisite classes. At the end of two semesters, Luke had shown he was serious about school this time around and was given a spot in the architecture program. He would go on to graduate in 1980.
After six years working in Charleston, South Carolina, Luke took an opportunity to return to Mississippi and started a firm in Meridian in 1987.
"My first time at Mississippi State, I got a social education, the second time I got an academic education," Luke said. "When I came back to school, I took almost all of my electives in business, because architecture is an art, a science and a business. It has served me well in running LPK as a business over the past 30 years."
Luke has been able to work with his alma mater on several projects as his firm led the design of the Davis Wade Stadium north end zone expansion and the Leo Seal Football Complex. With the stadium expansion, Luke led a design team that took the MSU fan experience to a new level.
"Game day at Davis Wade Stadium, with our cowbells and our students, is one of the most exciting experiences in college football today," Luke said.
He also worked with MSU on the Zacharias Village residential community, as well as Oak and Magnolia residence halls. Before Zacharias Village opened in the mid-2000s, MSU had not built a new residence hall in over 50 years. With the enrollment boom that followed, MSU would need all the housing space it could get.
"The new residence halls offer all of today's modern conveniences with a traditional look, which in turn makes the student feel at home and allows MSU to compete for high-quality students," Luke said.
Among Luke's favorite projects by his firm is the Mississippi Arts and Entertainment Experience, or The MAX, in Meridian. The 50,000-square-foot facility showcases Mississippi's arts and entertainment legacy, honoring the state's creative legends and inspiring tomorrow's artists.
With MSU now producing architecture graduates for 40 years, Luke said the school has left a visible impact on the state and around the country.
"My education from Mississippi State has allowed me to compete with people all over the country," Luke said. "If you look around the state, the quality of the architecture has increased since the 1980s. I think a lot of that can be attributed to the fact that most firms in the state are being led by people that were educated by Mississippi State's School of Architecture."