Alumni Spotlight
Michael Boerner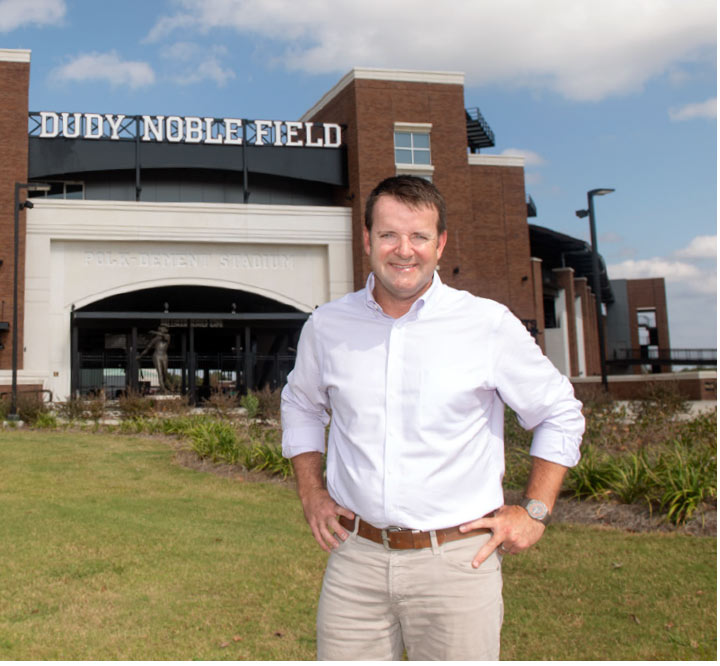 By James Carskadon, Alumnus Spring 2020, page 34
When Michael Boerner (MSU BARC, May 2002) was studying architecture at Mississippi State, the lifelong baseball fan designed a downtown Jackson ballpark for his senior thesis in 2002. That stadium never came to fruition, but within 15 years, Boerner's firm was tasked with redesigning Dudy Noble Field, one of the most celebrated facilities in college baseball.
"I really have to pinch myself sometimes when I think about the new Dudy Noble being one of our projects," Boerner said. "There are a lot of special ballparks out there, but I'm really proud of what we ended up with."
After graduating from MSU, Boerner worked for architecture firms in Birmingham, Alabama, and New Orleans before Hurricane Katrina caused him to move to Jackson. In 2009, he and former classmate Jamie Wier decided to start their own firm. Jack Allin, another MSU alumnus, joined the firm five years later. As Wier Boerner Allin celebrated its 10th anniversary in 2019, it is also able to celebrate the completion of Dudy Noble Field, the firm's largest project to date.
For both his senior thesis and the Dudy Noble Field design, Boerner was able to consult with Janet Marie Smith, the MSU alumna who designed Camden Yards, the nationally acclaimed home of the Baltimore Orioles. On Dudy Noble, he also had consultation from passionate fans who cherish memories from the old stadium and its famed Left Field Lounge. 
Boerner said the design team and university officials wanted to make sure Left Field Lounge retained its sense of community, while also becoming safer and more accessible. Boerner said one of his favorite features of the stadium is the "parade route," a concourse that wraps around the stadium and through Left Field Lounge, providing 360-degree views of the field.
During the 2019 season, ESPN broadcast a game from the Left Field Lofts, the condos overlooking the stadium, highlighting another feature that is unique among college baseball stadiums.
"It really took a team approach between administrators, designers, engineers and contractors to make this stadium happen," Boerner said. "This project has opened a lot of doors for us, and we're thankful for that."
Wier Boerner Allin also led the design of Nusz Park and the renovation of A.J. Pitts Tennis Centre, a project that connects MSU's tennis and softball facilities.
Boerner said he has always been impressed with the level of expertise of the School of Architecture's faculty and staff, which helps produce quality graduates.
"Over our 10 years of hiring MSU graduates, we've been blown away with what they are able to do right out of school," Boerner said. "Their level of preparedness and understanding of design is phenomenal. In my view, the program is only getting stronger."