Student Spotlight
Jasmine Topps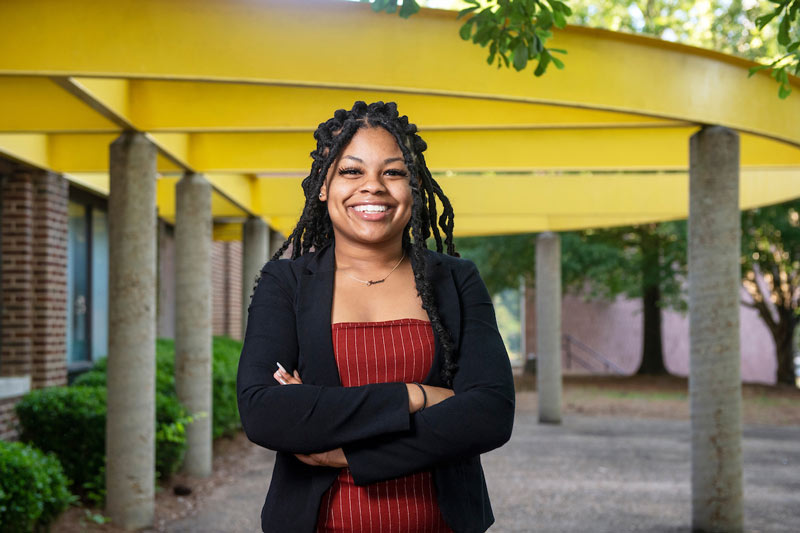 Jasmine Topps, a Columbus native, is a first-generation college student, along with her sister who recently graduated. Topps is a Presidential Endowed Scholar, and while at Mississippi State, she has been on the Dean's List and the President's List. Jasmine plans to graduate in May from the College of Architecture, Art and Design. 
Student Statement
"I really have enjoyed the school environment and time on campus as a whole; I do wish, however, that I had more time to interact and be a part of more of the wonderful programs that the school offers due to being an architecture major. However, my experience taught me balance and time management. I have learned to appreciate and enjoy the little things every day in college."
Q & A
Where do you see yourself in 10 years?  
I see myself working toward urban design or urban planning architecture while working my way up in a firm specializing in multi-family housing and mixed-use. However, I also have an interest in real estate and renovating homes, so I hope to be starting with real estate as well.   
What is your favorite tradition at MSU?   
My favorite tradition at Mississippi State would have to be Super Bulldog Weekend because it embodies the sports' spirit of MSU. It's a great break in the spring semester for the students to come together and enjoy each other and the school outside of academics.   
What has been your favorite thing about your program at MSU?    
Being in architecture, I have truly enjoyed the preparation and encouragement of interning and gaining real-world experience while in school. It has become the most valuable aspect of finding my way in the real architectural world. Most importantly, our program offers trips every school year nationally, and for our fifth year, internationally. My class was able to visit the following places: Dallas, Texas; Savannah and Atlanta, Georgia; Washington, D.C.; New York, New York; and we will soon travel to Rome, Italy. Traveling has definitely been one of my favorite parts of the program. 
What advice would you give an upcoming senior at Mississippi State?  
My advice to any seniors coming to Mississippi State would be to enjoy the college life and embrace every opportunity thrown at you as you go through college. As you graduate and begin to work in your respective fields, reality of time will begin to hit, and you will realize there will never be another time in your life where so many valuable opportunities and/or connections will be available to you at such a convenience. 
What are your plans for after graduation?  
Upon graduating, I plan to apply to a moderately-sized firm somewhere in the South to work as part of a design team mainly focusing on housing and community-based design. I also plan to begin some real estate classes and study for the architectural licensing exam with the goal of eventually getting my license in real estate and architecture, simultaneously. 
By Lauren Skelton | October 2021