Alumni Spotlight
Jalyn Wallin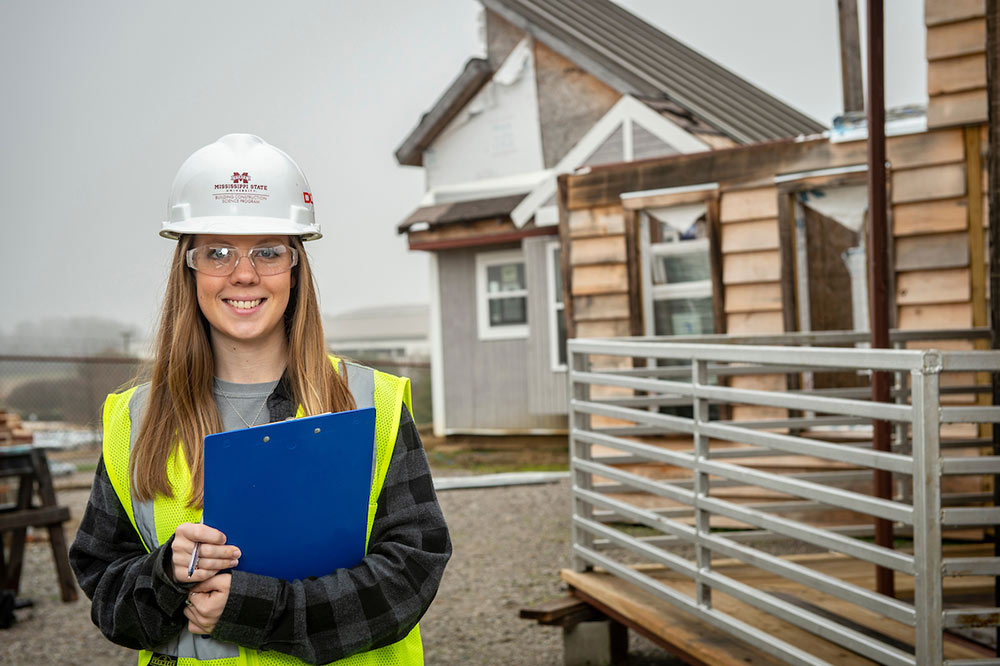 Growing up, Jalyn Wallin loved the thought of building and renovating houses. She inherited this trait from her parents. Her family either built or renovated every house they have lived in. Through these experiences, Wallin obtained a passion and desire for building.
This passion was so strong that she decided to take it to the next level: a career in building construction. Wallin searched for schools to attend to help her reach her career goals, and she found Mississippi State.
Wallin said she decided Mississippi State was the place for her because of its unique Building Construction Science Program. She thought the school would best help her prepare for her future career.
Today, Wallin is an assistant engineer at Turner Construction, currently working on the Tennessee State Library & Archives Project in Nashville. She keeps busy while working on site.
"I manage the punch list, closeout submittals, write RFI's (request for information) and help solve field issues that arise," said Wallin, a Decatur, Ala., native.
Wallin graduated from Mississippi State in 2020, but she already has experience under her belt.
"I am a young professional with only 15 months of total experience over the course of four years," she said. "But I have achieved a few big things throughout those few months. I have worked on a dorm project at Alabama A&M University where students now live; I have worked on a couple estimates where our company won the bid; and I have also worked on Closeout for an elementary school this past summer where students could return and go to school safely during a pandemic."
Wallin said that through her work she hopes that every building she helps with is safe and sustainable and that it leaves an impact on people.
A Q&A with Jalyn Wallin
Where do you see yourself in 10 years?
This is a difficult question because SO much can change over a 10-year span. I see myself continuing to work on projects as an engineer or project manager and continuing to do my best and learn something new every day.
What was/is your favorite tradition at MSU?
My favorite tradition at MSU is the beginning of the 4th quarter of the football game when they play "Don't Stop Believin'" by Journey. The entire stadium lights up, and everyone sings along and rings their cowbell with the song.
What was your favorite thing about your program at MSU?
My favorite thing about BCS was the professors I had. Each one of them wanted to prepare me for my career and my future and gave me great opportunities to grow and learn.
What year did you graduate from MSU?
2020 – during the beginning of the pandemic!! It was a weird way to graduate from college for sure!
What is the best thing about your job?
The best thing about my job is the people I work with. They are like my second family.
What advice would you give a current BCS student?
My advice to students would be to do internships during the summer. While the program does not require them and gives you a good foundation for your career, it is extremely important in this industry to gain experience!!
By Lauren Skelton | November 2020