Alumni Spotlight
Jackson Parker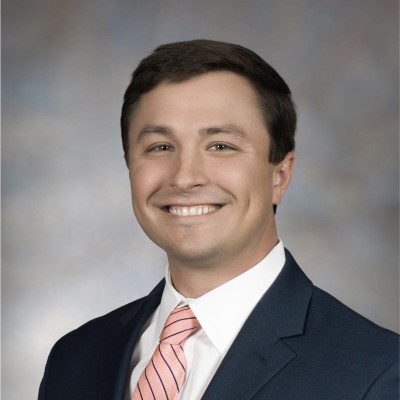 By Rileigh Campbell in collaboration with Myia Wilson
Jackson Parker grew up playing on bulldozers and heavy equipment. His father owned a contractor company for multi-family houses throughout Mississippi, so Parker has always had the construction background "in his blood."
When it was time to choose what college to attend, Parker joined his friends who were going to Mississippi State, and he then learned about the Department of Building Construction Science.
"I was like, all right, this looks like it will be fun. Looks very practical and seems like very good job security coming out," said Parker.
But after his father passed away his junior year of college, Parker's plans of taking over his father's company changed. His father's company was sold, and he was offered a position by Guardian Construction.
Parker then moved to Orlando, Florida, to work at an old nuclear power plant that was being decommissioned. After deciding that he did too much moving around with this job, Parker wanted to get more into commercial building.
Moving back to Mississippi, Parker became the owner representative for Mississippi State on Dudy Noble Field. He served as a liaison between MSU and construction on that project, also helping with other projects on MSU's campus. Eventually, Parker decided to pursue construction law and was accepted to law school at Stanford in Birmingham, Alabama.
Q&A with Jackson Parker
Why did you choose MSU?
"My mom went to Mississippi State, and then my brother is six years older than me, and he also went to Mississippi State. Two of my closest friends ended up majoring in building construction science, too." 
How did MSU prepare you for the job you have now?
"Professor Herrmann taught me a lot. One of the biggest things I didn't realize at the time is we were learning all about contracts and everything. I was a project manager, so as far as dealing with the owner and everything like that, she really prepared me to know how to use a contract to not force people to do things, but how to use it as a real tool. What governs the entire project is your contract, so that was a huge part. The studios and everything, it was just all very practical. It wasn't like you're sitting in a classroom hearing lectures. We were building things. We were putting schedules together. We were doing what we were going to do after we graduated. We weren't just learning about it, but we were actually doing the stuff. So, I think that was huge. And also, we had to do the integrated semesters with the architecture students, which at the time I didn't love it, but that representation of what happens in the real world is what you're getting in these owner architect contractor meetings. You're learning how to work with architects and what their goals are and what your goals are." 
What is your favorite MSU tradition?
"Attending football games and tailgating before the games. Also, getting to see your friends at the games that you're not used to seeing during the week."
What advice would you give to someone coming to MSU?
"Think practically and realistically about what your future is and what you want to do with your life. Don't come here without a plan. Make sure you know what you want out of college and what you want out of your life. And Mississippi State will definitely help you get there if you know where you want to end up."
What was something at MSU that you enjoyed being part of?
"I enjoyed being in the Shackouls Honors College my first year. I was also in the Sigma Chi Fraternity, and it was nice to be a part of a group."
Anything else you would like to add?
"There's tons of things you can do with a BCS degree, like go to law school or whatever you want to do. There's a lot of opportunities that I think people don't realize."