Faculty Spotlight
Duane McLemore
Assistant Professor
ARC 1536 Architectural Design I-A (First-year studio, fall)
ARC 2713 Passive Building Systems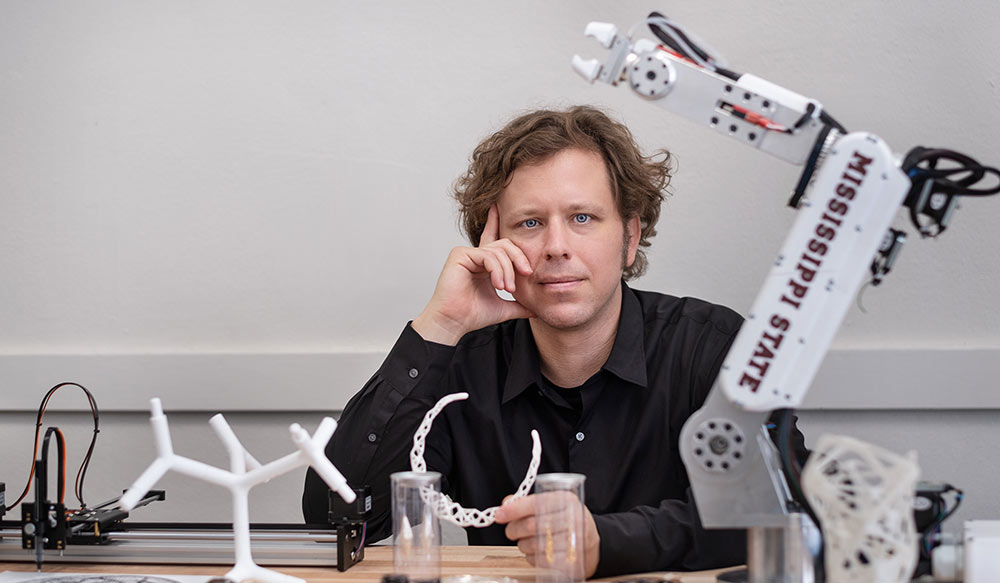 Hometown: Aurora, Indiana
Family: Katherine Voorhies, partner
Duane McLemore was raised in rural Indiana by working class pare­nts. A first-generation college graduate, he remembers the challenges he faced when applying for college.
"I had one shot," he said. "I wasn't sure if grad school was in the cards, so I needed a major where I could do all the stuff I enjoyed but, at the end of the day, would result in a professional career."
After graduating with a bachelor's degree in architecture from the University of Southern California, McLemore rose through the ranks of architectural practice before attending the post-professional program at the Bartlett School of Architecture, University College London. He went on to professionally practice, begin a teaching career and earn his license to practice architecture on his own.
Now an assistant professor at Mississippi State's School of Architecture, which offers a professional program similar to the one he attended, McLemore is excited to help students reach their own goals.
"I wouldn't be here today without the educators in my path who said 'it doesn't matter where you are from; there are opportunities for you,'" McLemore said. "I see it as my responsibility to acknowledge who my students really are and help them find what they are truly interested in. I want to help them realize their impact can be global and embrace that challenge."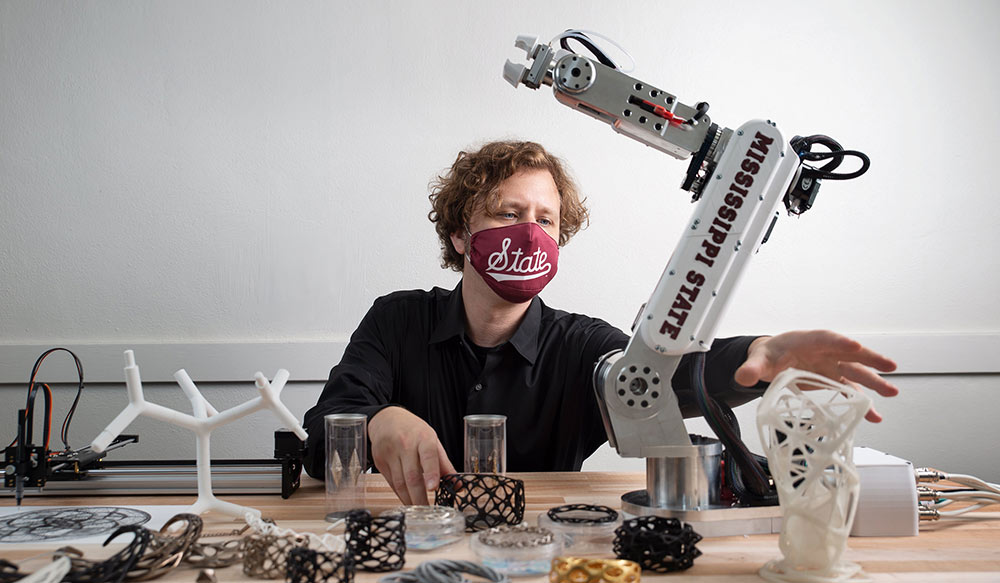 McLemore has brought some of his many research interests to Mississippi State, including 3D printing, fabrication and advanced robotics.
This fall, he will start the 3D Print Corps program, where foundations-level students will learn the process, mechanics, materials and intricacies associated with 3D printers.
His goal is for students to be able to solve problems and teach each other about 3D printers, so they can be a resource for their fellow students—building a body of knowledge and reducing reliance on faculty or the shop manager for help.
"I plan to find the kids that have the fire for it and to feed that fire," he said.
And, he's practicing what he preaches—learning by doing.
Rather than buy the 3D printer and robot he needed off the shelf for his research in Unit Geometries, he purchased kits to build them himself. He even 3D printed all the parts for the robot he recently completed.
"In assembling a whole machine from parts, I understand every nut and bolt that goes into it and the intricacies of how the process works," he said. "I want to be an expert and authority for the students and take them on my journey of learning the whole process."
McLemore said he loves Starkville and teaching.
"In a professional program, I see my role as educating students to become my peers. My goal is to help them go out and become licensed, responsible, critically thinking creative professionals," he said. "To educate is to give someone the tools to get what you have, and that's a bit of a radical act."
Story by Christie McNeal | Photos by Megan Bean