Faculty Spotlight
Alex Bostic
Associate Professor of Drawing
Department of Art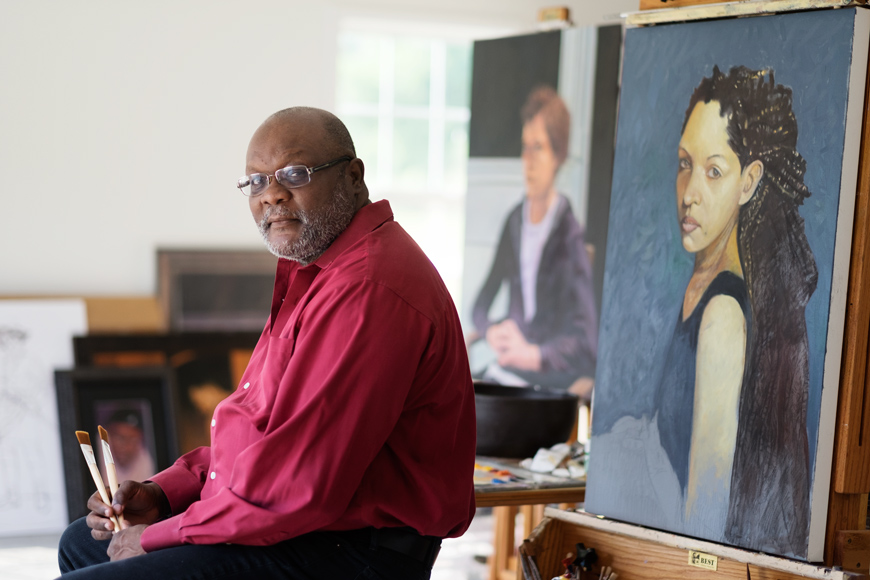 For Alex Bostic, the road to a successful art career began with a spark of imagination—literally. 
At the age of seven, he discovered his artistic talents with help from his older brother Charles and a make-believe game of "war" the two played using wood matches.
"One day, a woman who lived next door came out and told us to stop, but we just kept playing. Ten minutes later, a fire truck showed up," Bostic said. "The firemen who came gave us a ride to the fire station, and the fire chief told us he didn't want us playing with matches anymore. Instead, he gave us paper and pencils and said, 'I want you to draw.'"
Bostic ultimately presented nearly 10 fire truck drawings to the fire chief, who put them on display in the fire station's community announcement box. "That was basically my gallery for two to three years before we moved," Bostic said with a smile.
Always the "art guy" in school, Bostic started receiving private art lessons in seventh grade from his beloved teacher, Ellen Kuenzel. To this day, mentor and student make it a point to speak at least three times a month over the phone.
After completing associate in arts, bachelor of fine arts and master of arts degrees, Bostic landed his first job as a greeting card designer for Hallmark. He worked for a time in advertising before deciding to join the U.S. Navy as an illustrator draftsman. Prior to teaching stints at California's Woodbury University, Kansas City Art Institute and Brooklyn's Pratt Institute, Bostic worked as a concept artist for the film industry in Hollywood. Later on, a 23-year career at Virginia Commonwealth University opened the door for drawing and graphic work for big-name clients, like NASA.
Now in his sixth year as an associate professor of drawing at MSU, Bostic is passionate about providing his students with a solid foundation in the arts. Focus and determination to succeed are concepts he emphasizes in the classroom.
"Learning to draw and think in a sequential way is important," Bostic said. "If you're a thinker who can draw creative ideas, you can make a living with your craft and use your talents to change lives."
As the southeast director for the U.S. Air Force Art Program, Bostic has lent his talents while documenting tragic events in countries such as Germany, Haiti and Japan. His paintings, as well as works by artists from other branches of the military, are on display at The Pentagon in Arlington, Virginia.
Specializing in portraiture, Bostic is fascinated with the human figure and seeks to make a connection with the human condition through his artwork. Regardless of the subject matter, his goal always is to have fun.
"Art is a really good escape," Bostic said. "I get to create something every day."
Story by Sasha Steinberg | Photo by Megan Bean
June 13, 2016