Alumni Spotlight
Adam Trest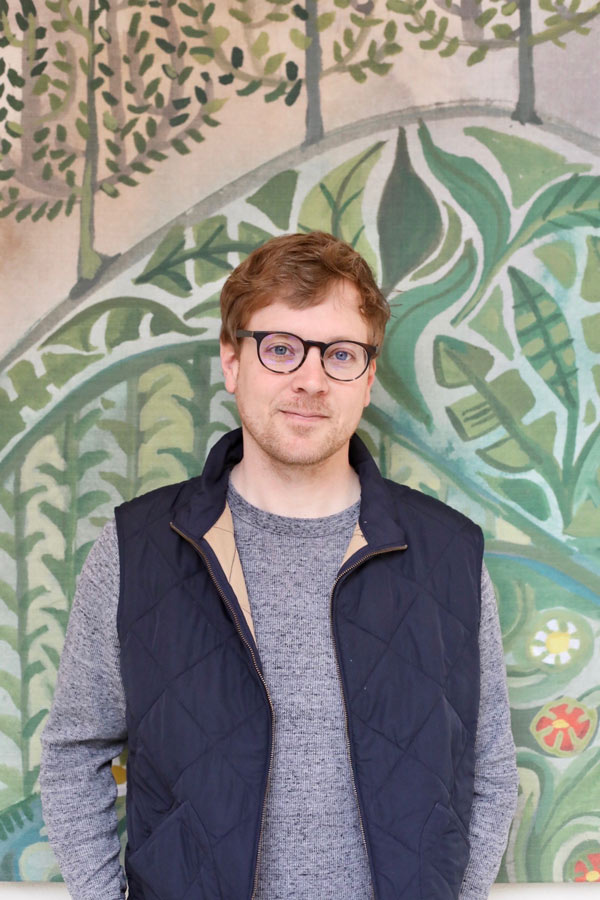 When Adam Trest decided to attend Mississippi State University, he looked forward to one day having a successful career in architecture. After three and a half years as an architecture major, Trest realized that this field was not what he was passionate about. Trest knew then that he wanted to pursue a career in art.  
Today, Trest is working as a studio artist, and his work varies from day to day. 
"My job is crazy; every single day is different," Trest said, "Some days I am painting collections to show at the Caron Gallery, some days I am working on commissions, some days I am doing illustrations, some days I am designing products. This week I'm working on a wallpaper." 
Trest is based in Laurel, where the Home and Garden Television (HGTV) show "Home Town" takes place. 
"The thing that I love about Hometown is that unlike other shows on television, the ones where you have one or two hosts who renovate a house," Trest said, "Hometown is Ben and Erin, and then you have this third character that is Laurel. The beauty of that is that Laurel is this wonderful diverse community of craftsmen and artists, and I'm fortunate enough to be a part of that community!" 
Trest has been featured on the show several times. 
"I've gotten to work with them on fabric design (season 1). They renovated a house for me (season 3), I worked with them to design a logo for Bird Dog Cafe (season 4), and this season (season 5) they commissioned me to do a painting for a family that is very dear to me. The opportunities that I've gotten from being a part of this show and this community have been amazing," Trest said. 
While at Mississippi State, he was inspired by his professors and received helpful advice from them that set a foundation for his career in art.  
Trest hopes to achieve a lot throughout his career, specifically that his work inspires others. 
"If my work makes someone smile, or evokes a memory, then I've done my job," Trest said. "I choose to paint traditional southern imagery in a whimsical illustrative style, and because of that, my work helps to tell people's story." 
A Q&A with Adam Trest: 
Where do you see yourself in 10 years?  
"In 10 years, I would love to say I had the opportunity to license my work with some larger companies. I love for my work to be accessible to everyone, and I've found that designing for products is a way to make that happen. Original Art is not everyone's cup of tea, but who doesn't love a great coffee mug or beautiful fabric." 
What was/is your favorite tradition at MSU?    
"I don't think it happens much anymore, but I sure loved stair luge in Giles Hall." 
What was your favorite thing about your program at MSU?  
"My favorite thing about the painting program at MSU (and honestly the thing I miss the most) was the community amongst my classmates and professors. Having someone available to critique my work right around the corner anytime I was working on a project was absolutely something that I took for granted. They may not be around the corner anymore, but quite a few of my former classmates (and professors, if I'm honest) still get emails and texts from me asking for crits."  
What year did you graduate from MSU?   
"I graduated from MSU in 2009."  
What is the best thing about your job?  
"Almost two years ago, my wife and I bought a house that has a really amazing art studio. The best thing about my job is that once I drop my kids off at school, my "work" is upstairs over the garage, and every day I get to disappear there to paint."  
What advice would you give a current student?  
"My biggest advice would be to become a part of the community around you. I was able to gain the most I possibly could from MSU because I was a part of the community there, and once I graduated, I became a part of the community of Laurel. Being involved and volunteering your time can open up more opportunities than you can ever imagine. So many times, it can feel like you are spinning your wheels and wasting your time, but some of the best projects I've been involved with came from working alongside a community member." 
By Lauren Skelton | May 2021