Art 1213 | Drawing I
Drawing I is a six hours laboratory, a freehand drawing course for all students interested in the visual arts. This course offers the basic vocabulary for a graphic notation.
Below are descriptions of some of the assignments in the course with student work examples.
---
Linear Perspective
Students will render an interior space in technical, linear perspective. Students will develop the drawings in successive stages, rendering in layers, light-dark, and general-specific. Focus will be on establishing a horizon line, locating a vanishing point, and converging parallels.
Materials: Viewfinder, drafting triangles, vine charcoal, charcoal pencils, erasers, on 22"×30" Stonehenge
Assignment Objectives:
Transparent construction/rendering and refining in layers
Utilize the rules of technical, linear perspective and line variation to convincingly create the illusion of depth and space.
Create a composition that is expansive, dynamic, and balanced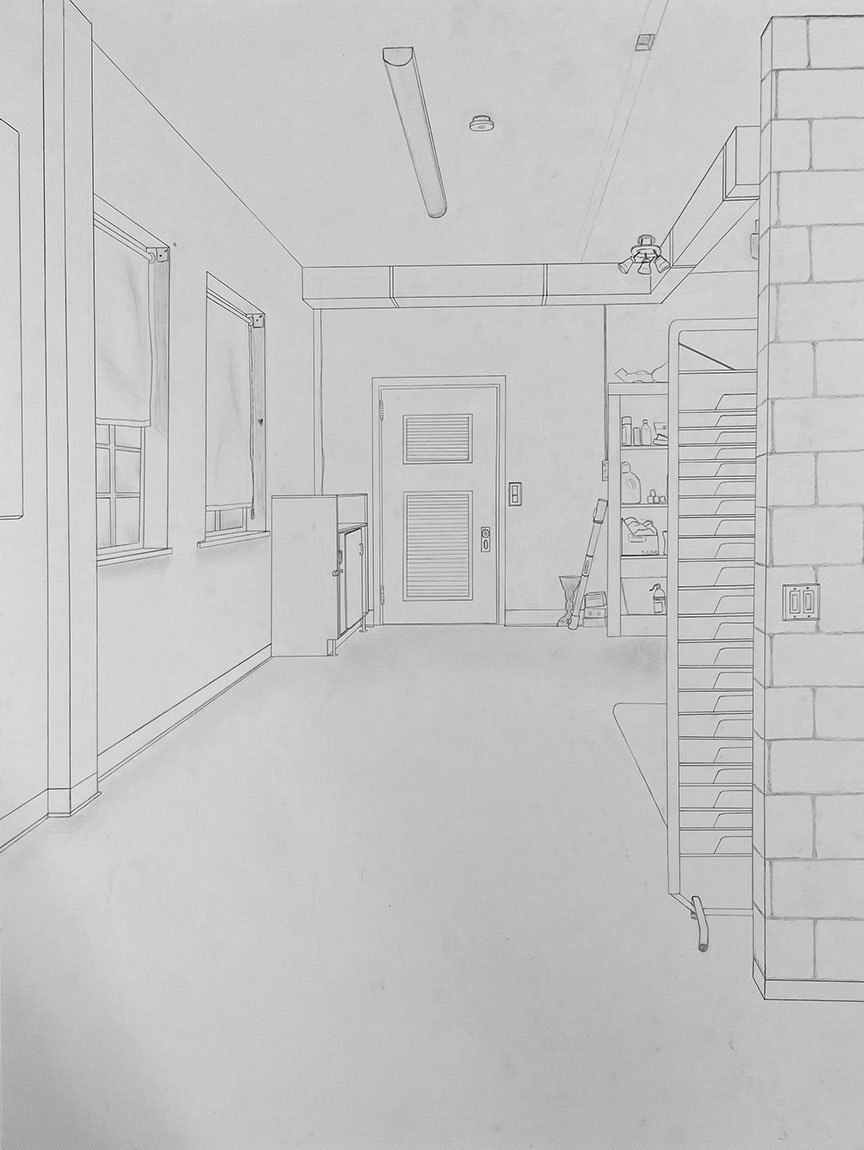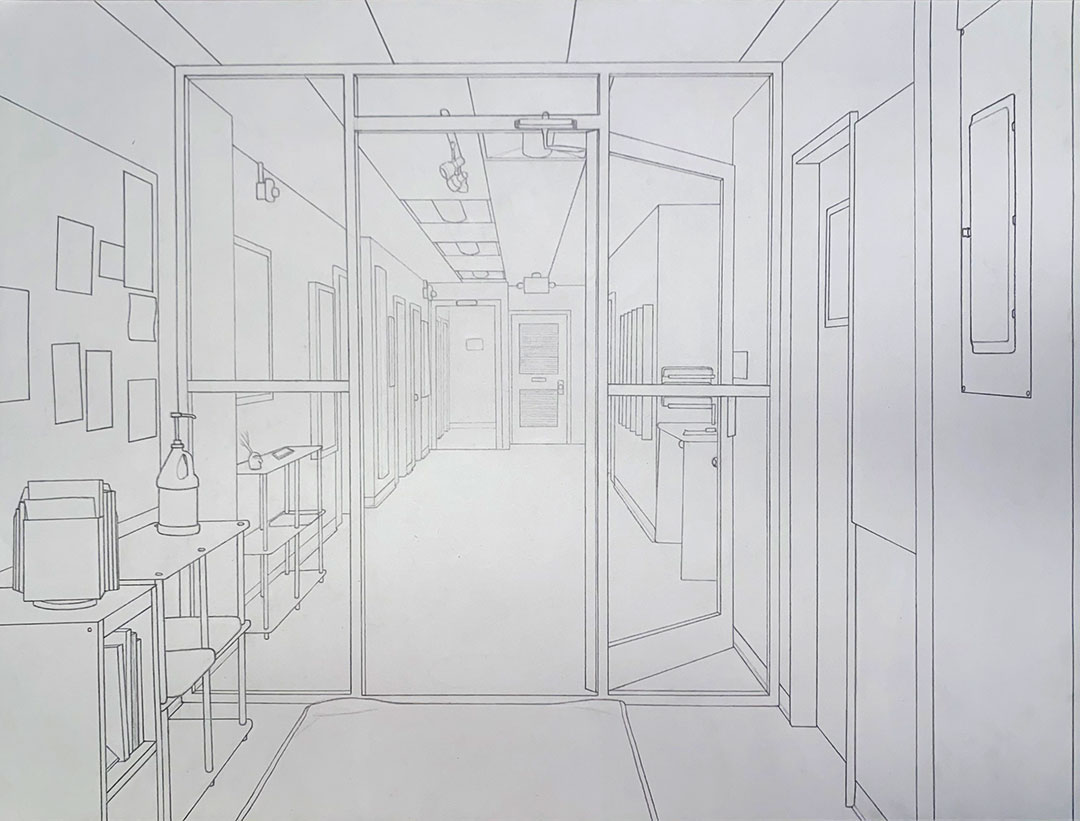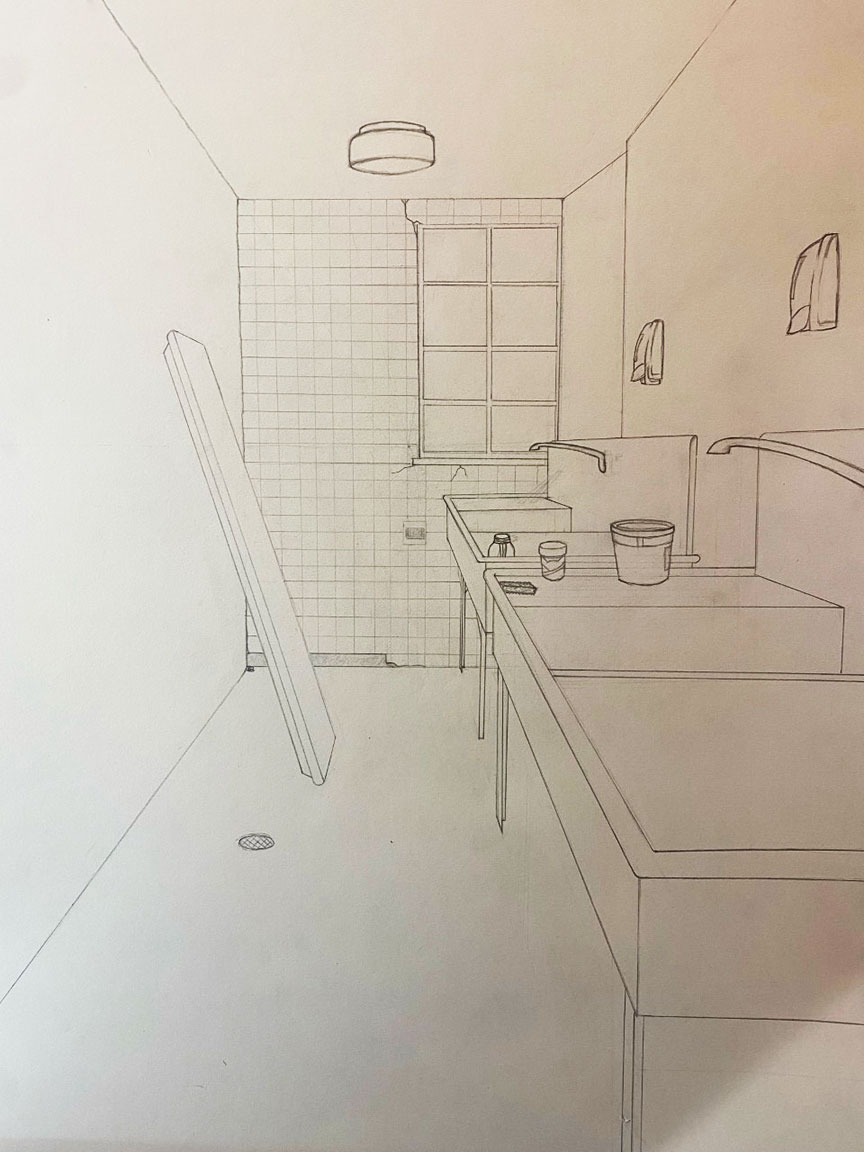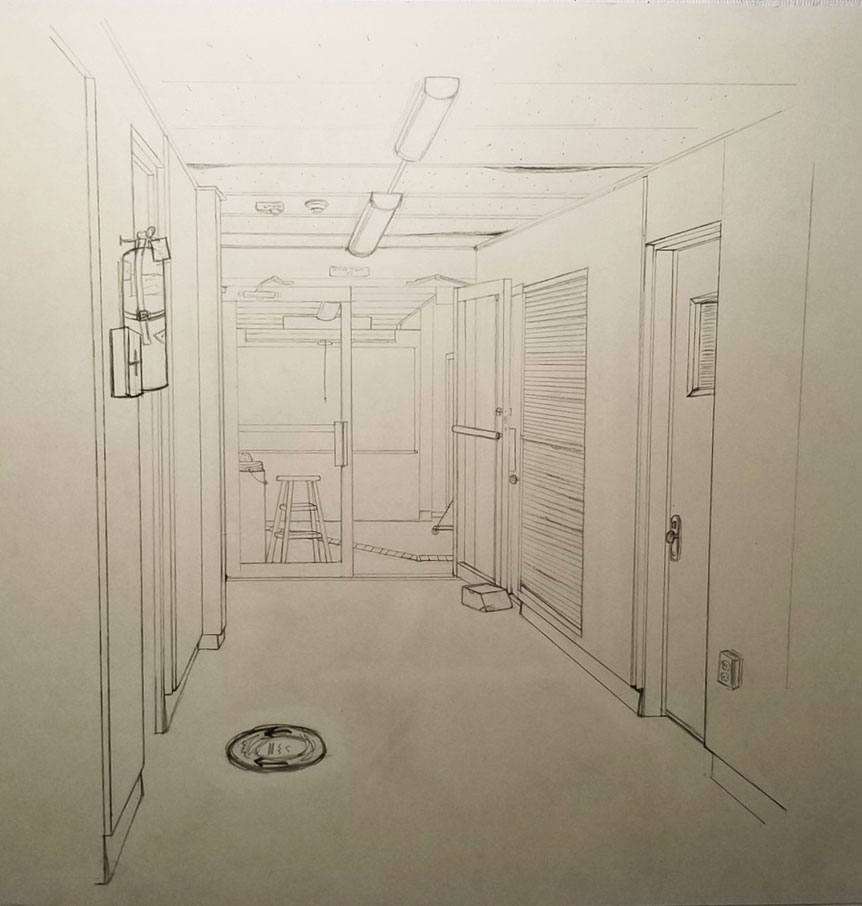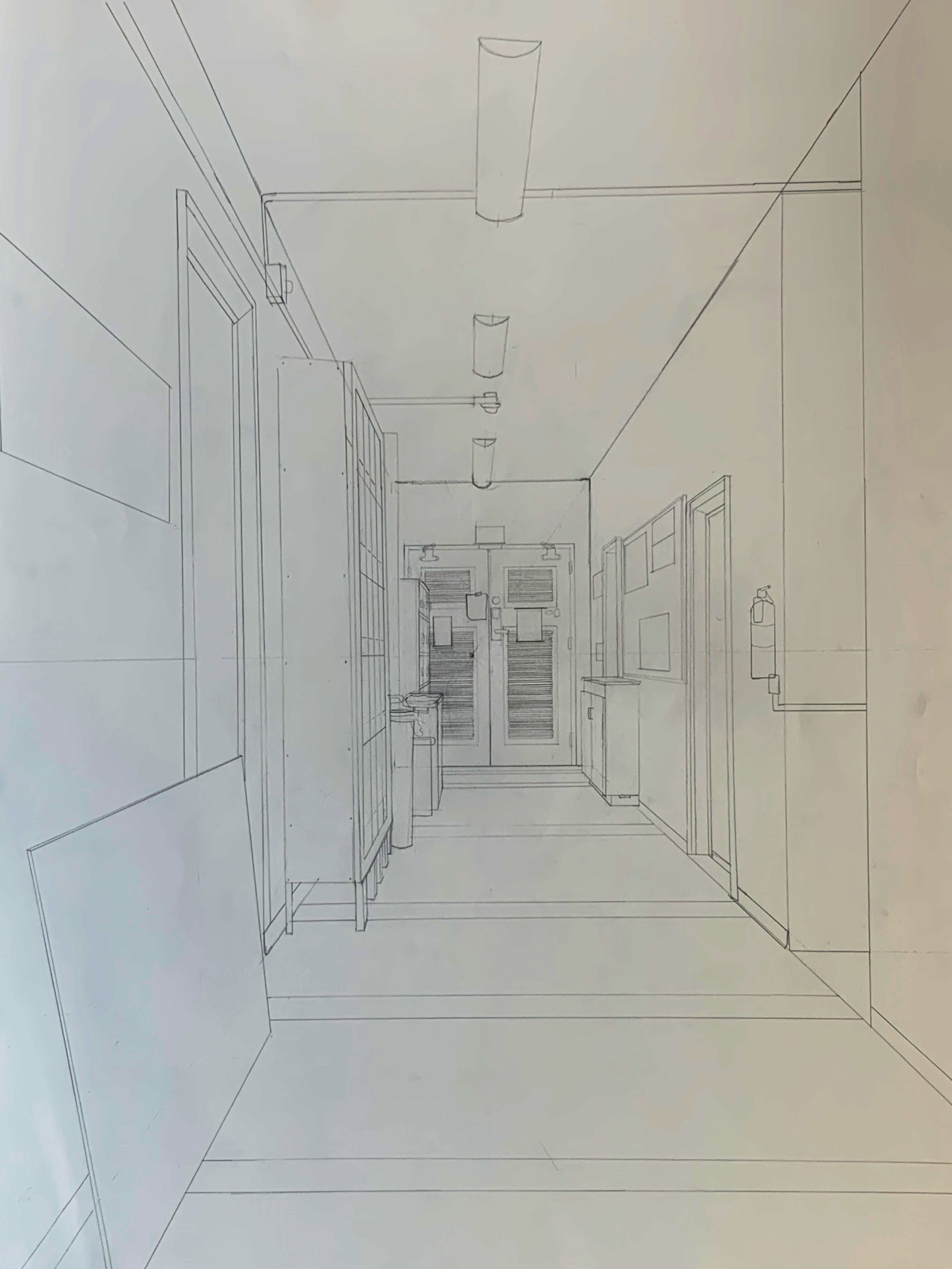 ---
Still Life Drawing
This final project will provide students with an opportunity to demonstrate their knowledge of the drawing process through the execution of a fully-realized still life drawing.
STEP 1 – THUMBNAIL DRAWINGS. First, you will visually investigate potential compositions through a process of developing thumbnail sketches of the still life arrangement. Each thumbnail sketch will represent one of many possible perspectives. Numerous thumbnails must be developed for the still life arrangement to be adequately surveyed; focus on developing at least 10. Make sure that your thumbnail sketches have a specific height and width (i.e., 5 ó" x 7").
STEP 2 – COMPOSITIONAL STUDIES. Choose (at least) two or three thumbnails to develop larger versions of (at least twice the scale of the thumbnail). Drawing the composition at a larger scale should allow the student to understand spatial relationships of potential compositions more intently. Make sure that these studies have a specific height and width that is established in relation to their according thumbnails (i.e., 5 ó" x 7" translates to 11" x 14").
STEP 3 – PREP FINAL PAPER. The next step is preparing the paper surface for your final drawing. Make sure that the sheet of paper you use for the final drawing is cut to-scale, according to your chosen compositional study. Prior to making cuts, be sure to calculate the height and width for your final drawing accurately based on your compositional study (i.e., 11" x 14" translates to 22" x 28"). Begin translating the composition from your study to the final format; lightly drawing a grid over the compositional study and final drawing paper will help you establish contours with more accuracy.
STEP 4 – FINAL DRAWING. The last step is to execute the final drawing. The process of creating a fully-realized drawing is a sustained process that takes time and patience. In your final work, one should be able to see your awareness and use of these drawing-based visual ideas:
Gesture
Negative Space
Sighting, Measuring and Triangulation
Proportion
Scale and Diminution
Perspective; Linear and Atmospheric
Value Structure
Texture
Composition & Design
Gestalt
Houding - This is a term that has been used by art theorists for centuries without holding a firm definition. Since your drawing will aim to create a convincing sense of space, the most helpful definition for your sake might be the one found in Paul Taylor's 'The Concept of Houding in Dutch Art Theory': "…Houding is a means of creating a sense of space in a picture. The artist must be careful not to allow the elements in a painting to become 'packed together'; depth should be expressed lucidly and spatial relations should be clear and legible." I urge you to imagine and feel the space of your drawing as you build it.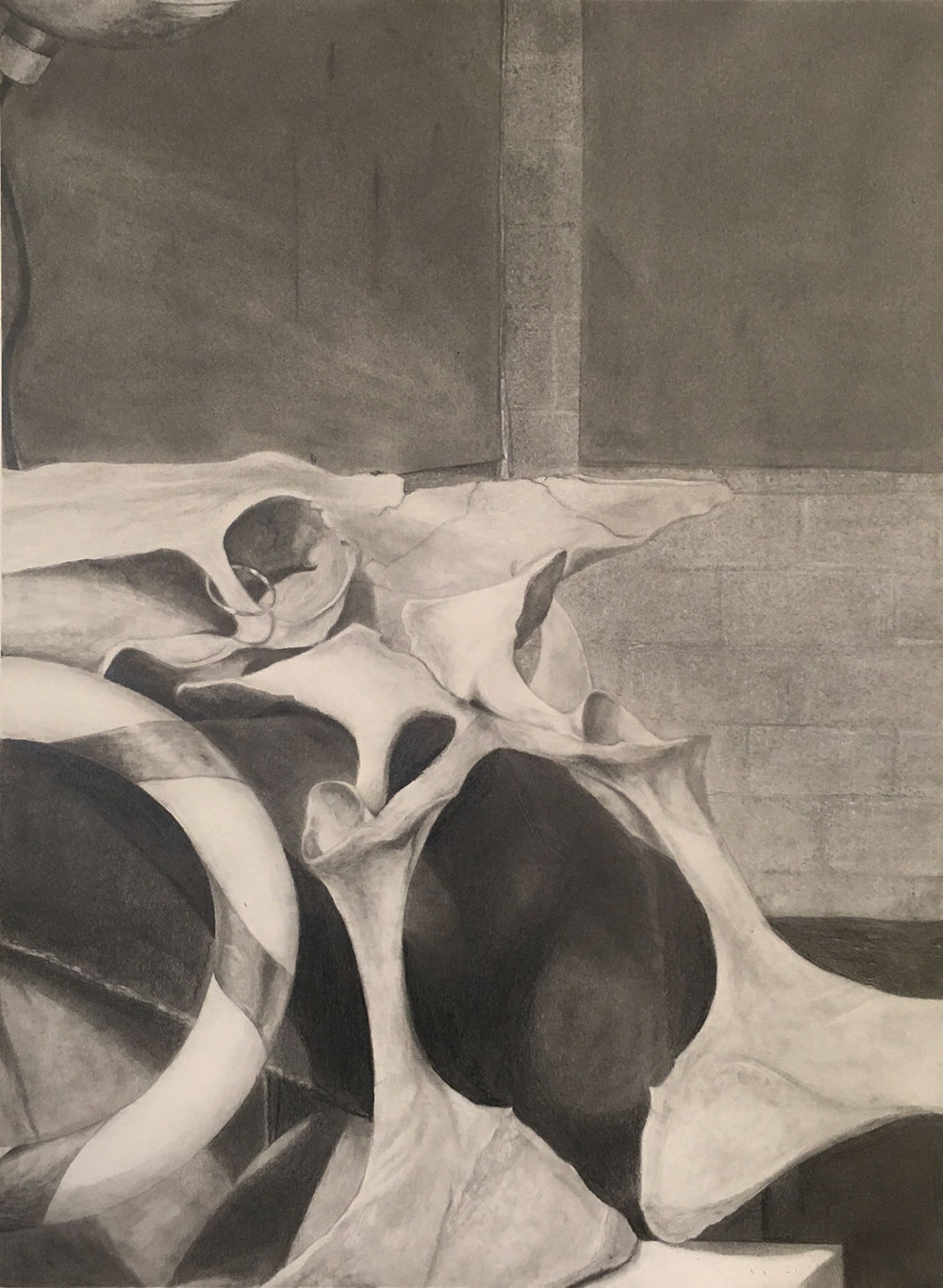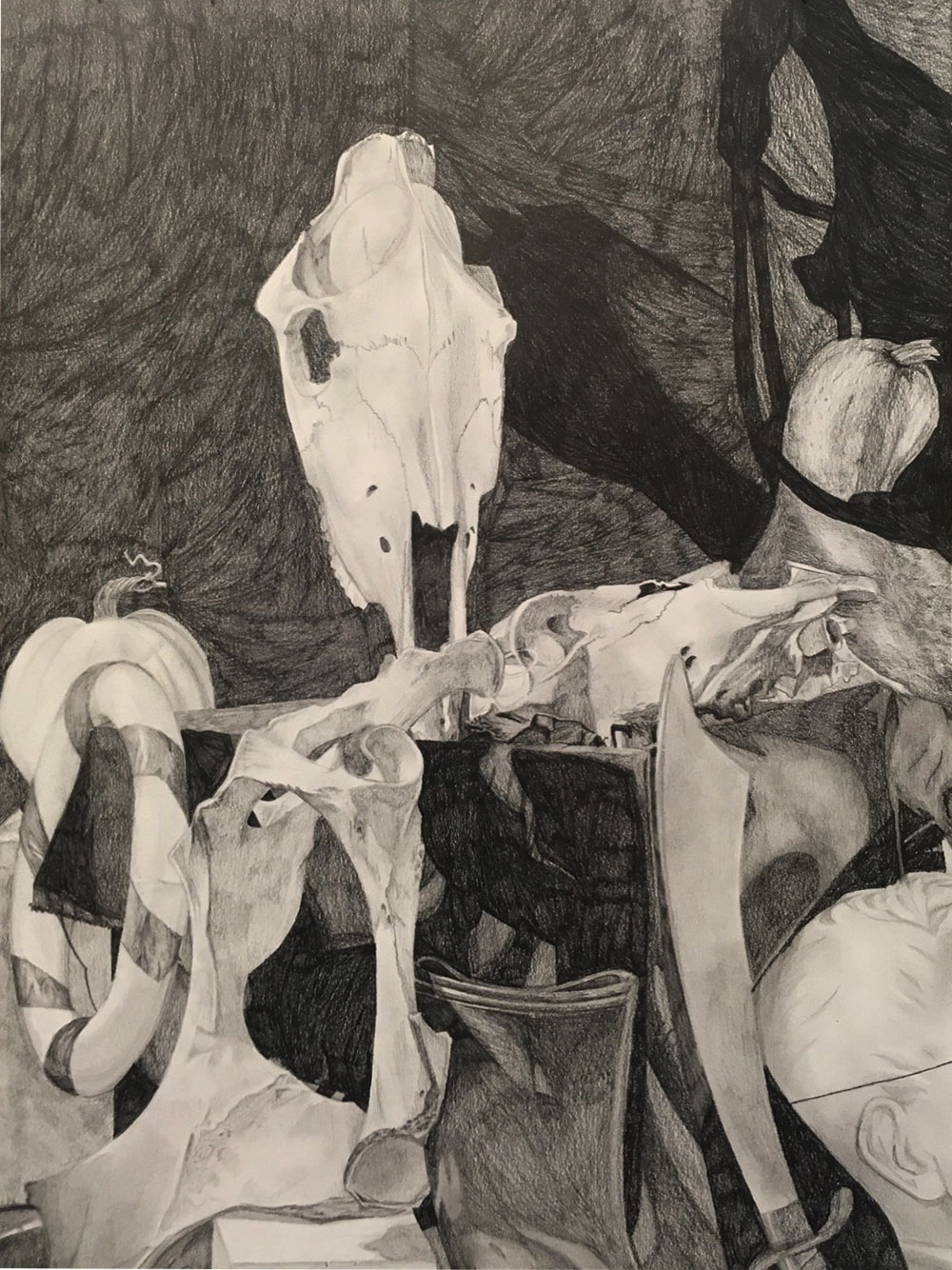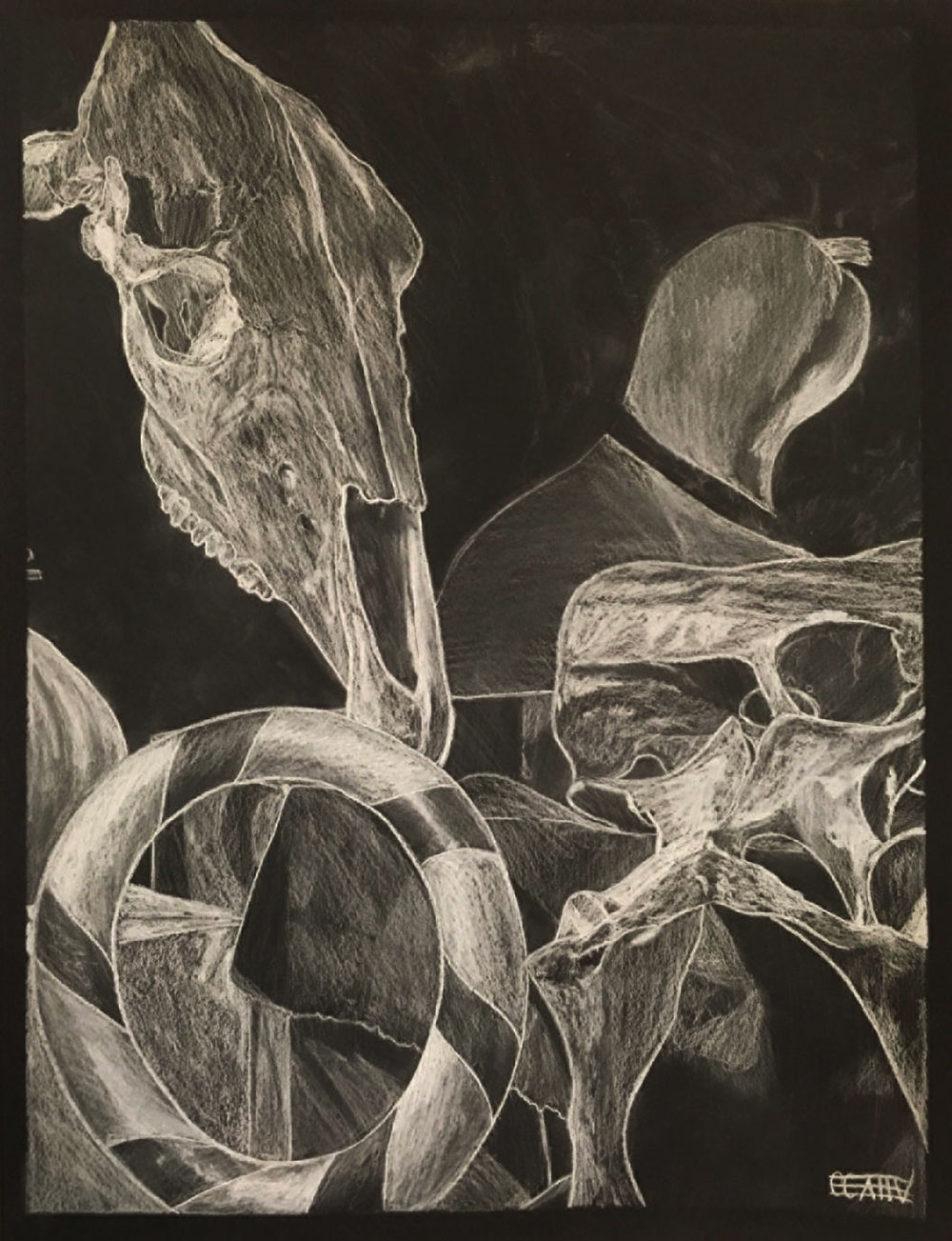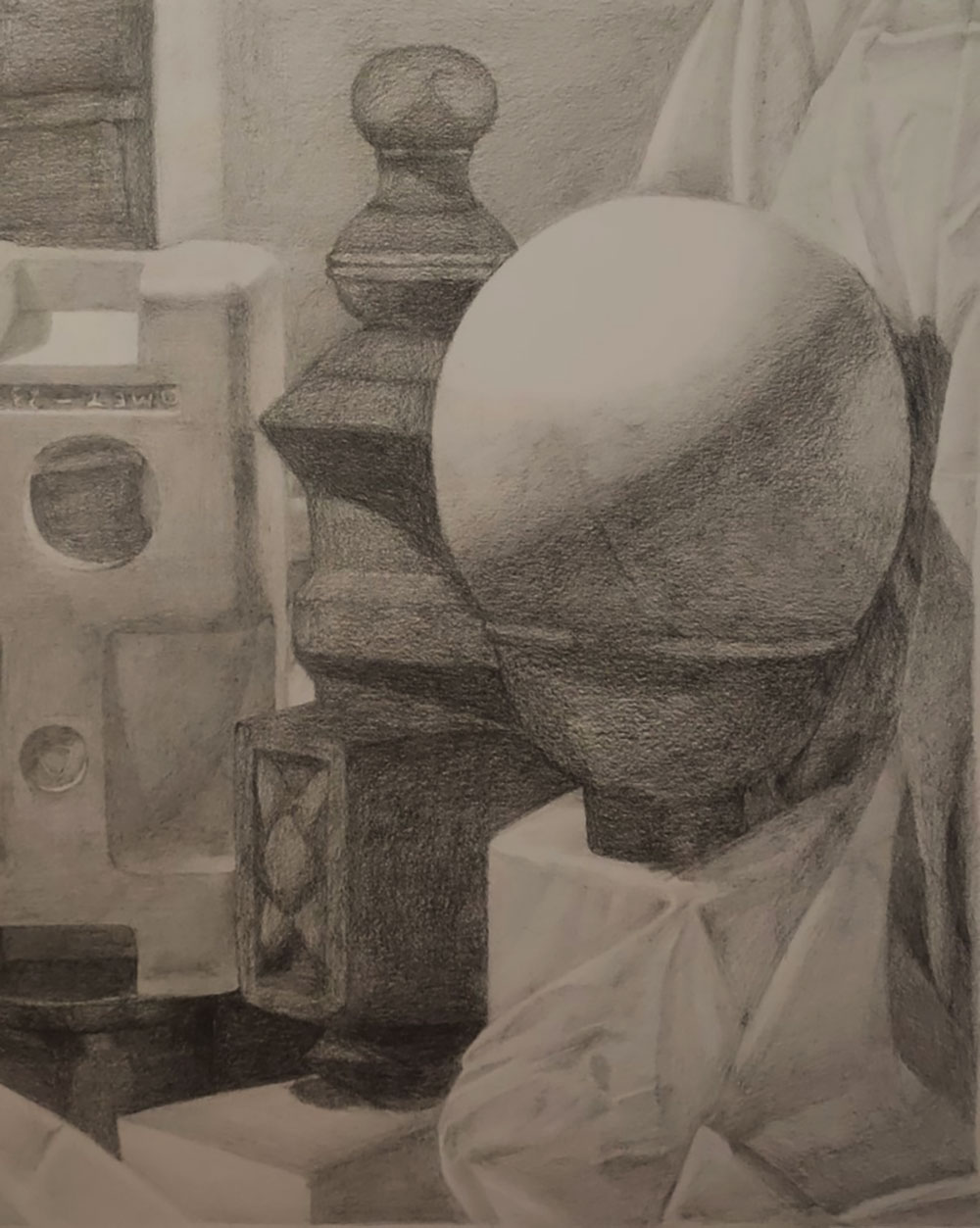 ---
Positive and Negative Shape
Description: Begin by creating two thumbnails in your sketchbook. Select the best one and continue to scale the drawing up.
Students will make a single drawing from an assembled still life focusing first on the negative shapes/spaces found within the arrangement. Students will render these spaces in a flat, unvaried line, with sepia colored conte, with an emphasis on the specificity of each individual shape.
Then, using the negative shape drawing as scaffolding, students will reevaluate their compositions and render the positive forms of the still life over the negative shapes in black conte. Students will employ line variation for depth and volume in the positive space drawing.
Please no shading or cross-hatching. Use only line for this assignment.
Materials:
Viewfinder
Black conte
Sepia conte
Erasers (kneaded, white, mechanical)
18"x24" Strathmore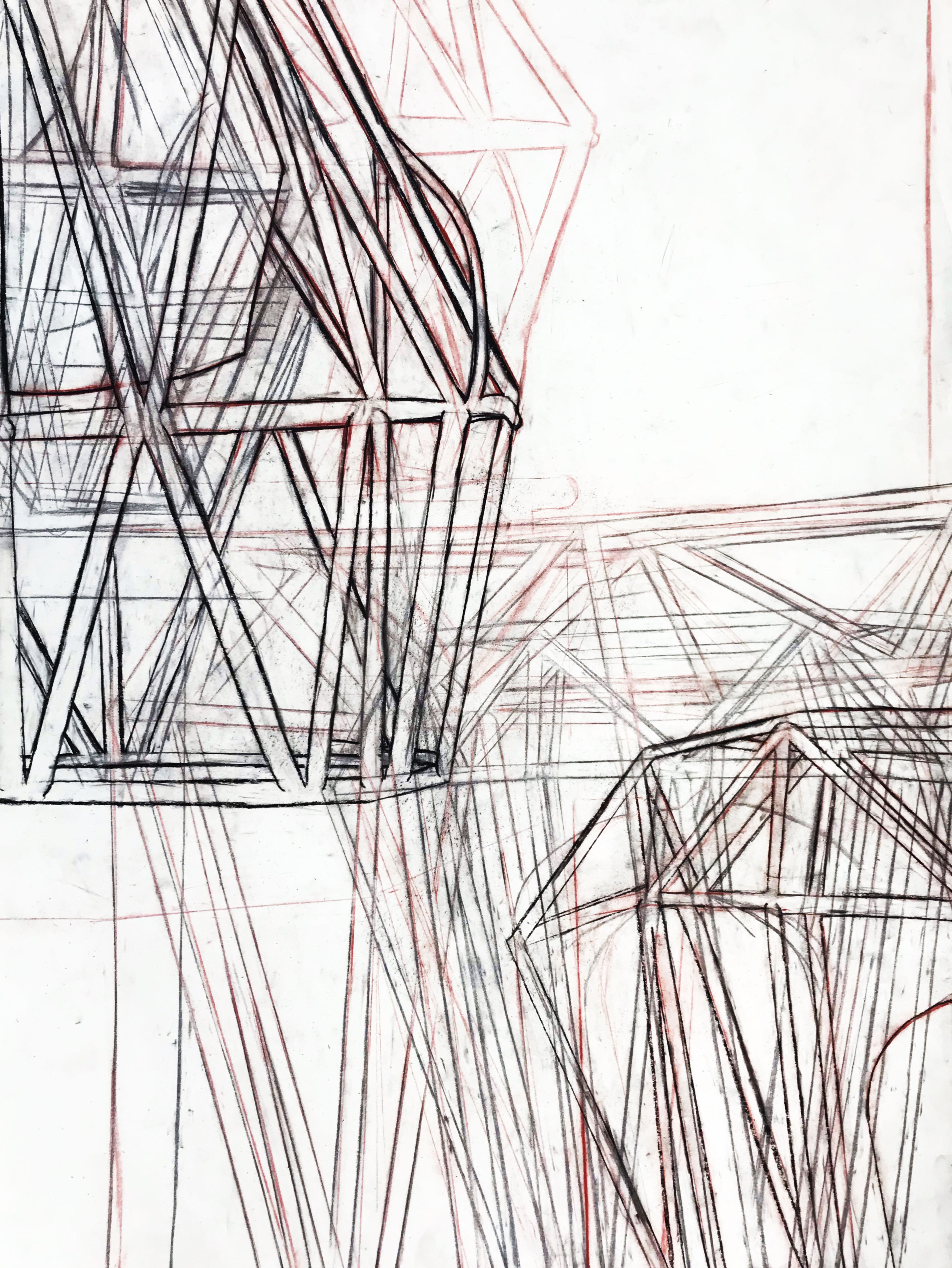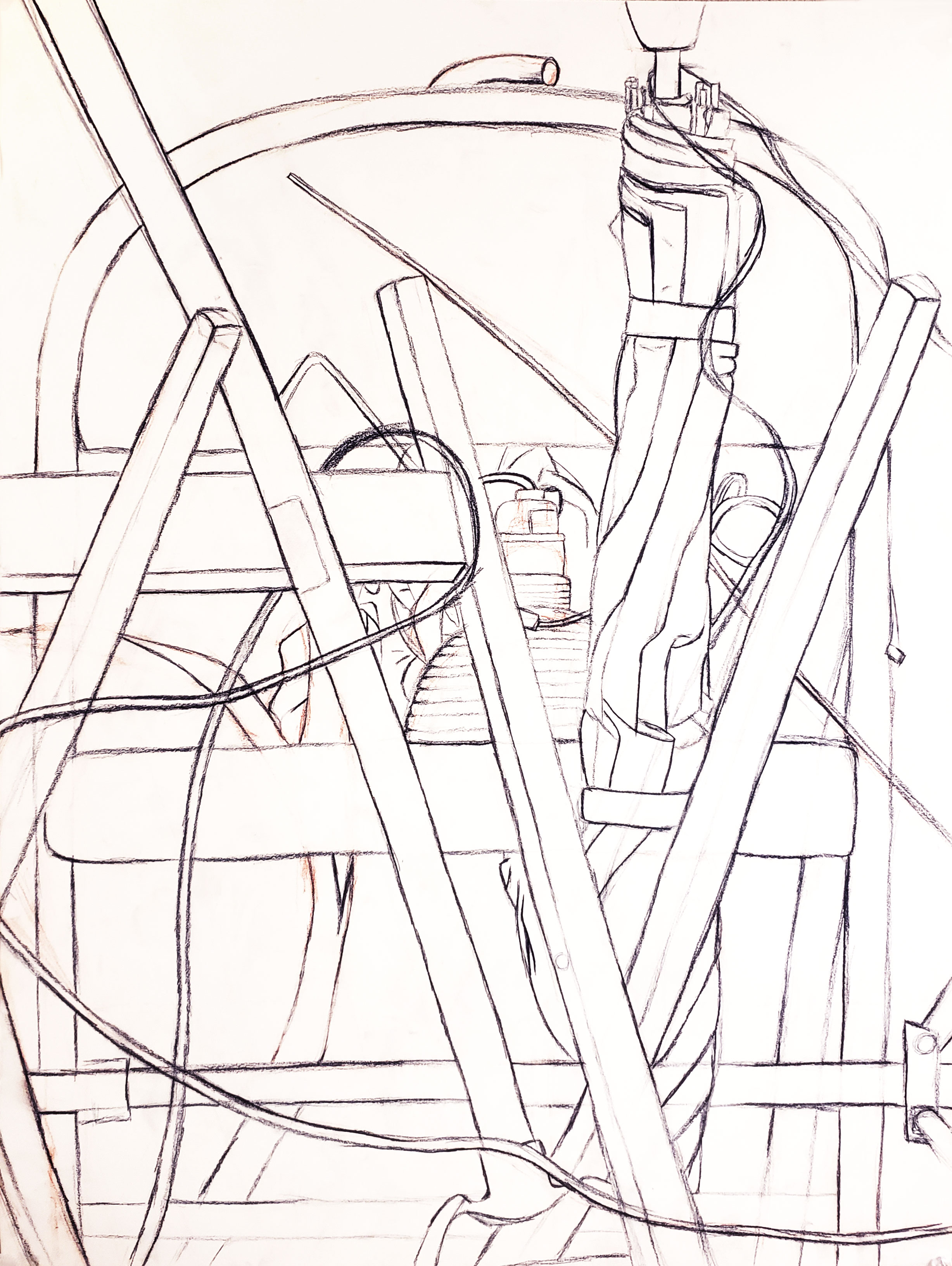 ---
Heightened Value
Students will make a single drawing from an assembled still life of forms with various local values, surfaces, and textures. Students will develop the drawings in successive stages in a heightened manner, being sure to reevaluate and refine the entire space of the drawing in a unified manner.
Materials: Viewfinder, black and white compressed charcoal, black and white charcoal pencils, erasers, stumps on 19"x25" gray Mi Teintes
Assignment Objectives:
Heightened value, general-specific rendering with a full range of value
Utilize the three applications of sighting for accurate, structured forms
Create a composition that is expansive, dynamic, and balanced
Achieve a degree of resolution that is highly consistent and unified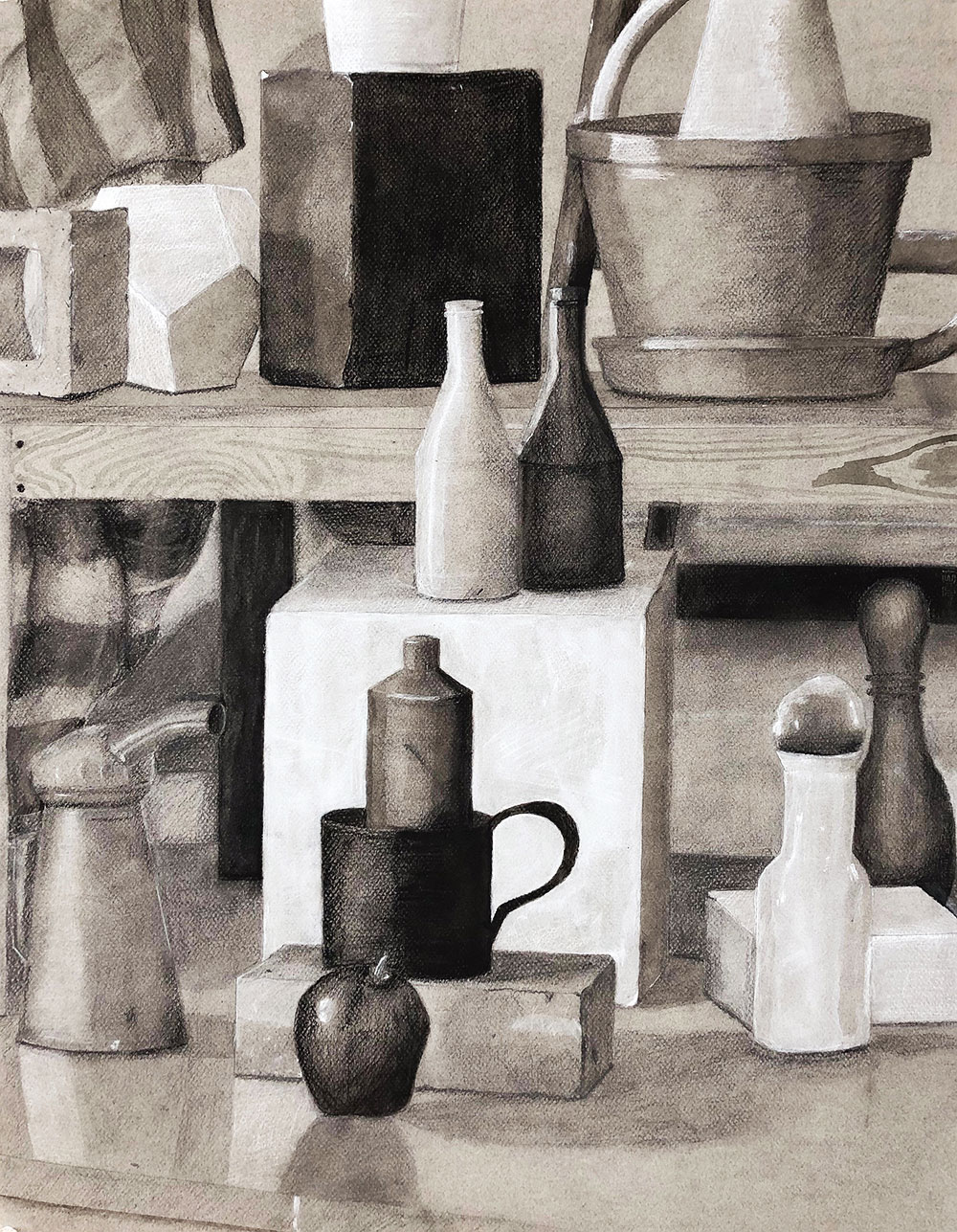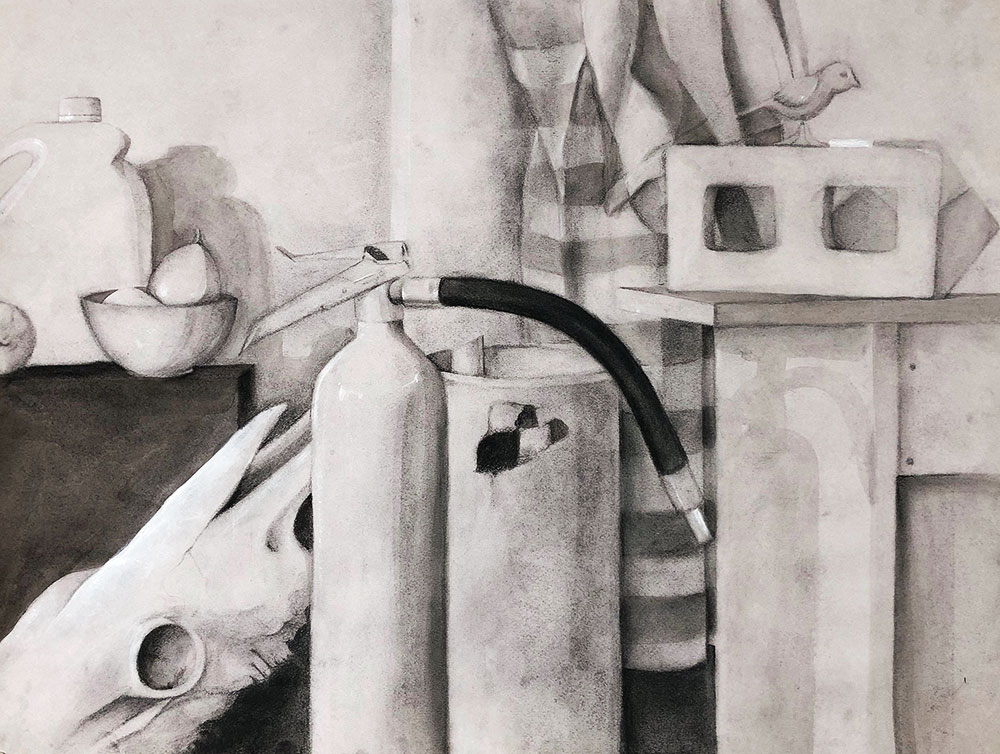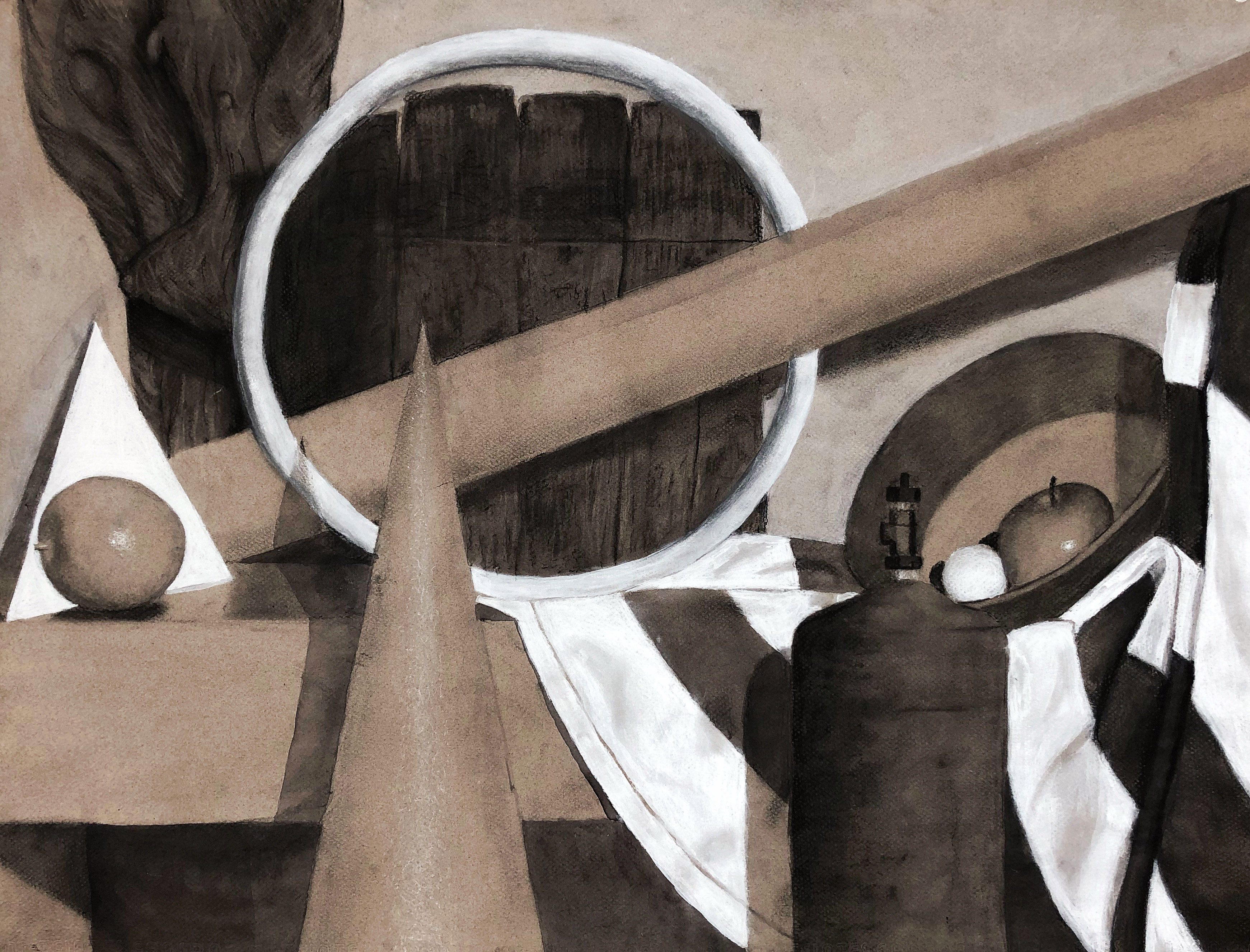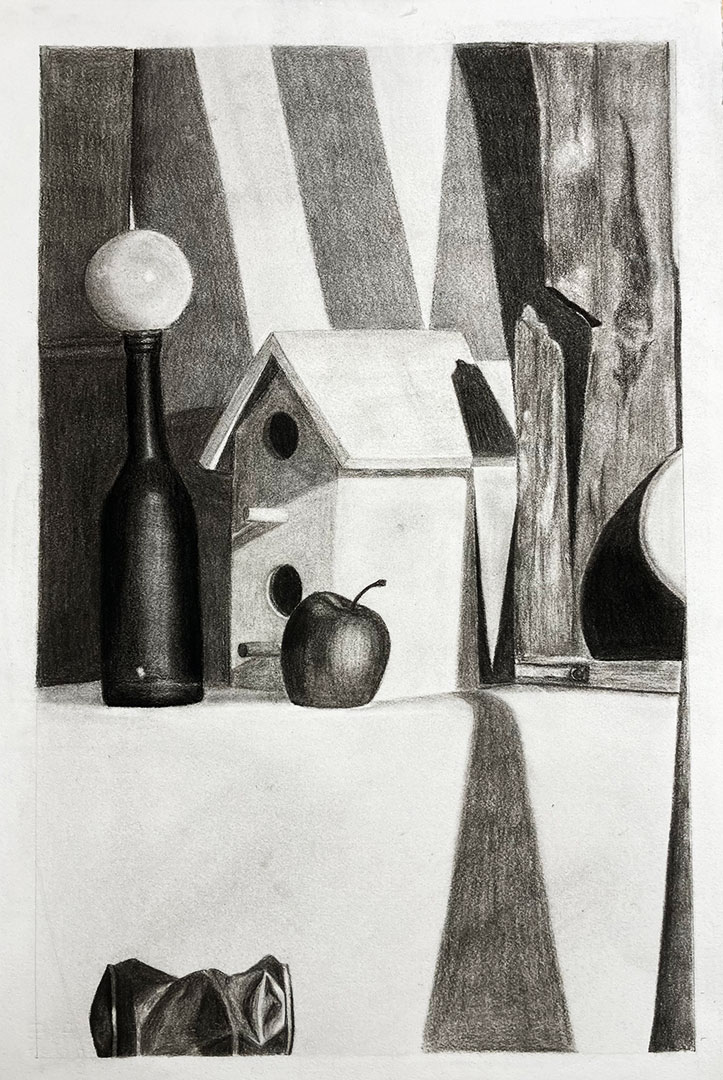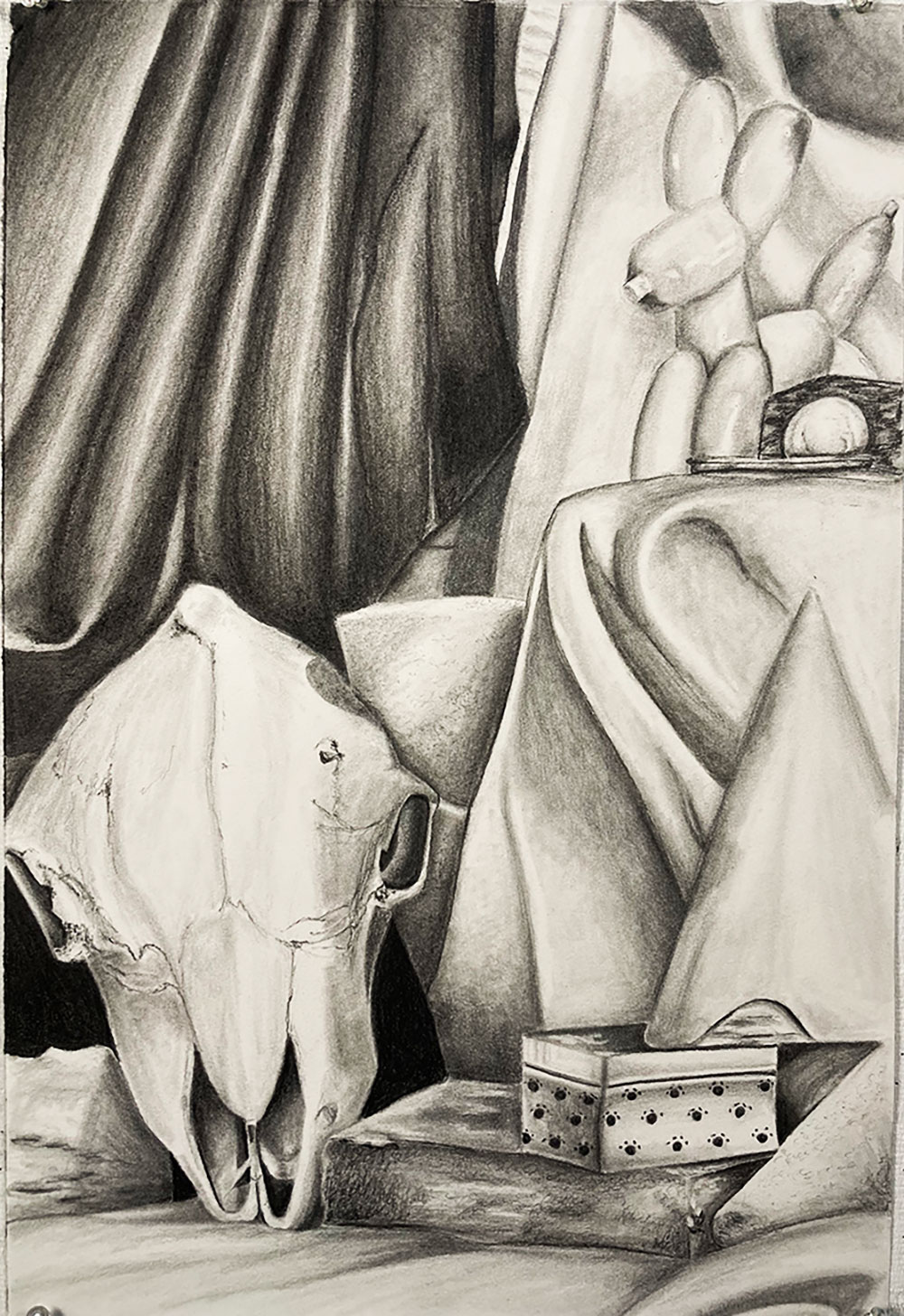 ---
Singular Object on Toned Paper
Materials:
Toned paper
Charcoal media (vine, pencil, and white)
Erasers
Blending materials (napkins, stumps, etc.)
Project Description:
On a sheet of manufactured toned paper complete a drawing of a singular object. The only other compositional components at your disposal are cast shadows. The cast shadows and vantage point should play an important role within your composition.
Identify the value of your sheet of toned paper and allow this value to remain active within your composition. Push low values by adding charcoal (pencils, compressed and/or vine) and pull high-key values with the addition of white media. Do not allow the two to mix on your paper, doing so creates color contrast and renders the local value of your paper useless. Be careful.
Before completing the final drawing, play with different compositional arrangements through thumbnail sketches (5 in total), which will be collected for grading.