Art 1153 | 3D Design
Three-Dimensional Design is a six hour studio course teaching the organization of the principles and elements of art as they apply to three-dimensional artwork.
Below are descriptions of some of the assignments in the course with student work examples.
---
Rhythm/Repetition/Movement/Color/Texture and the Natural World: Land Art
You are tasked with creating works of art with the raw materials you find in the natural world (though they don't necessarily have to be "natural").
Through your pieces you will address rhythm, repetition, and movement through the repetition of natural objects arranged to create a sense of movement, and repeated enough to allow a sense of rhythm. Additionally, you will be creating a structure through your arrangement (meaning that your repeated elements depend upon each other and create one, unified piece or site-specific installation). Color and texture should also be taken into account.
Guidelines: Like the Hippocratic Oath: First, do no harm!
You must not ADD anything to the natural landscape. You must obtain permission to use the land and materials (if needed). You must work alone in your own space/place. This project is about being alone in nature and the symbiotic relationship that happens between artist and natural world. You must present your work photographically in several viewpoints (full view and detail) to be uploaded into this assignment and onto the Goldsworthy Discussion Board.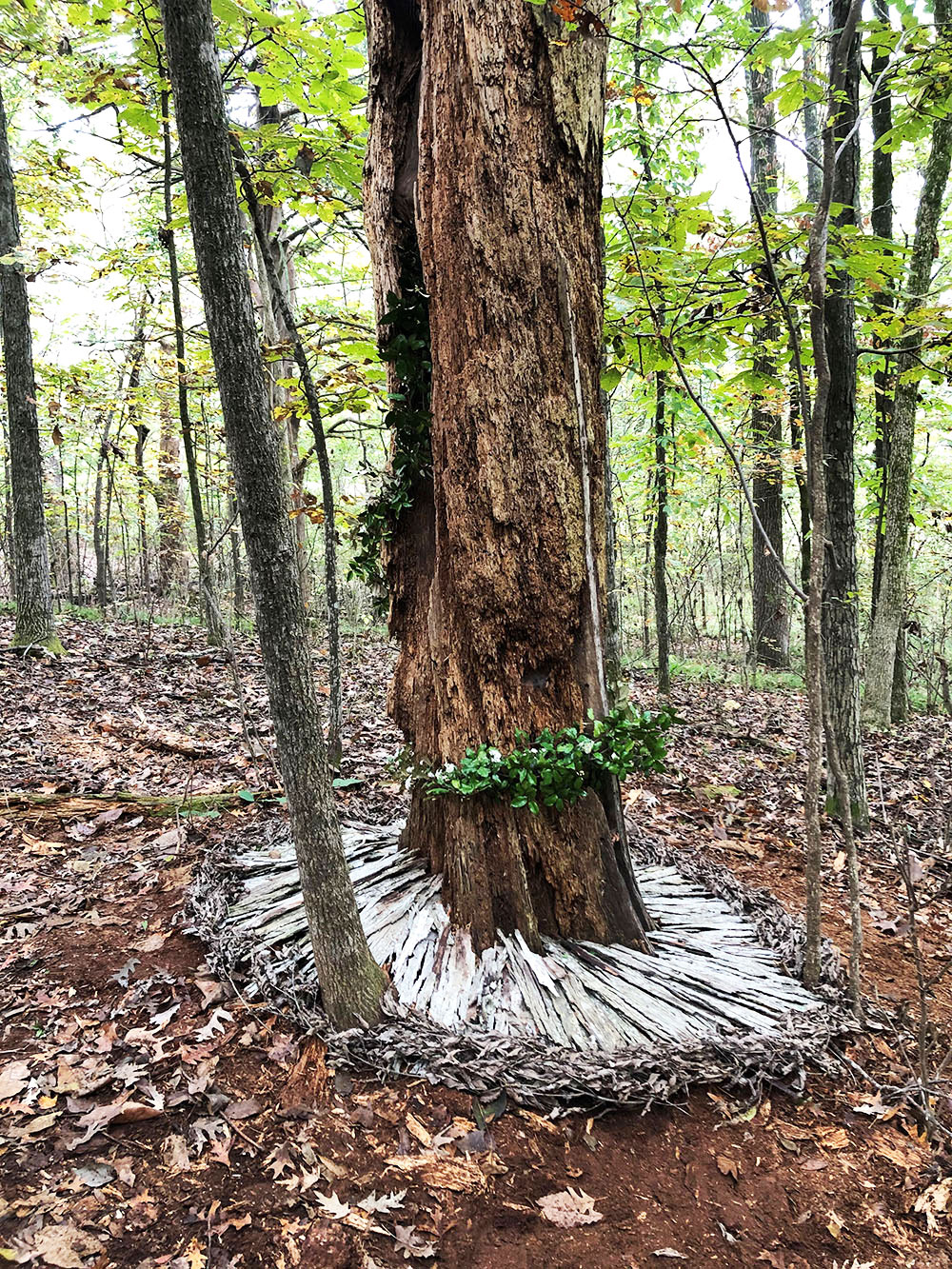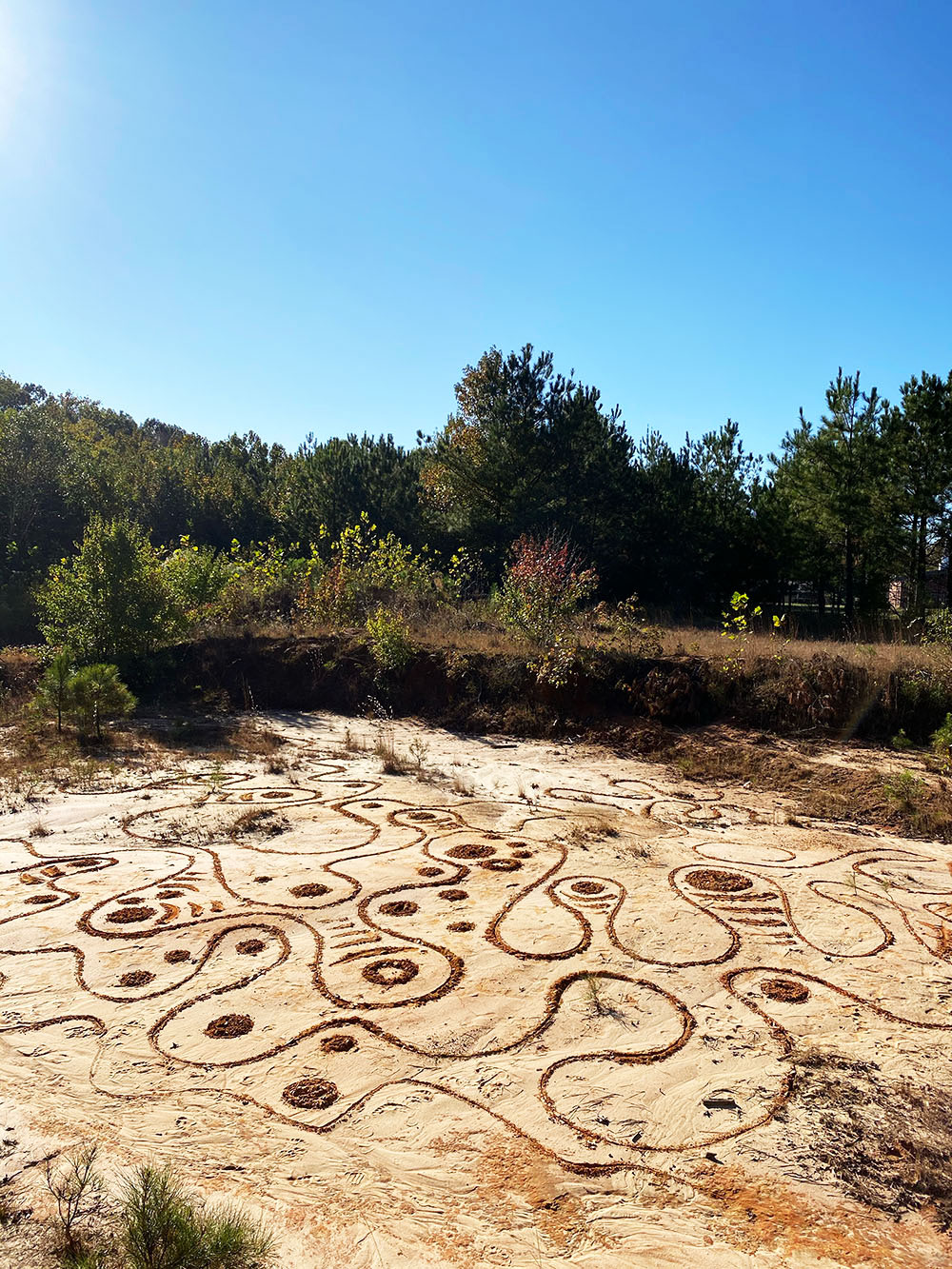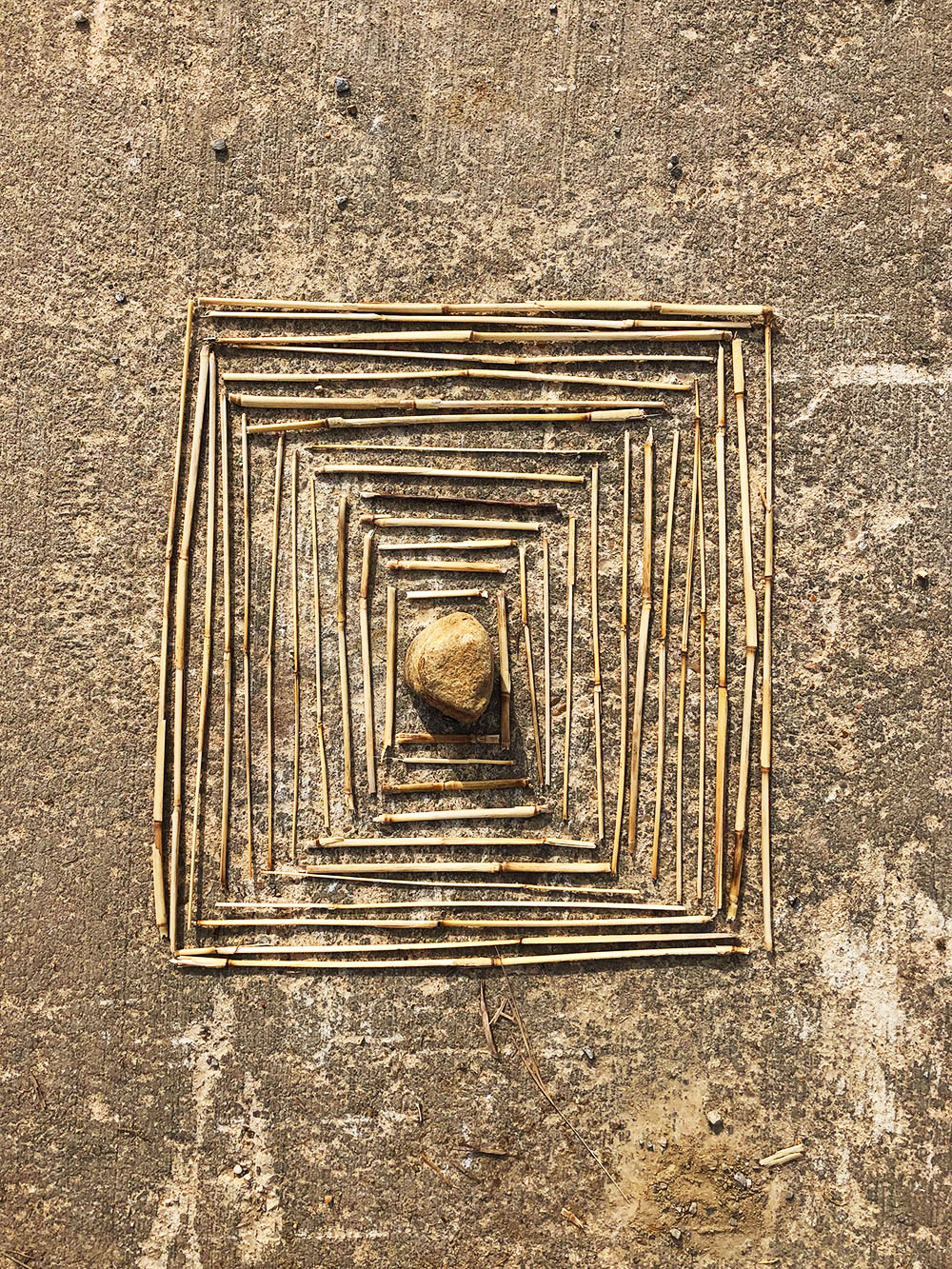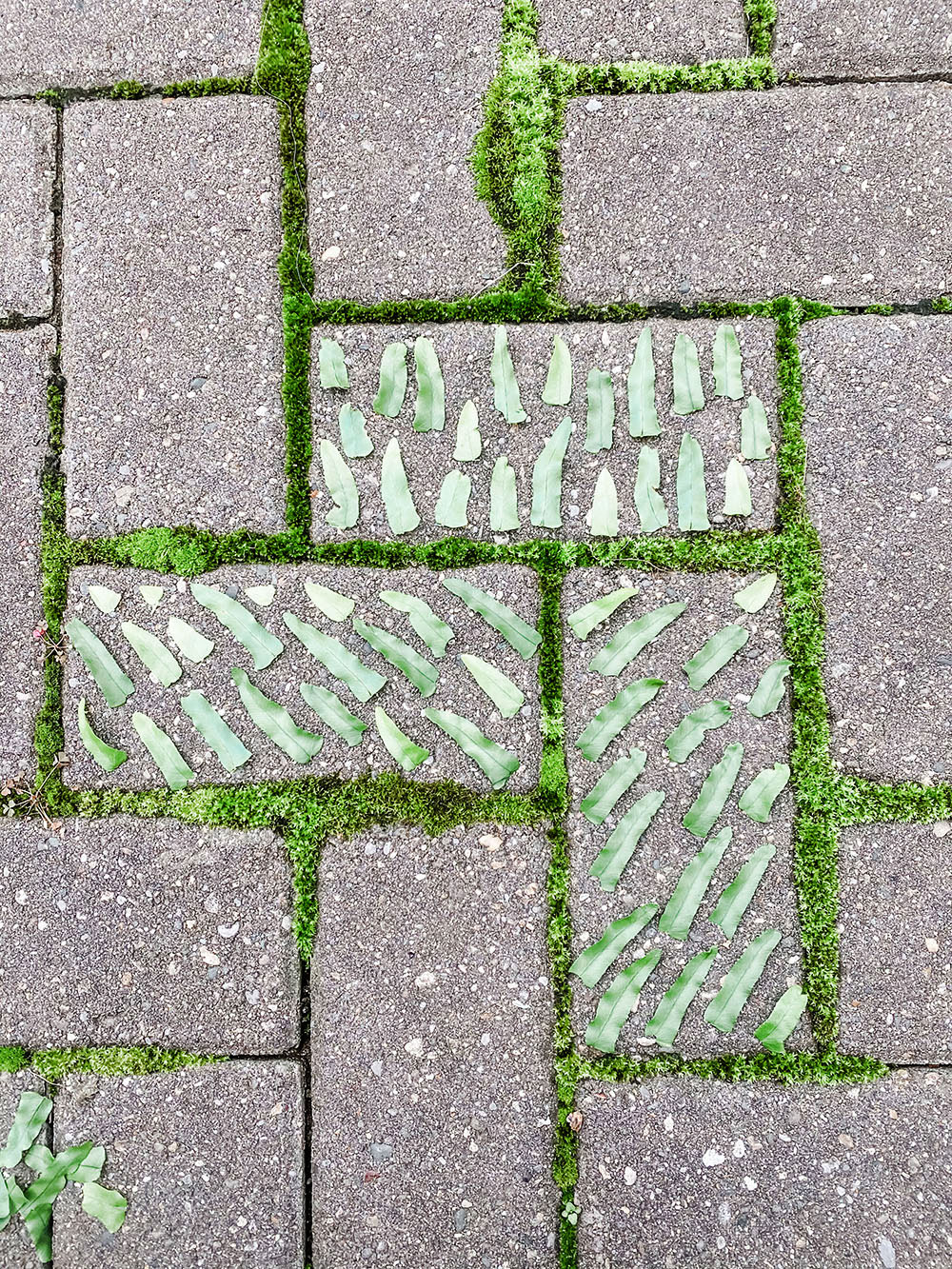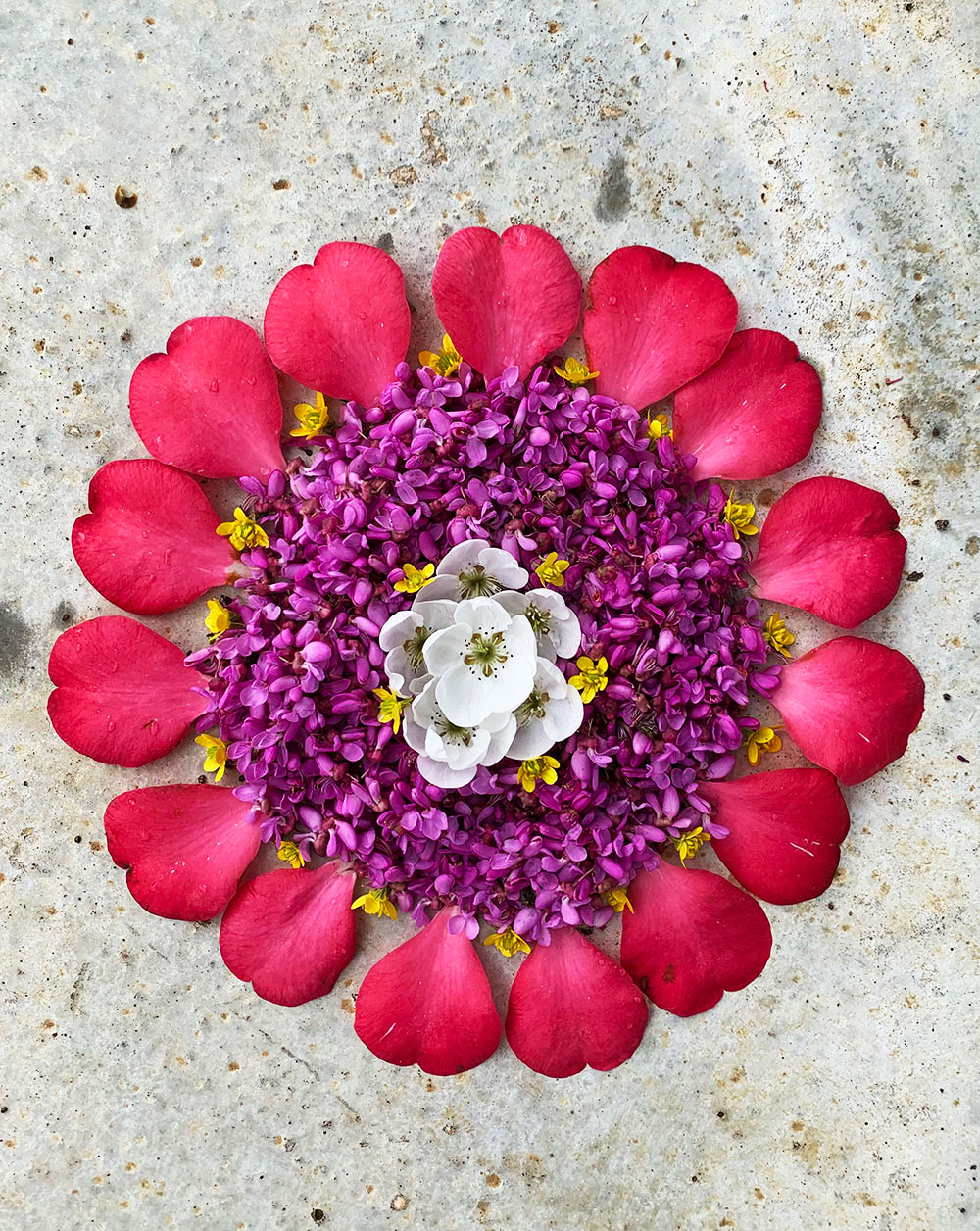 ---
Linear Construction
Materials: Provided: Wire and wood for first draft and 1" wood for base.
You supply: 3 Dowels (5/16"), 220 grit sandpaper, paint/finishing materials and paintbrush if needed.
Tools: bandsaw, sander
Objective: To create a closed linear composition (both ends of the line must conclude on the base or pedestal) consisting of mitered dowels and a wooden base. The objective is to create a "perfect" composition in the round, from a continuous line, that is unified from every point of view.
Working Process:
Complete Assignment 1 – Artist Deep Dive Martin Puryear
Sketchbook: Look at artists working with line: Martin Puryear, Andy Goldsworthy, Will Clift, Sol LeWitt, Alexander Calder, Orly Genger, etc. Put at least 8 examples of artists' work that is linear into your sketchbook.
Start to think/sketch about what makes a linear sculpture successful "in the round". Does the line contain a sense of volume? Does it occupy a space? Does it lead the eye through repetition or rhythm? Does it use a variety of angles and wooden lengths or does it use repetition of similar line segments and angles? Does the line describe a feeling or adjective\ (angry, slow, sharp, happy)? Think about color choices and conceptual plans. While the line should be NON-representational, you can have references to help guide your design plan. What are your references?
In class, using the provided wire and wood, create 5 maquettes (small scale compositions). Each piece must be linear and angular in form and use wood as a base. Each piece must be a closed composition. These 5 maquettes will be included in your participation grade.
With the help of critique and feedback, over the next couple weeks you will enlarge your best composition to pedestal size using round wooden dowels. You will be able to choose from a variety of sizes of 1" wood for a base. You may cut and alter the wood base using the band saw.
Embellish your final design with texture, pattern, and/or color.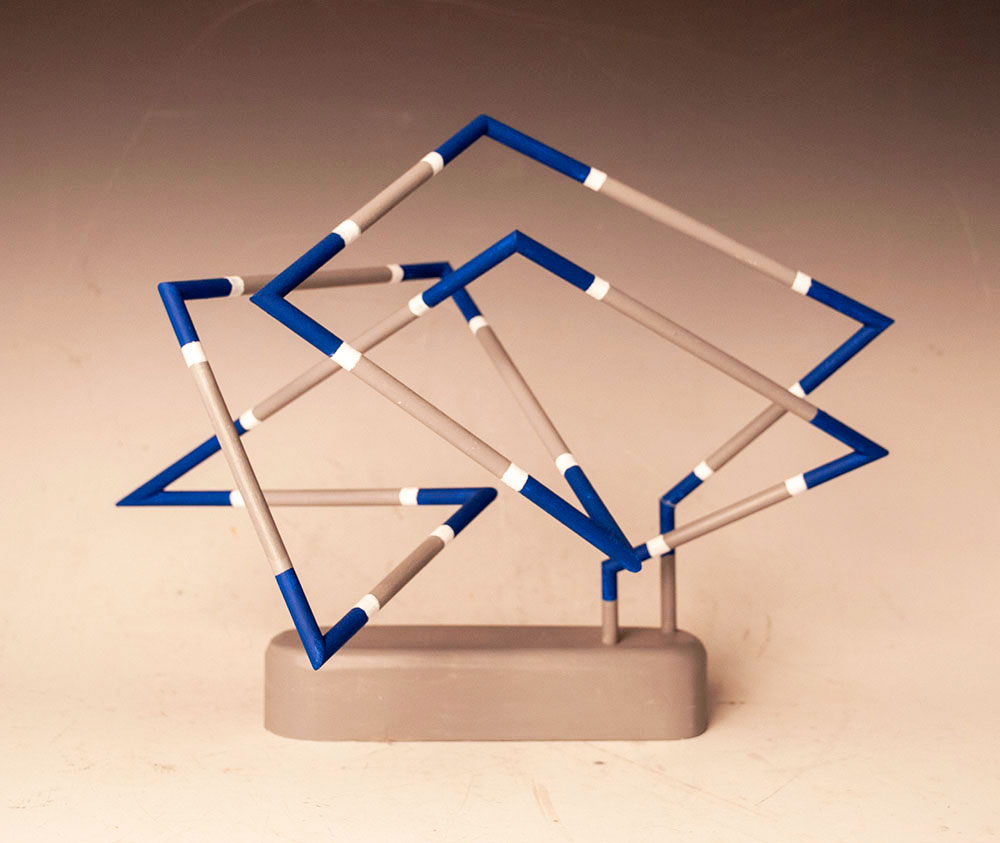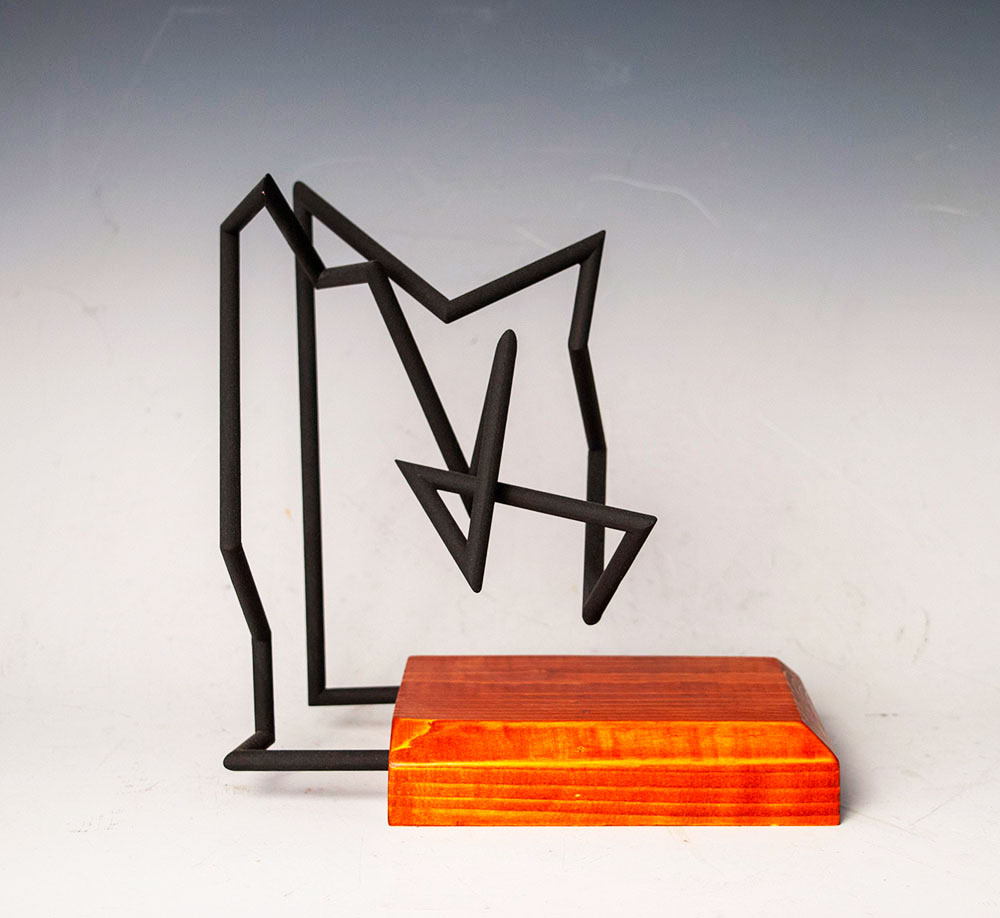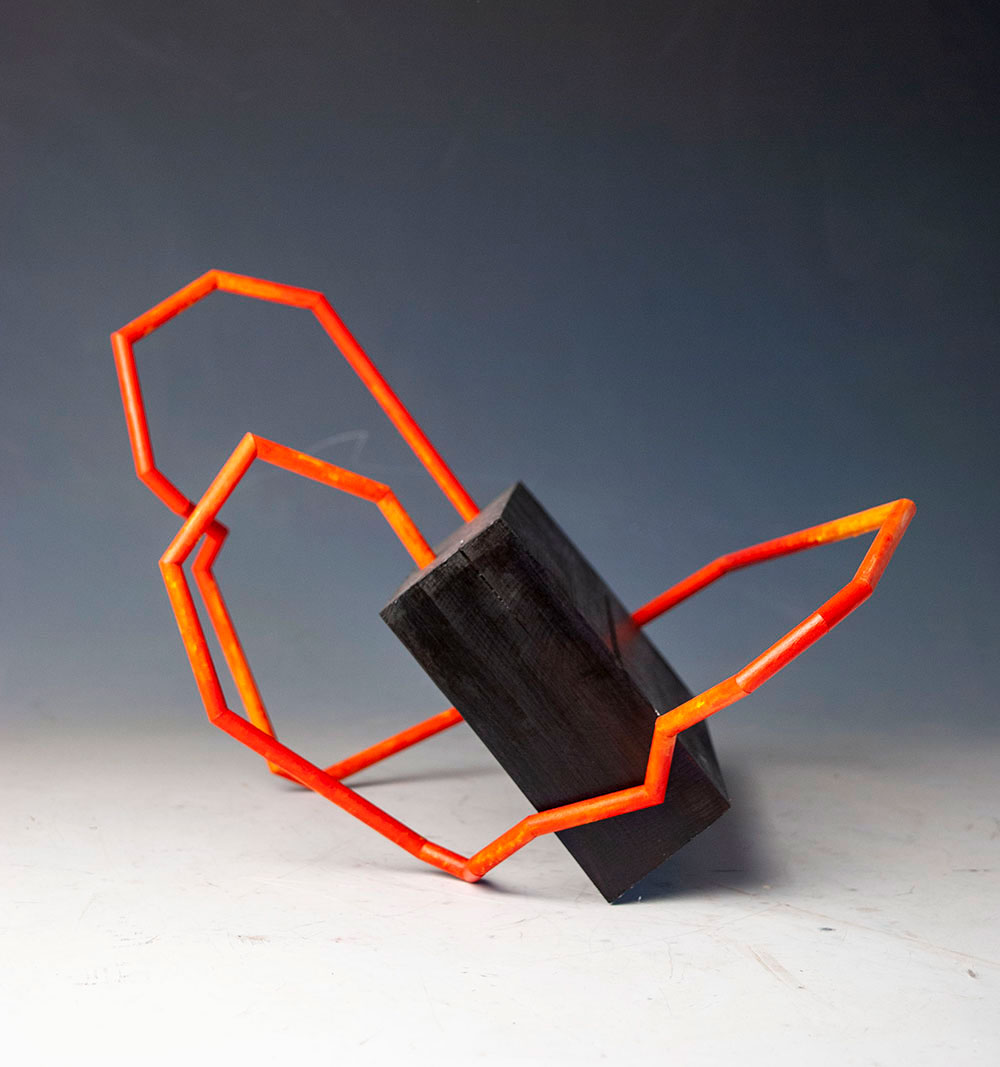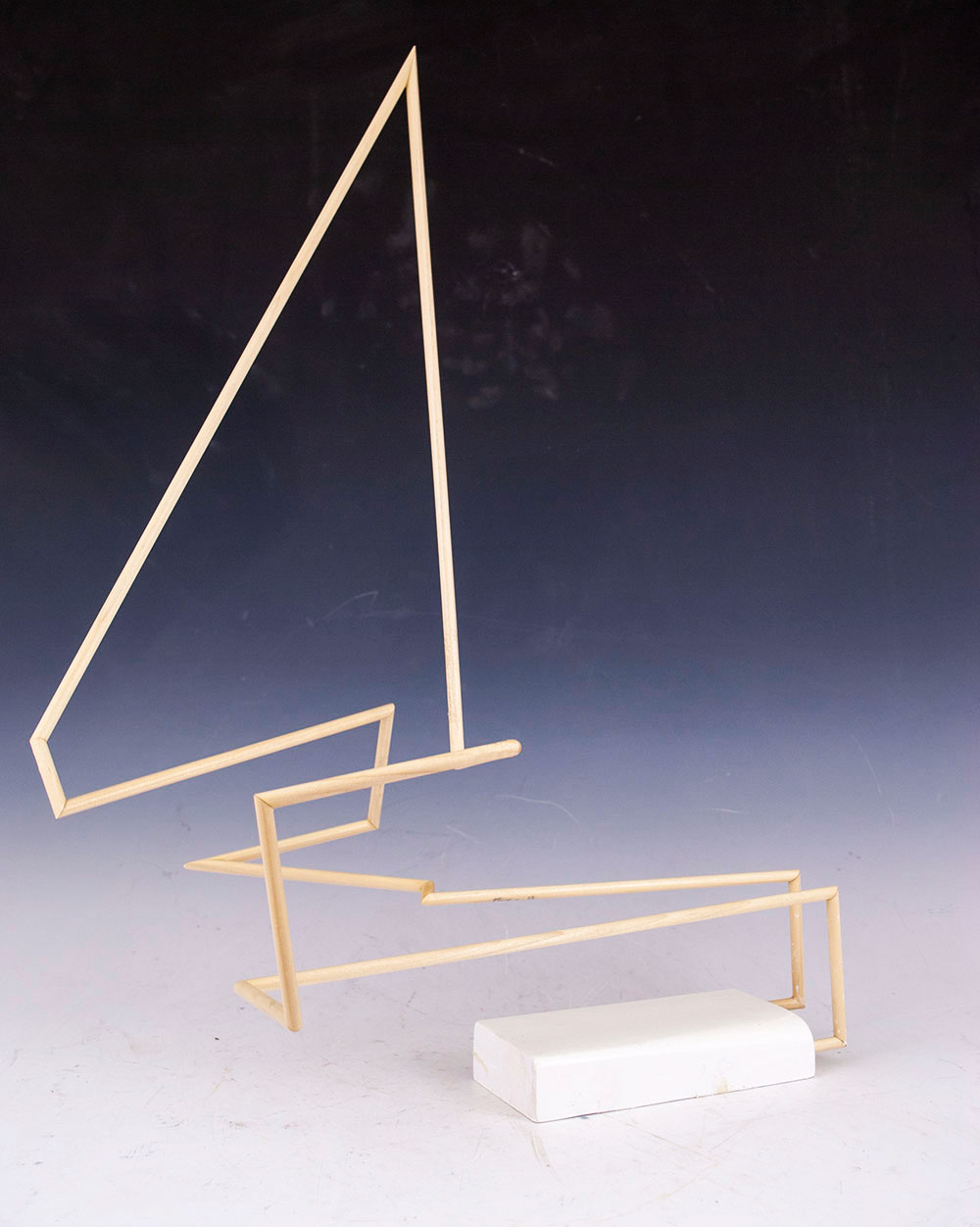 ---
Repetition/Gradation/Relief
Relief sculpture can be low relief, like a gravestone, or high relief, which is more 3-D but is frontal and still attached to a flat background/ Relief sculpture is NOT "in the round"
Objective: Looking at the work of Matthew Shlian, we will create a, 7.5 x 7.5" inch, low relief sculpture out of a stack of 20-30 sheets of 8.5 x 11" card stock. Each piece of card stock will have negative spaces cut out of it. The design created by the cut outs should repeat and change from one sheet to another to create a repeating and gradating relief sculpture.
Process:
Complete Artist Deep Dive
Thumbnail sketches- you need to complete at least 20 thumbnail sketches (square format). . Watch "Thumbnail Sketch video with Tips" and "Relief Examples" video for some help.
Start by working out design ideas in your sketchbook.
We will complete a relief trial in class.
Prepare your format: Mark off your 7.5 x 7.5" square on all sheets (make a ó" border on the top and on the sides. Measure down from the top border 7.5" and complete the square. You should have 3" at the bottom.
Draw out your top design and carefully cut it out with your x-acto knife. This page becomes your stencil for your actual Page 1—you will not use it in your final. It allows you to do all your figuring on the stencil page and keep your Page 1 clean. Number the rest of your pages on the bottom back of the page.
Trace the design from your top sheet onto the next sheet (page 1) as a guide from which to change your design.
You will then alter the design to gradate with each successive sheet.
Cut out second design and check it against your first piece to ensure that the design is to your satisfaction.
Repeat until done.
Go through each individual sheet, cleaning up cuts and erasing pencil marks.
Check with me before gluing. Then glue sheets together using your rubber cement. After dry, use rubber cement pick up to remove any excess rubber cement.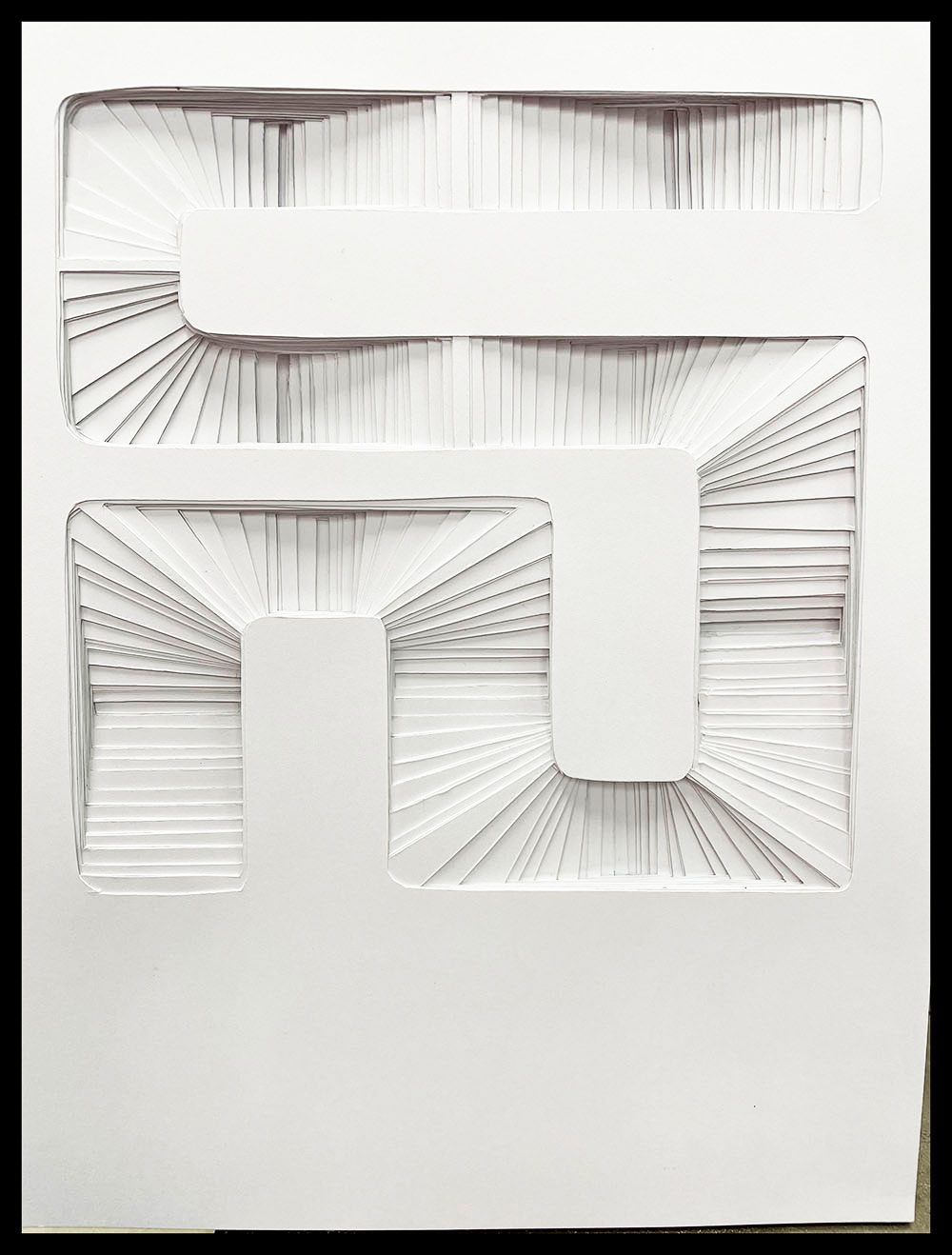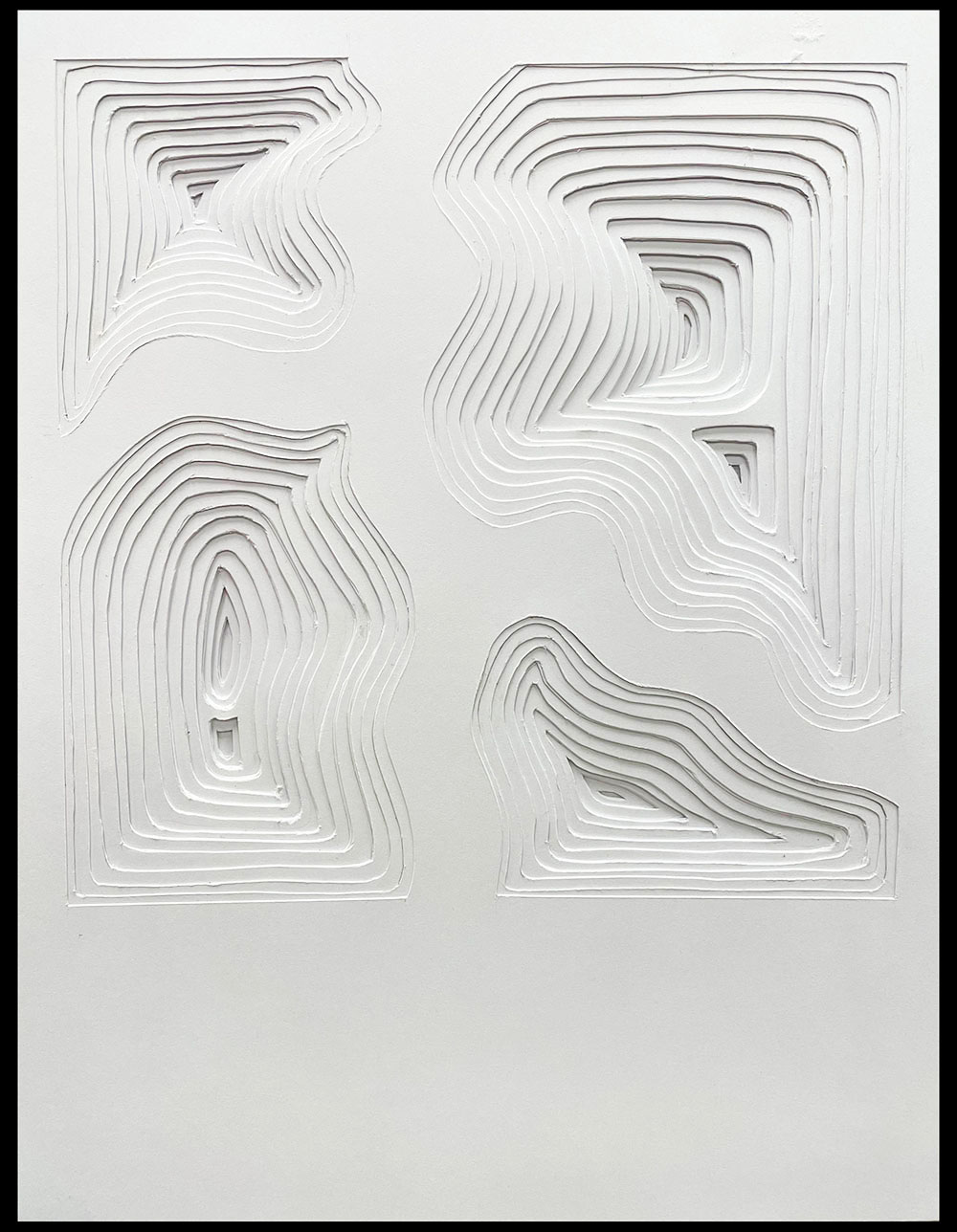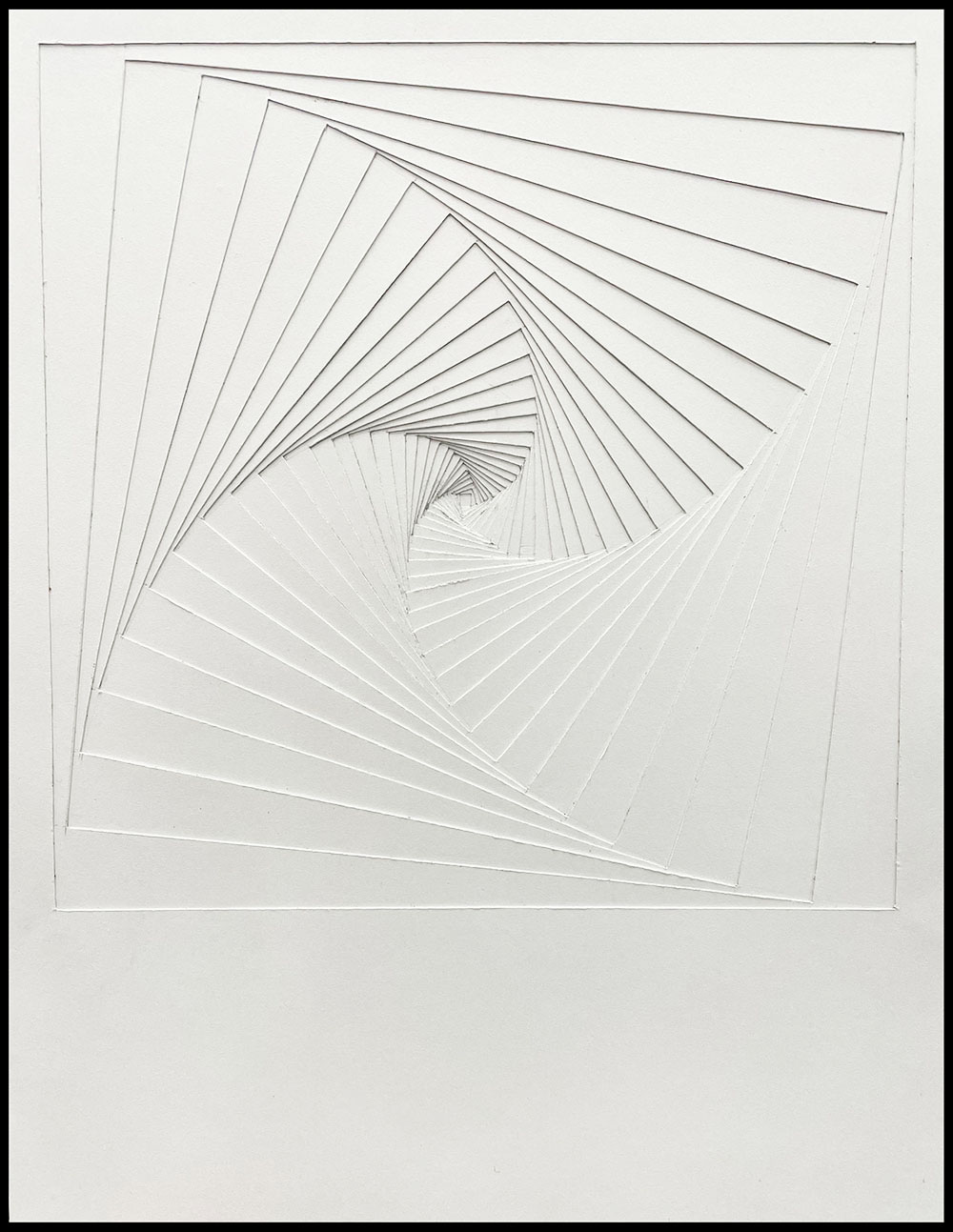 ---
"One Word": Mass—Plaster Subtractive Sculpture
Artists to look at: Matisse, Brancusi, Rodin, Giacometti, Henry Moore, Andrea Cascella, Peter Agostini – Baby Doll and Big Daddy, Arnaldo Pomodoro, Jean Arp, Barbara Hepworth, Louise Bourgeois, etc.
Subtractive Process Plaster- (The subtractive process involves taking away from an original mass to create a form.)
Objective – Pour plaster, Carve sculpture out of plaster subtracting out of the block the un-needed pieces.
Primary Considerations- Your piece must consist of the following:
At least 2 plaster pieces and one wood base
Emphasis on the play positive and negative space
Your plaster pieces must interact with and depend upon one another or otherwise have a relationship with one another
Must be successful in the round—meaning you need to keep ALL viewpoints in mind as the viewers relationship to the piece changes
Must be non-representational
You must title/describe your piece with one word
Supplies needed: wood and plaster (provided), plaster carving tools (provided, for the most part), milk/juice cartons for pouring plaster into, sandpaper, and wood finishing materials as needed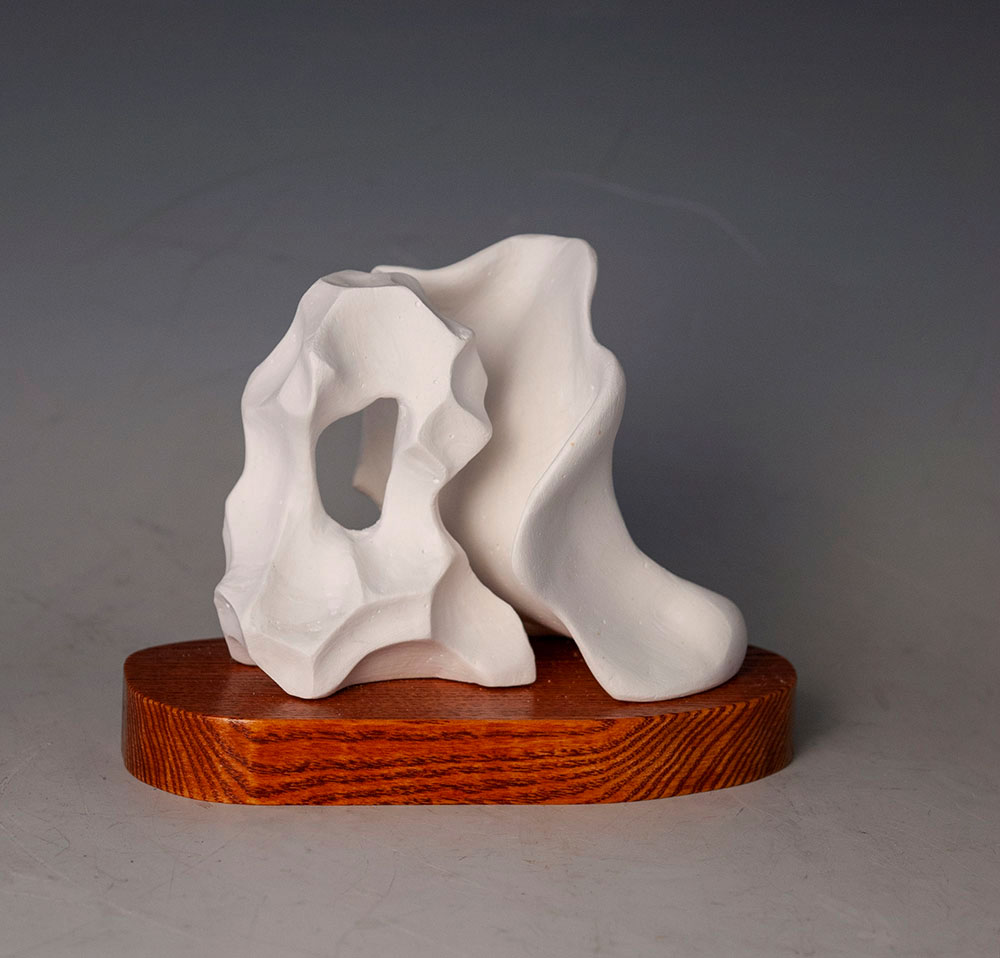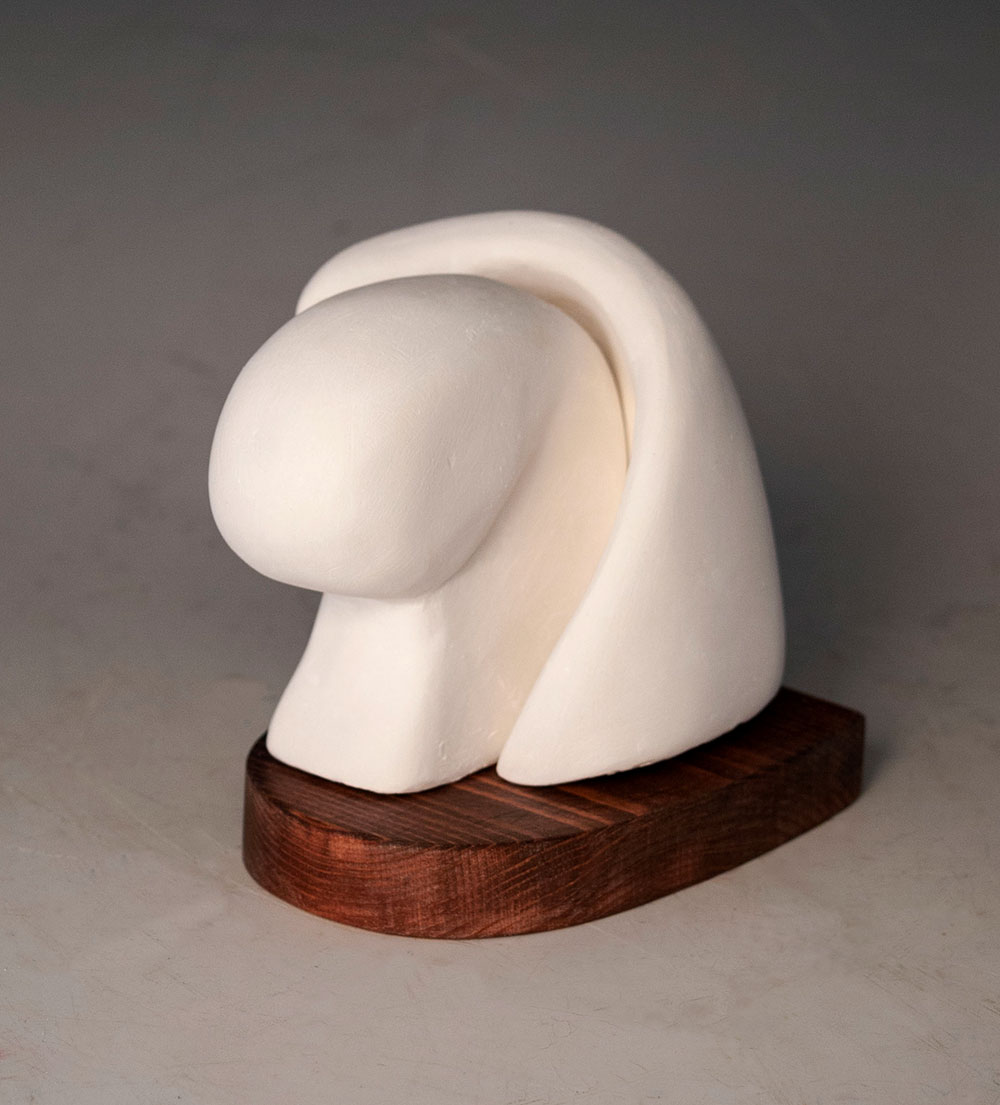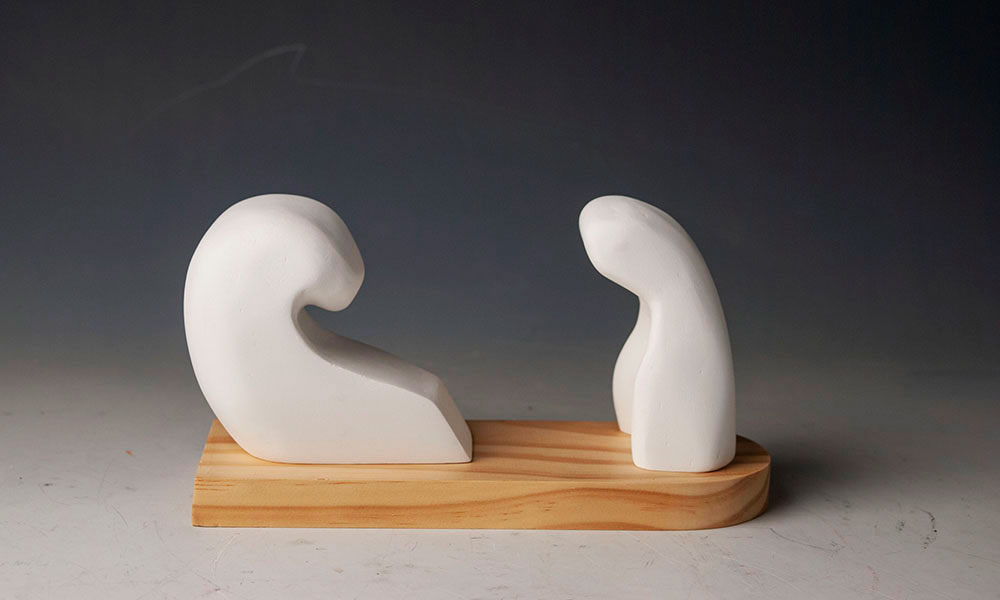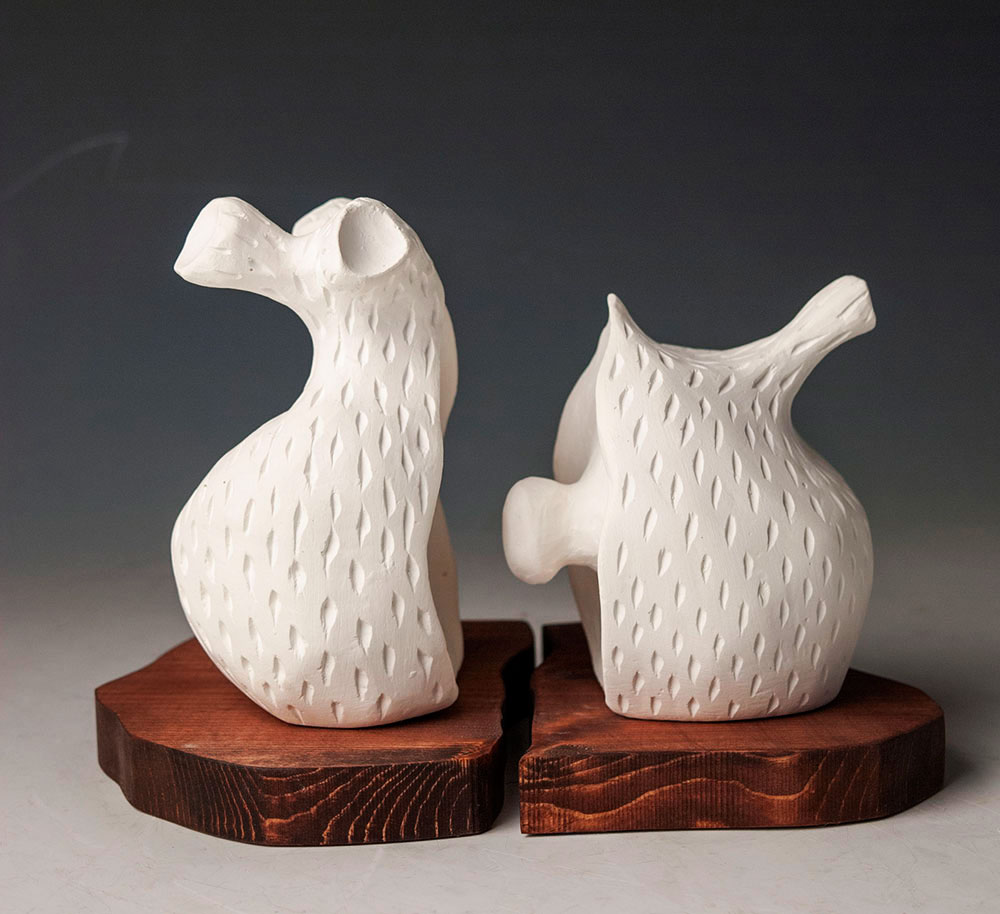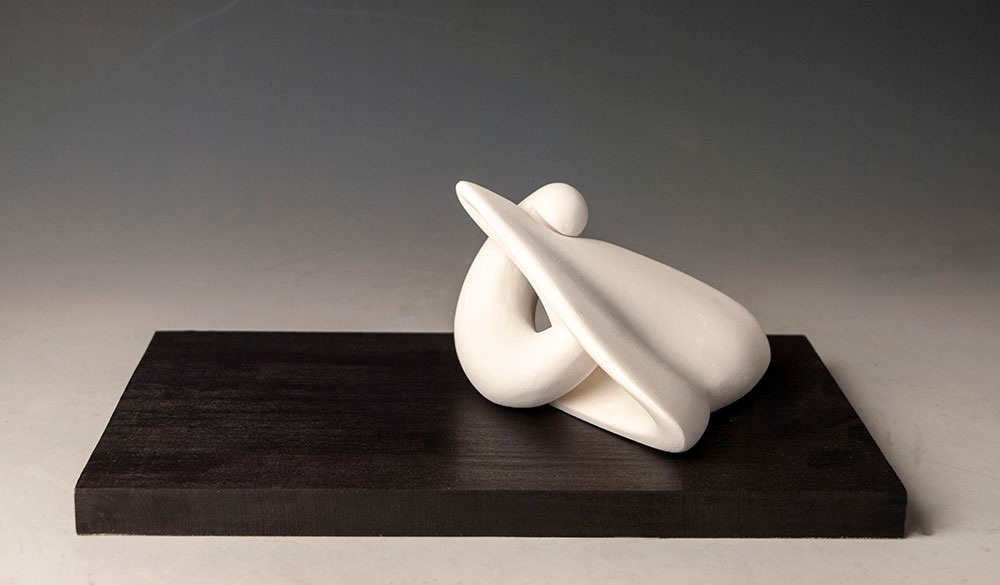 ---
Plane/Color/Texture Cinderblock Assignment
Through this project we will address the following concepts:
Plane creating form/plane containing a volume
Using color and texture in unusual ways to create interest or subvert how we understand form
Soft sculpture
Learning basic sewing, pattern-making, and upholstering techniques
Sketchbook Requirements:
Brainstorm in writing ideas for objects and for color/pattern ideas to go with (or against) those objects. I want to see several different ideas.
8 Artist examples of work that deals with texture and color in unusual or interesting ways (art in which color or texture are the focal point)
Working process
We will do some practice hand sewing. 
We will make a pattern for our object.
We will sew/upholster a "skin" for our object.
Supplies
16" x 8" x 8" concrete cinder block. 
1 yard of fabric
One spool of thread that matches your fabric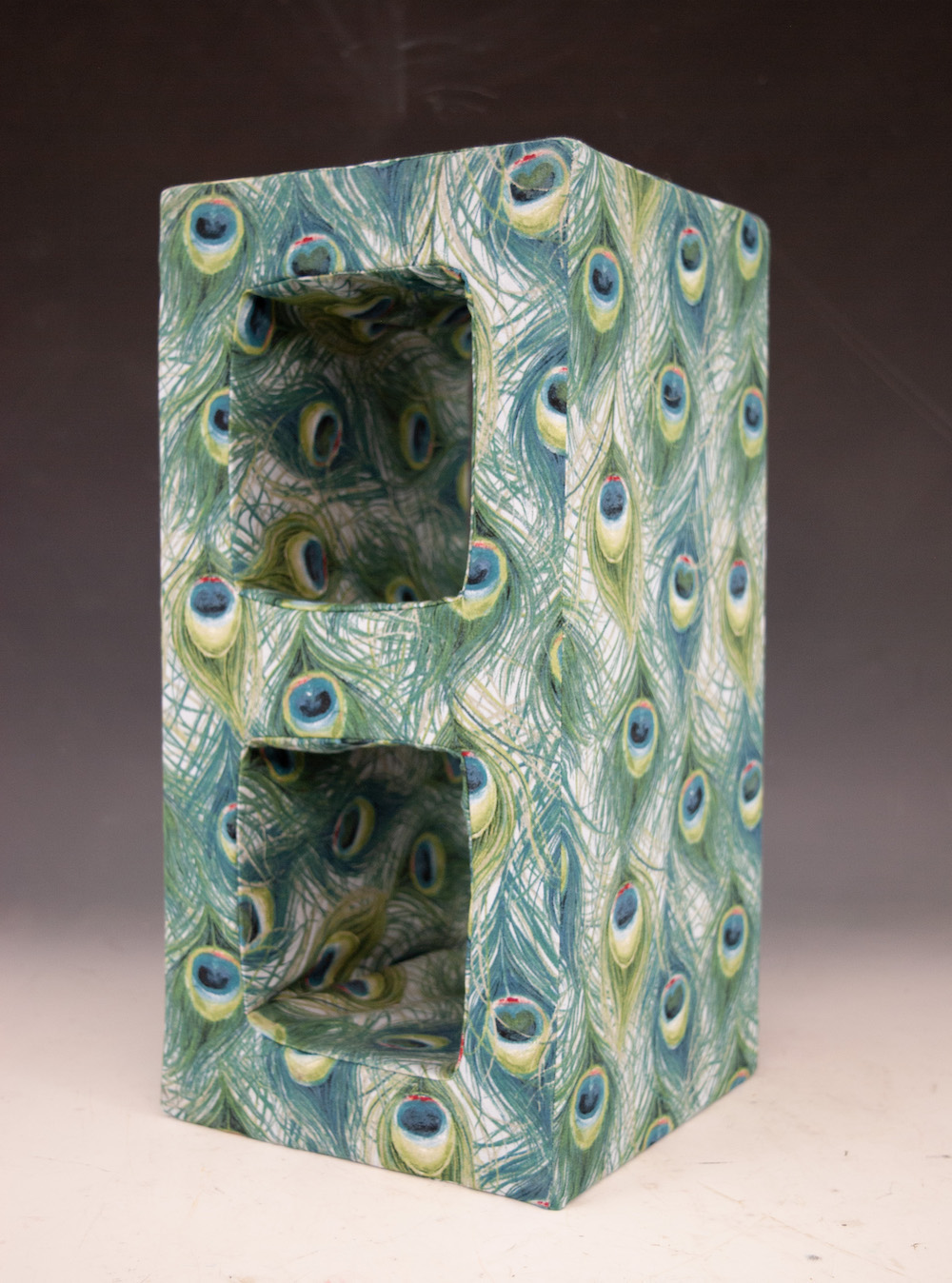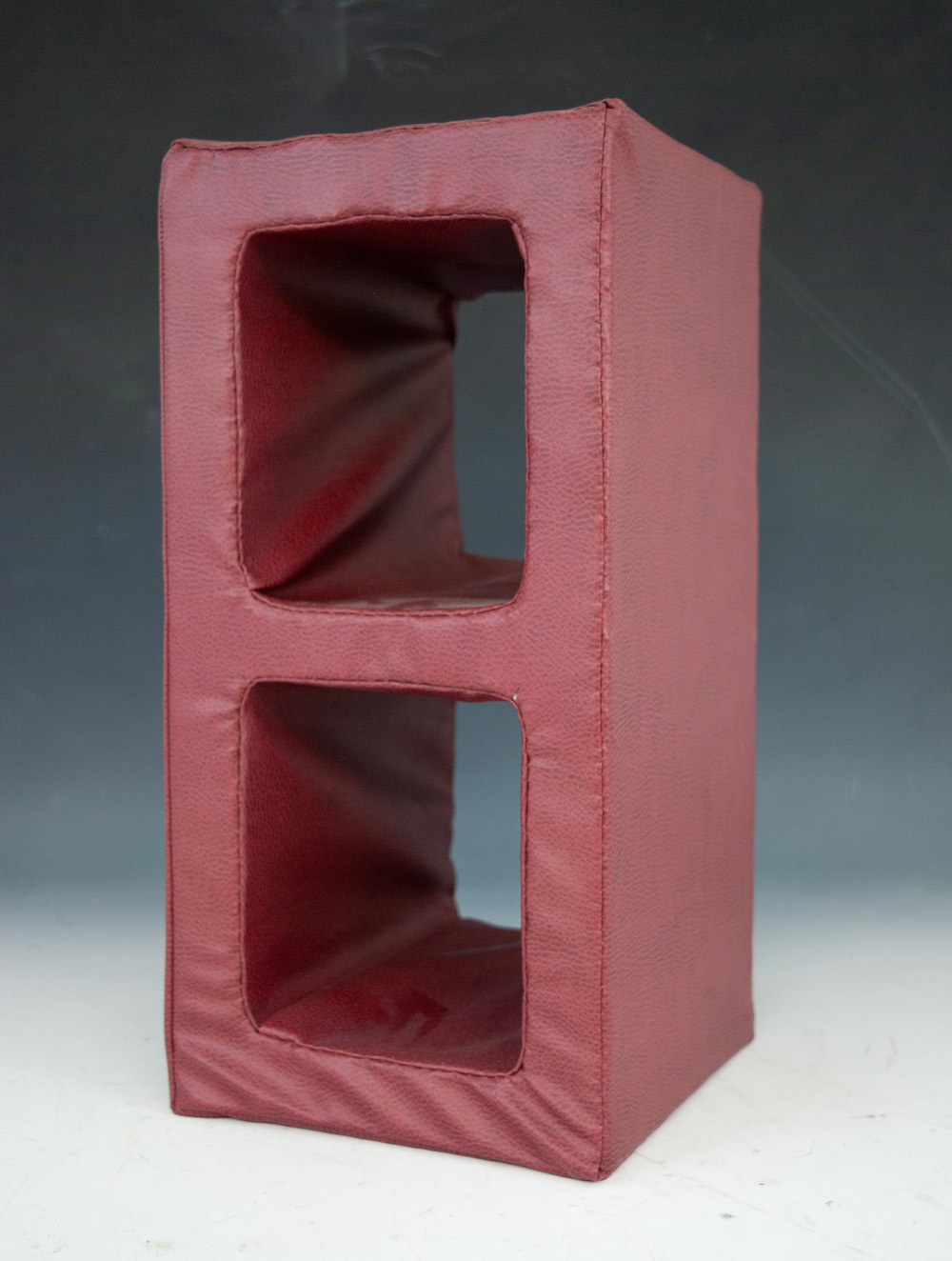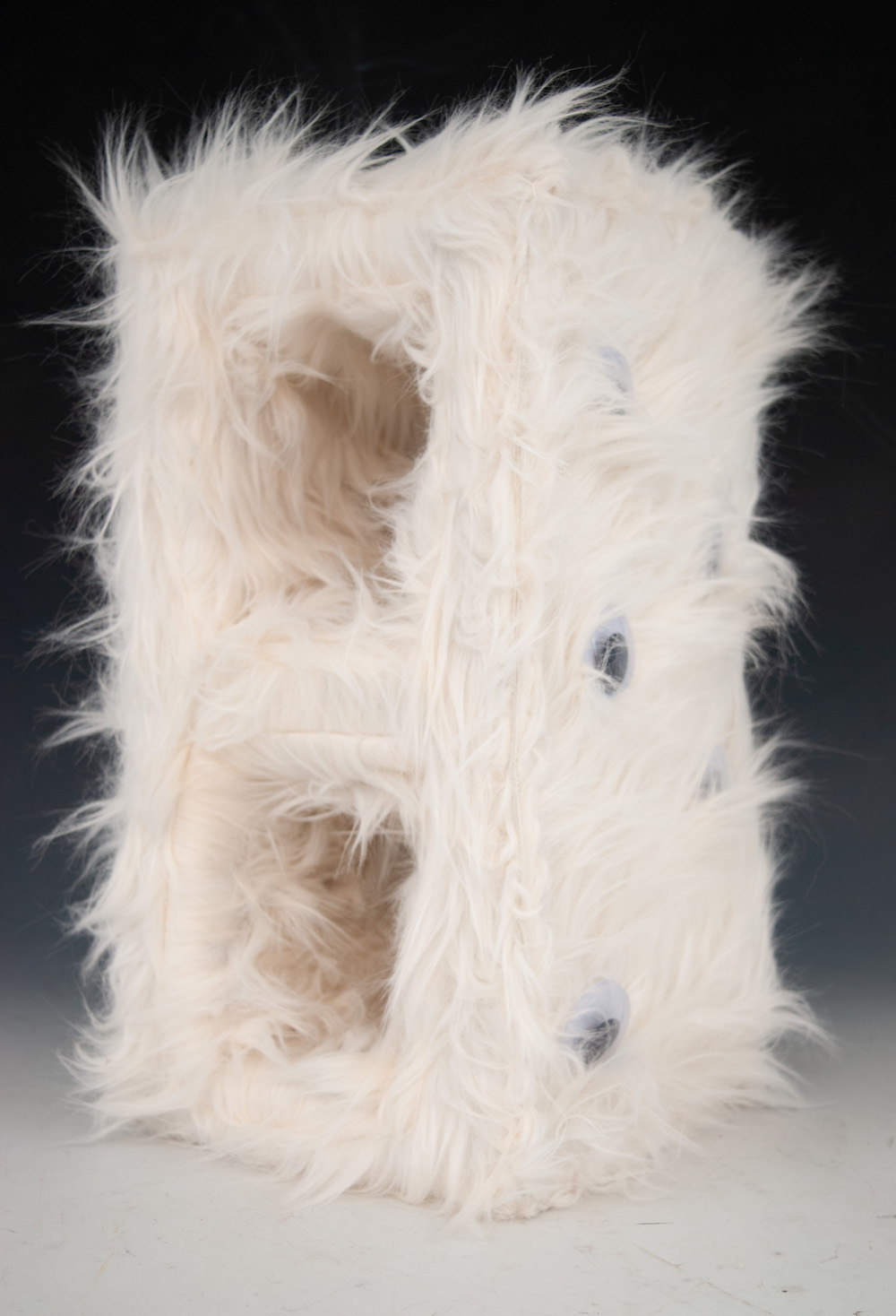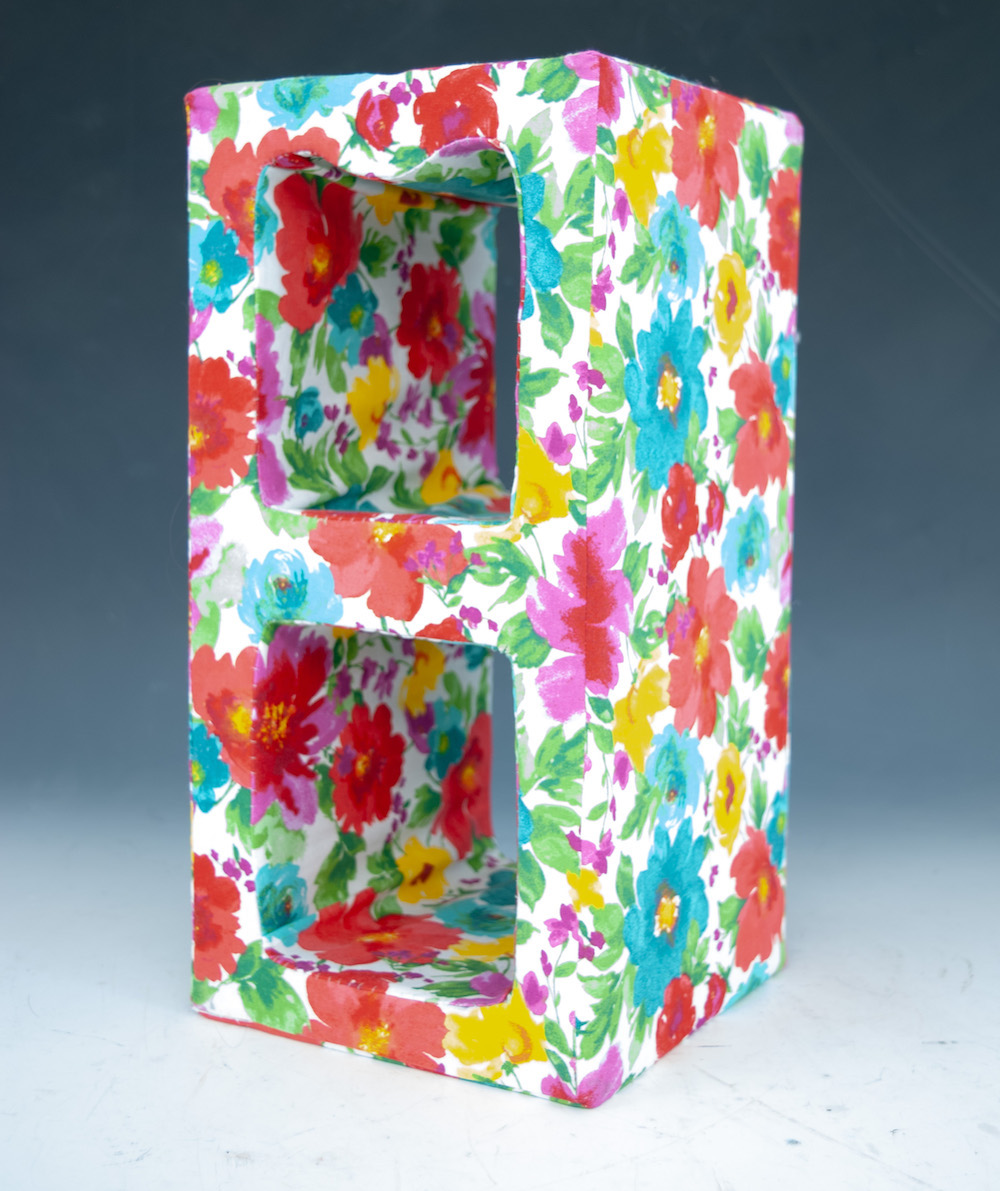 ---
Final Project: Found Objects/The Wearable Multiple
In this project we will be dealing with the idea of "found objects." A found object is one that has been created for a purpose other than art--an everyday object, easily recognizable for a utilitarian function. The object's meaning is derived from the context in which we use them. When we alter an object's context or form, we are working toward changing its meaning and significance—in this case, creating a wearable work of art.
Project guidelines:
You will choose an everyday item that is bought or found in multiples: toothpicks, balloons, plastic spoons, playing cards, etc. You will then use a multitude of this single object to create a wearable work of art. (This means multiples of the multiples.) What form your wearable item takes is up to you. Be creative. Maybe it is some sort of armor or unnecessary accessory that no one has ever thought of. Do not think of this as re-creating an existing item or form of clothing, but instead, creating a sculpture that relates to the body. Also, be sure to emphasize the 3-dimensional quality of the piece as much as possible. In other words, I would rather it be more sculptural that functional.
The idea is to makes something that relates to the body, but isn't necessarily functional. For example, instead of making a shoe out of q-tips, making something out of q-tips that surrounds the ankle and then flows out across the floor sounds much more interesting to me. Seeing something unfamiliar and not like anything I've ever seen worn, is more interesting than trying to replicate something that currently exists, but in a different material.
Sketchbook guidelines:
Look at artists working in the everyday multiple, like Tara Donovan, for interesting examples of everyday multiples and unusual viewpoints and uses of those objects. Look at examples of wearable or recycled wearable art. Look at fashion designers (Iris Van Herpen, Alexander McQueen). Look at images of interesting or outdated