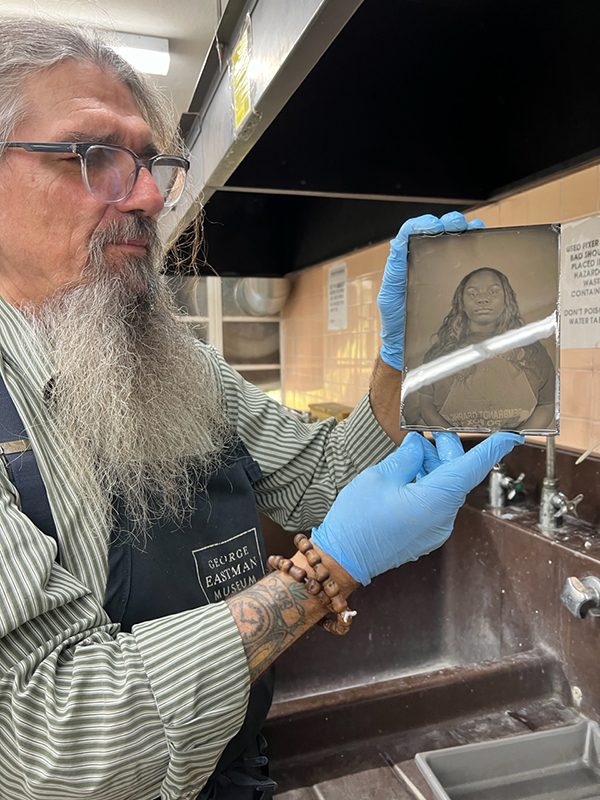 By Rileigh Campbell (via Marita Gootee)| MSU Class of 2025
Mississippi State University Department of Art's CONTACT Photography Visiting Artist Series brought artist Euphus Ruth to campus on October 24. Ruth demonstrated a wet plate workshop for the photography concentration students.
Six students and two professors participated in the all-day workshop. Each person created a portrait tintype using the wet plate / collodion process.
"I was fortunate to be invited to give a historic photographic process workshop and talk on wet-plate collodion with students and faculty at Mississippi State University's Art Department," said Ruth. "The students were polite, interested and participated in the workshop making their own collodion tintypes."
 "The photography department is a wonderful facility with all the tools that are needed to teach film and historical, aka alternative, photographic processes for students to gain an appreciation and understanding of photography," said Ruth. "It is wonderful that MSU maintained a wet lab to build this basic knowledge needed for students to make images and understand drawing with light. Veteran educator and noted photographer Marita Gootee along with Dominic Lippillo were excellent hosts and very helpful throughout the workshop."
This year's art series is in memory of Grahame Brooke Snider, a student in the photography concentration at Mississippi State from 2006-2010, "who loved photography and learning everything she could within the field of photography," said Professor Marita Gootee, photography concentration coordinator. "Her enthusiasm continues through this fine art photographic series."
"Euphus Ruth's workshop on the collodion wet plate process was exhilarating," said Professor Dominic Lippillo. "Euphus made every part of the process seem effortless because of his years of experience. He has mastered this process, and I am so grateful that we were able to bring him to campus to share his knowledge with our students."
Gootee forsees the CONTACT Photography Visiting Artist Series to provide more creative experiences for future photography students in the years to come.
More about the artist:
Euphus Ruth is a self-taught photographer. He has attended several wet plate workshops and with his personal reach as created a style all his own. He resides in Greenville, Mississippi. He uses 19th century cameras and lenses to photograph the Southern landscape and architecture.
Euphus Ruth's fine art photography can be seen at Indigo Gallery is at the Wetherbee House in Greenville, MS. It will be up through October and probably through Christmas. Indigo Gallery is located 503 Washington Ave. in Greenville, MS 38701. The Indigo Gallery hours are Thursday and Friday 12N-6pm.
View more photos from the workshop.