By Rileigh Campbell | MSU Class of 2025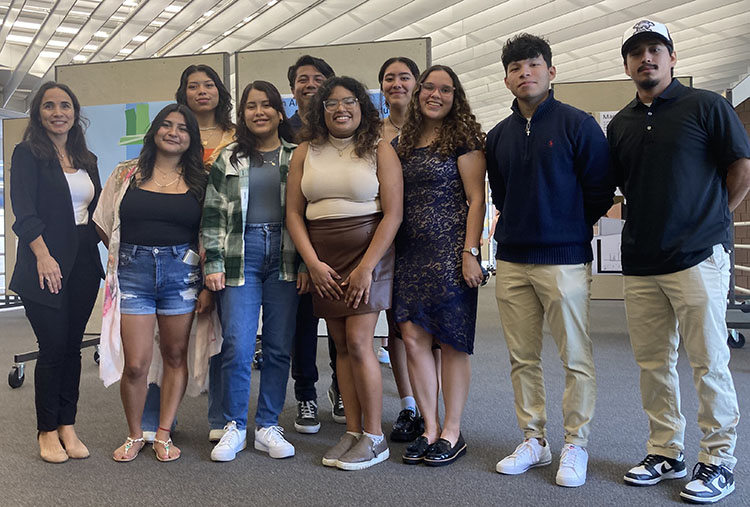 The S|ARC Hispanic Heritage Month exhibition titled "Latin America and Latinx Architecture" opened September 15 and ran through October 15.
This exhibition celebrated architecture and cities in Latin America, along with the work of Latinx architects in the U.S. and around the world. Images of Latin American cities and modern architecture from the 20th and 21st centuries were showcased. This year, thirteen architecture students participated in the exhibition as undergraduate researchers.
Evelyn Ramirez, a fourth-year architecture student, participated in the exhibition for the second time this year.
"The research we did this year consisted of finding Latinx architects we were interested in," said Ramirez. "From here we developed a profile board that included a brief summary of the architect and three buildings/concepts we enjoyed from them."
Ramirez said that her favorite part of this process was finding new names in the architecture community and celebrating her heritage with other Latin students.
"It is always fun to meet fellow Latinx architecture students, and it was fun to see our group double in size from last year!" said Ramirez.
Since 2020, School of Architecture Assitant Professor Silvina Lopez Barrera has produced the HHM exhibition.
"In 2020, the Holmes Center invited me to produce an exhibition for HHM. That year I worked with architecture student Elisa Castaneda who worked as a research assistant for the exhibit that year," said Barrera.  "After that, the exhibition grew, and every year we had more students who wanted to participate."
A third-year architecture student, Arturo Hernandez, explained he was chosen for this exhibition because of the potential that Barrera saw in him.
"[She] saw that I cared about the importance of spreading awareness of Latino architects, since there is a lack of information being presented to students on Latino architects and work," said Arturo.
For Hernandez, the hardest part of the exhibition was the beginning process of deciding what to include in the exhibition, along with finding sufficient research from past architects.