Mississippi State students in Assistant Professor Caroline Hatfield's advanced sculpture studio have been working this semester on a public project for the city of Starkville.
The group began by researching community areas they felt would benefit from "creative intervention" from the College of Architecture, Art and Design, eventually landing at the J.L. King Community Center, which serves youth through an after-school program and provides adult courses on financial fitness, employability and personal savings.
"Welcoming Wiggles" was the resulting design that includes an installation on the wall of the building and freestanding "wiggly" forms with bright and colorful natural imagery from the surrounding park.
The project is part of a National Endowment for the Arts grant to MSU's Fred Carl Jr. Small Town Center for a Starkville public art plan. The new sculpture project is the first of three public works of art to be implemented, with support also coming from the Starkville Area Arts Council.
"Our idea is that it will create a space that people can navigate through as they are approaching the center and the installation, hopefully also setting the tone for it being a place of recreation and learning and community," said Hatfield.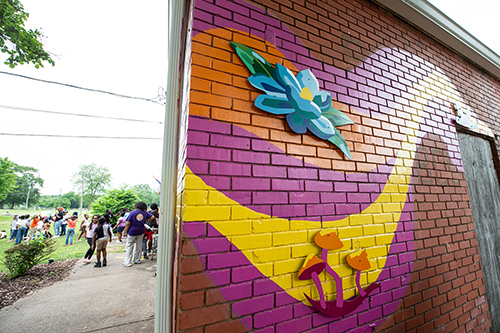 Marilyn "Abi" Parish, a junior from Amory, said the research and planning phase of the project was her favorite.
"As a group of eight, it was challenging, yet, really fun to work with everyone's separate ideas and curate ways to merge them all together," she said.
As part of the second research phase, the group visited the center at 700 North Long St. to find out more about the roles it plays in the community, as well as talk to children in the after-school program about what they wanted to see in an art installation.
Hatfield said the children gave all sorts of creative and off-the-wall answers, ranging from dragons to flowers. While the MSU students knew they couldn't execute all of the individual ideas, they hoped to bring out some of the whimsy and creativity that was expressed through a more abstract design.
"The most challenging thing I think we've experienced is creating and sticking with a strict timeline," said Parish. "We all have very different schedules, so finding time where we could come in and work on weekends or during school days has been hard to manage."
The group was able to stick to their schedule, however, and is currently completing the project. For more information about the J.L. King Community Center, visit https://www.jlkingcenter.org/.
MSU's Department of Art is online at www.caad.msstate.edu/academics/majors/art.
Mississippi State University is taking care of what matters. Learn more at www.msstate.edu.