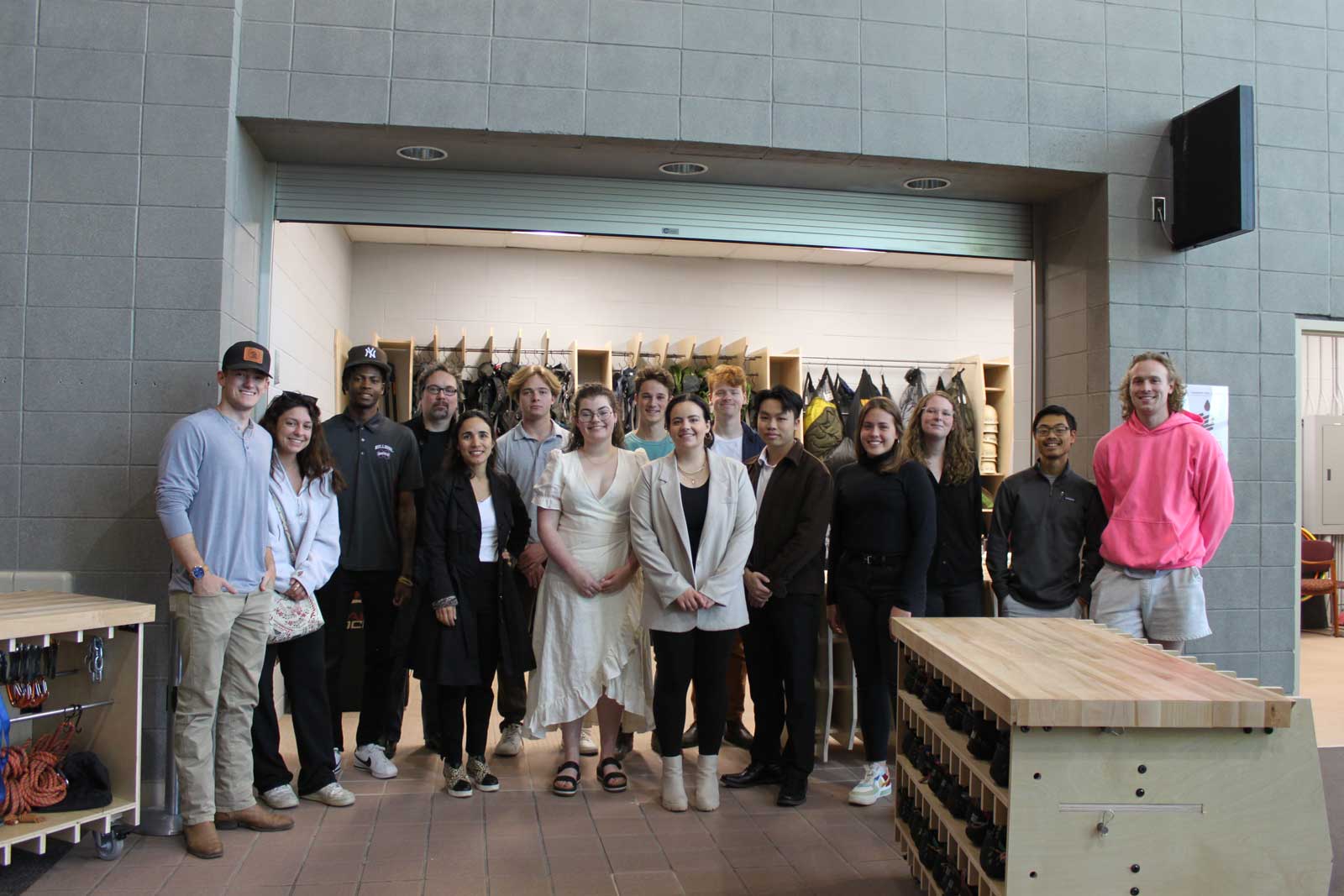 A redesigned Outdoor Adventures area will be unveiled in the Sanderson Center on April 19 at noon with an opening reception.
A result of an ongoing partnership between the Mississippi State University School of Architecture and the Sanderson Center, a new storage wall system and desks were designed and built by second and third-year architecture students in a special topics course, "Digital Design + Fabrication," led by Assistant Professors John Ross and Silvina Lopez Barrera.
Discussions for this project began in 2019 with the Sanderson Center's Annie Bills and Patrik Nordin. Students in a spring 2020 course worked on initial shop drawings and designs before the project was put on hold due to the COVID-19 pandemic.
Students in the current class added to their peers' designs for the front desk and a staff desk and started from scratch designing a new storage system wall for the space.
"The clients' goal for the space was to not only create a storage area for all of this equipment but to display it in a nice way, encouraging students and patrons to use this gear and the facilities – to gain visibility," said Lopez Barrera.
"They had a vision for the type of projects they were excited about," added Ross. "They really want to push digital modeling techniques and digital fabrication technology for the projects and showcase those design methods."
Students utilized digital modeling software – Rhinoceros 3D – and parametric modeling software – Grasshopper 3D – for the design work and used CNC milling, along with other machine tools, for fabrication.
"They had to do things they might not otherwise be assigned in a traditional studio setting," said Ross, "such as cost estimating and scheduling. "They are doing all of this on their own; as professors, we're just advising them."
Ross said one of the challenges the students faced was minimizing the use of adhesives, which allows for easier disassembly and repairs if required in the future.
"Students are figuring out clever ways to deal with hardware, connections, and joinery," he said.
Lopez Barrera said an important aspect of the project was the reuse of materials.
Students were tasked with utilizing floorboards that were salvaged after an accident with the fire sprinklers in the Sanderson Center more than 10 years ago.
"I've really enjoyed seeing the raw materials take shape," said Nordin, who serves as the  director of university recreation. "The reclaimed maple floorboards, which could have ended up in a dumpster, have found new life in the Sanderson Center."
Bills, who is the assistant director of Outdoor Adventures, member services, and marketing for the Sanderson Center, said working with the architecture students on this project was a great experience and a good learning opportunity for all involved.
Ross agrees and says both groups plan to continue the partnership.
"This is such a great opportunity the Sanderson Center has given the architecture program," he said. "Students get the chance to work for a real client on a funded design/build project and leave their mark on campus."
"Being able to be a part of the design critiques as the students created ideas that then merged into the wonderful final design has be awesome to see," Bills added. "The students have been great about communicating any changes and making sure the areas of importance to us were prioritized in the design. The functionality of the beautiful design is going to be something that works with our program for years to come."
Students participating in the Outdoor Adventures area project include:
Spring 2020
Rory Fitzpatrick
Sarah Hoing
Will Jordan
Caleb Shaw
Jose Solorzano
Jesse Stevens
Brendon Ward
Spring 2022
William H. Brotherton
Dujuan Antonio Brown
Jacob Louis Bryson
Michael De-Xiang Chew
Caeli Alexis Finch
Kailyn Marie Gardner
Rebecca K Garrick
Jacob Charles Herrington
Anna Kathleen Horn
Jonathan M Jolley
John Morris Karnes
Shawn Christopher Mackey
Samuel Holloway Marcus
Sarah Elise Mixon
Connor Talmadge Speaks
Yin Wong