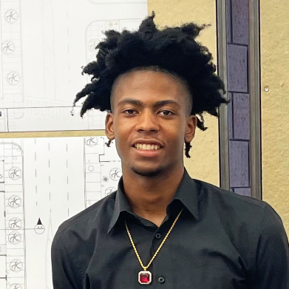 A Mississippi State third-year architecture student is the latest selection for the Method Studio Undergraduate Research Fellowship.
Du'Juan A. Brown of Meridian will receive $3,000 to conduct research for Method Studio, a Utah-based architectural design firm.
Jacob Gines, an associate professor of architecture who also is Method Studio's research and design vice president, will supervise the research that involves sustainable design opportunities for the Walthall Growers and Makers Market located near Eupora, Mississippi
"The facility includes stall units that provide a space of displaying, making and selling products for small vendors of the community. A storm shelter, restroom and wash basin is also included," said Brown. "This venue space will be open regularly for vendor use and also serves as a space for city and local events. Our aspirations with this project is to be able to tell a narrative of not only making a sustainable market place, but creating a space that could be compact and effective in many places around the world."
"It is uncommon for undergraduate students to have an exposure to investigations that influence current practice, and the opportunity that Method Studio provides is a great benefit to our students and school," said Director of the School of Architecture Karen Cordes Spence. Du'Juan's proposed research explores the ideas of sustainability, economic development and community. Such a study has the power to be applied across Mississippi, as well as throughout the world."
"Receiving this fellowship ensured me that my hard work for the past three years is paying off," added Brown. "Before this opportunity, I never put myself in a position to win an award, but now, I am confident in my abilities moving forward."
Located in Salt Lake City, Method Studio specializes in creative solutions that allow collaborations between clients and professional designers. For more about the firm, visit www.method-studio.com.
A major unit of MSU's College of Architecture, Art and Design, the School of Architecture offers the only curriculum in Mississippi leading to a professional degree in architecture.
MSU is Mississippi's leading university, available online at www.msstate.edu.