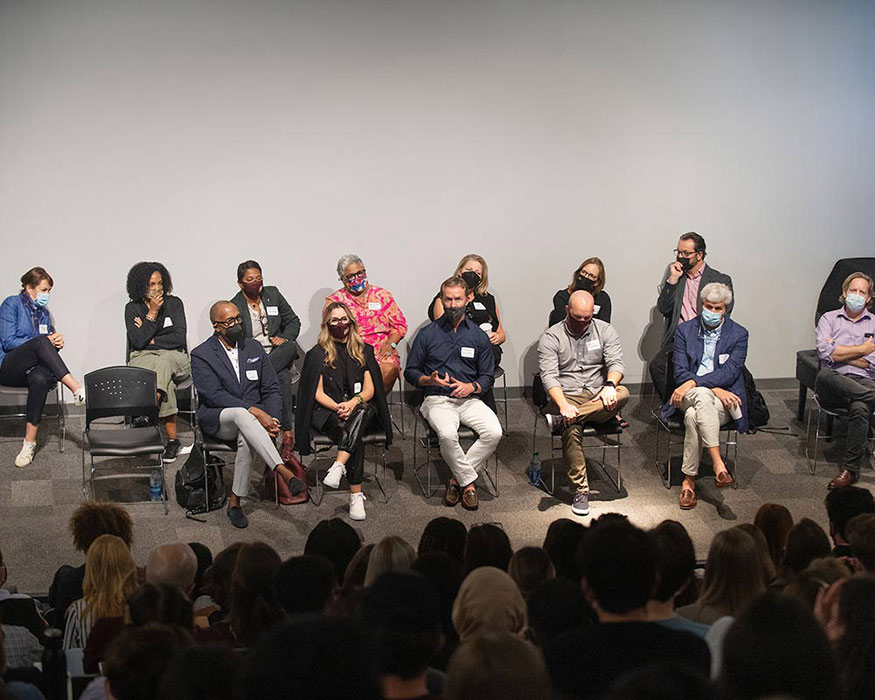 By Madison Welzbacher | Mississippi State University
More than 140 Mississippi State design students now are better prepared to enter the workforce after interacting with more than a dozen professionals from across the country in the fields of architecture, landscape architecture and interior design who gave students advice and shared lessons from their own careers.
The students participated in the recent three-day Design Leadership Foundation's Professional Horizons Workshop in Starkville where experts shared experiences from their own successful professions. The DLF is a program within the national Design Leadership Network that assists students with their educational and financial needs.
"The Design Leadership Foundation Workshop was a wonderful opportunity for young aspiring designers to network with leading professionals from across the country," said Anna Madison, a junior interior design student from Bessemer, Alabama.
Madison said she gained a better understanding of what employers look for when filling internship positions, and the event also included discussions about resumes, cover letters and portfolios, as well as practice interviews.
Hans Herrmann, an MSU professor of architecture and DLF founding member, said the featured panel sessions, breakout seminars, interviews and networking opportunities were beneficial to all who participated.
"It was a big success, and the students were obviously very engaged in terms of their questions and excited to talk to these people from all around the country," Herrmann said, describing it as "an approachable and relatable style of dialogue and exchange that a traditional career fair often lacks."
The importance of learning to network was emphasized to students, as well as building communication skills and being persistent to achieve career goals.
"Part of what you want to do is meet people, and you never know which person is going to come in and be your ticket to the next step," said Tom Kligerman, DLF co-president and a partner with Ike Kligerman Barkley, an architectural firm which has offices in New York and San Francisco Bay Area.
"Seeing this actually happen was incredibly powerful for me and it absolutely exceeded my expectations. The information from the group was great, and I thought the questions from the students were great," Kligerman added.
Herrmann said additional workshop topics covered issues like what success means to different people and how professionals make decisions about where to work.
"Our goals in creating and delivering the workshop were to bring awareness to the pragmatic necessities of successful job hunting, while also making evident the professional potential within our allied design fields for those students who have been historically underrepresented within them," said Herrmann. "The DLF seeks to evidence and foster inclusion through its varied efforts including financial support awards, study-away programs, and workshops such as this event."
Herrmann said the workshop also was of particular value this year because COVID-19 has limited the ability to pursue field trips which historically have aided students in understanding the professional fields they are wanting to enter.
"The DLF effectively brought the design world to MSU this fall, something which our students seem to have truly enjoyed," Herrmann said.
To learn more about the DLF, visit www.designleadershipnetwork.org/foundation.
MSU is Mississippi's leading university, available online at www.msstate.edu.