The City of Starkville is one of 26 cities from around the nation recently selected to receive a grant from Bloomberg Philanthropies' Asphalt Art Initiative. Secured by Mississippi State University's Fred Carl Jr. Small Town Center, the $25,000 grant will fund the University Drive Corridor Connections project.
The program, inspired by work done to revitalize New York City streets during Michael R. Bloomberg's term as mayor from 2002-2013, is providing the funding for art installations designed to  improve the safety of streets, revitalize public spaces and engage communities.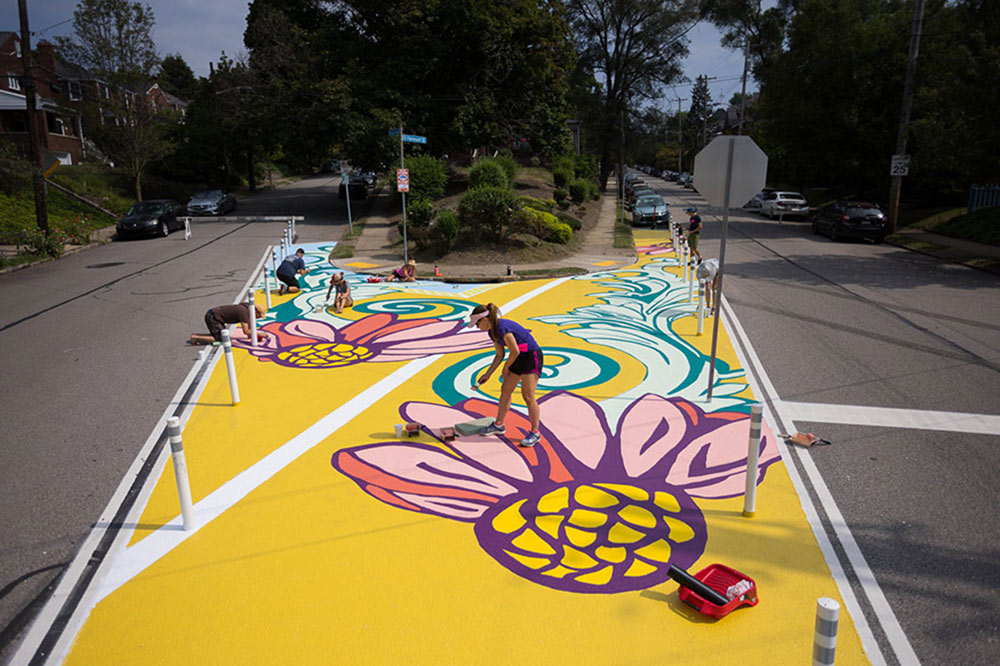 This local Asphalt Art Initiative project will help connect the one-mile stretch between downtown Starkville and the Mississippi State campus at nine key intersections on University Drive, from Camp Street to Washington Street. Intersections will be painted with designs to progressively lead pedestrians along the corridor, creating a safe and attractive means of connecting Downtown, Midtown and the Cotton District.
 "Remediating barriers to walking and increasing connectivity of this corridor through the installation of public art and intersection safety improvements also will allow greater social interactions, thus strengthening the sense of community," said Small Town Center Director Leah Kemp.
With more than 40 years of award-winning experience in community engagement, the center will work closely with the City of Starkville to engage community members in the development of the intersection design themes. 
The Small Town Center's team of designers will create the asphalt art designs and intersection improvement designs based on feedback and input gathered from the public.  
"Designs will be developed with the goal of creating a unified aesthetic to connect downtown to the campus," said Kemp. "They will also aim to advance and promote equity and amplify community voices that have been overlooked or undervalued."  
This is the second round of Asphalt Art Initiative grants, with the first round announced in June 2020 to 16 cities who will finish their projects through 2022. To date, the projects have already transformed a combined 86,476 square feet of streetscape with artwork. The latest grants will utilize art and design to improve street safety, revitalize public spaces and engage residents of their communities with projects running through 2023.
In addition to Starkville, other selected Asphalt Art Initiative cities include: Atlanta, Georgia; Baltimore, Maryland; Billings, Montana; Birmingham, Alabama; Chicago, Illinois; Denver, Colorado; Detroit, Michigan; East Providence, Rhode Island; Fairbanks, Alaska; Houston, Texas; Huntington, West Virginia; Kansas City, Missouri; Kodiak, Alaska; Long Beach, California; Memphis, Tennessee; Newark, New Jersey; New Brunswick, New Jersey; Niagara Falls, New York; Providence, Rhode Island; San Juan, Puerto Ric; St Louis, Missouri; Syracuse, New York; Tallahassee, Florida; Tucson, Arizona; and Wilmington, Delaware.
For more about MSU's Fred Carl Jr. Small Town Center, a research arm of the College of Architecture, Art and Design, visit www.smalltowncenter.msstate.edu. The Small Town Center also can be found @smalltowncenter on Facebook, Twitter and Instagram.
About Bloomberg Philanthropies
Bloomberg Philanthropies invests in 810 cities and 170 countries around the world to ensure better, longer lives for the greatest number of people. The organization focuses on five key areas for creating lasting change: the Arts, Education, Environment, Government Innovation, and Public Health. Bloomberg Philanthropies encompasses all of Michael R. Bloomberg's giving, including his foundation, corporate, and personal philanthropy as well as Bloomberg Associates, a pro bono consultancy that works in cities around the world. In 2020, Bloomberg Philanthropies distributed $1.6 billion. For more information, please visit bloomberg.org or follow on Facebook, Instagram, YouTube, and Twitter.