Mississippi State University interior design students recently won several awards including best in show in the Salute Design Competition, a national juried interior design and graphic design student competition.
Senior Marygrace K. Lee of Forest took home best in show for her lamp, "Colonies."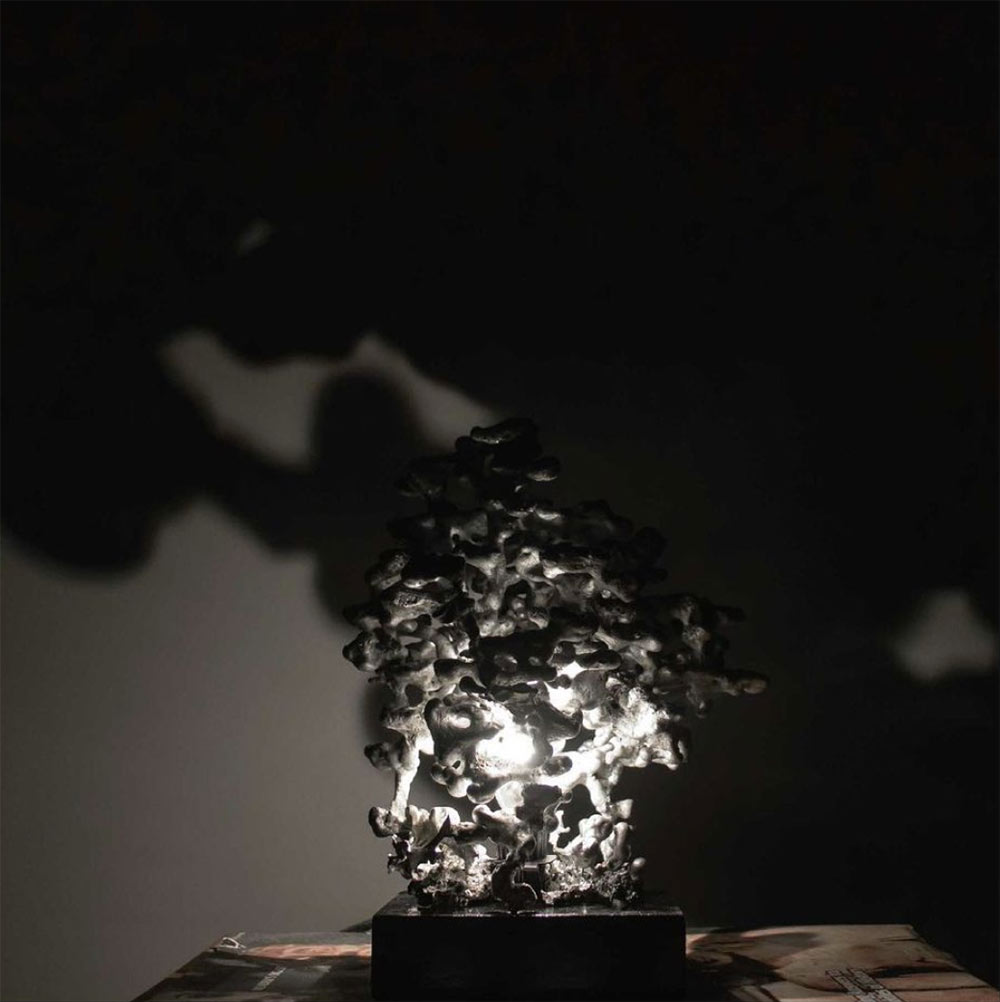 Lee designed the pieces for the Curtis Stout Portable Lamp Competition in her color and lighting for interiors course, taught by Assistant Professor Robin Carroll. She said the goal of the project was to create a portable lamp from an inspiration.
"'Colonies' is a nightlight that is inspired by the intricate networks and tunnels created by ants," said Lee, who created the piece by pouring 100% recycled melted aluminum into an ant bed.
"An ant colony is the term used to describe an ant bed and the social orders of the ants that live within the nest," she said. "Because my lamp is a cast of the inner networks of the ant bed, I chose to name it Colonies."
"We are so proud of the achievements of the students in the Interior Design Program at Mississippi State University," said Interior Design Program Director Beth R. Miller. "The faculty encourage students to enter their projects into competitions, and this year students were very successful in the national Salute Design Competition. We have very talented students and very professional faculty. To be recognized on a national level is an accomplishment for the students, the faculty, the program and the university."
Mississippi State winners include:
INTERIOR DESIGN BEST IN SHOW WINNER
Marygrace Lee: Colonies Portable Lamp [Color & Lighting]
HONORABLE MENTION IN INTERIOR DESIGN RESIDENTIAL
Anna Madison: Modern Mountain Residence [Studio I]
MERIT AWARD IN INTERIOR DESIGN RESIDENTIAL
Skylynn Russell: [Studio I]
BEST IN MISCELLANEOUS WINNER
Anna Madison: Photorealistic Hand-Rendering [Rendering]
HONORABLE MENTION IN INTERIOR DESIGN MISCELLANEOUS
Eleanor Baker: Photorealistic Hand-Rendering [Rendering]
Eleanor Baker: Conference Room Digital Rendering [Studio II]
Marygrace Lee: Photorealistic Hand-Rendering [Rendering]
MERIT AWARD IN INTERIOR DESIGN MISCELLANEOUS
Sheridan Morris: Light & Airy Living Room Hand-Rendering [Rendering]
Anna Madison: Elevate Adult Education Center Digital Rendering [Studio II]
HONORABLE MENTION IN INTERIOR DESIGN LIGHTING
Molly Taylor Yangtze: Portable Lamp [Color & Lighting]
BEST OF HOSPITALITY WINNER
Samantha Wilson, Hannah Hancock, Katelyn Courtney, Ashlyn Cummins: The XII Boutique Hotel [Studio V]
HONORABLE MENTION IN INTERIOR DESIGN HOSPITALITY
Marygrace Lee: Le Bonaparte Bistro [Studio III]
MERIT AWARD IN INTERIOR DESIGN HOSPITALITY
Sheridan Morris: 20th Symphony Boutique Hotel [Studio V]
HONORABLE MENTION IN INTERIOR DESIGN COMMERCIAL
Eleanor Baker: The Pines Adult Literacy Center [Studio II]
MERIT AWARD IN INTERIOR DESIGN COMMERCIAL
Anna Madison: Elevate Adult Education Center [Studio II]
Samantha Wilson, Abby Holloway, Sarah Richardson, Colleen Dahl: Pure Primary Care Clinic [Studio VI]