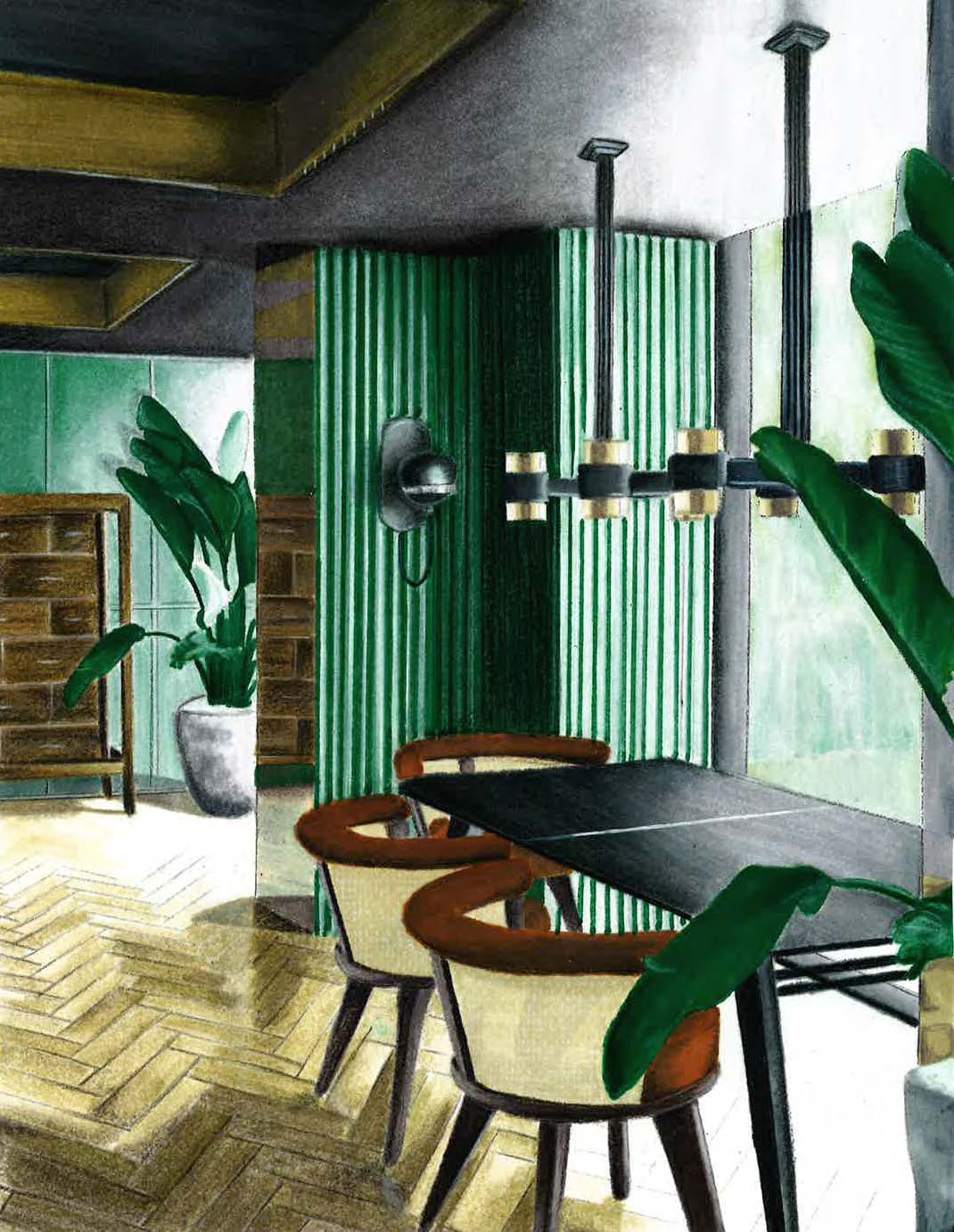 Mississippi State interior design students recently received 46 of 64 possible awards in the 2021 American Society of Interior Designers South Central Chapter Student Work Competition, which drew representatives from higher education institutions throughout Mississippi, Louisiana and Arkansas.
Nine gold awards were handed down in the competition, all going to MSU students.
MSU Interior Design Program Director and Professor Beth Miller credits her students' success to the exposure of a wide range of project types and to the faculty's guidance and design experience in their respective fields. MSU's interior design program also offers furniture design, numerous computer technology courses, hand rendering and lighting courses that many other universities do not include in their curricula. 
Accredited by the Council for Interior Design Accreditation and National Association of Schools of Art and Design, MSU's interior design program is part of the College of Architecture, Art and Design. Its curriculum provides a broad background in interior elements, materials, sources and practical experiences. For more, visit www.caad.msstate.edu/id and on Facebook, Twitter and Instagram @CAADatMSU.
MSU is Mississippi's leading university, available online at www.msstate.edu.
Watch the video announcing the winners.
View the winners' gallery of images.
2021 MSU winners include:
Senior Olivia Grace Ausbon of Amory:
Senior Dia S. Baldwin of Odenville, Alabama:
bronze in Hospitality
bronze in Hand Rendering
Senior Channing A. Blair of Kosciusko:
silver in Original Product Design
Senior Mary Elle Burson of Madison:
two silver awards in Hospitality
silver in Healthcare
Senior Evelyn "Grace" Carroll of Jackson:
Aug. 2021 graduate Ashlyn Cummins:
gold in Hospitality (with teammates Hannah Hancock, Katelyn Jenkins, Samantha Wilson)
Senior Sonsireth B. Di Geronimo of Starkville:
Senior Hollyann M. Friloux of Tupelo:
silver in Hospitality
silver in Hand Rendering
Junior Savanna K. Graffam of Franklin, Tennessee:
Junior Alaina "Laney" M. Hammond of Lakeland, Tennessee:
Aug. 2021 graduate Hannah Hancock:
gold in Hospitality (with teammates Katelyn Jenkins, Samantha Wilson, Ashlyn Cummins)
Aug. 2021 graduate Katelyn Jenkins:
gold in portfolio
gold in Original Product Design
gold in Hospitality (with teammates Hannah Hancock, Samantha Wilson, Ashlyn Cummins)
silver in Healthcare
bronze in Institutional
bronze in Workplace
Senior Marygrace K. Lee of Forest:
silver in Original Product Design
silver in Hand Rendering
Junior Anna N. Madison of Bessemer, Alabama:
gold in Commercial
gold in Hand Rendering
silver in Residential | Small
silver in Institutional
silver in Residential
silver in Computer-Generated Rendering
Aug. 2021 graduate Sheridan Morris:
silver in Hospitality
silver in Hand Rendering
bronze in Workplace
bronze in Computer-Generated Rendering
Junior Sarah C. Napoli of Jackson:
bronze in Original Product Design
Senior Stewart E. Shive of Jackson:
gold in Hospitality (with teammate Molly Taylor)
silver in Residential | Large
silver in Healthcare
silver in Original Product Design
silver in Hand Rendering
silver Computer-Generate Rendering
bronze in Computer-Generate Rendering
bronze in Hospitality
Senior Molly P. Taylor of Eads, Tennessee:
gold in Hospitality (with teammate Stewart Shive)
gold in Original Product Design
gold in Portfolio
silver in Hospitality
bronze in Hand Rendering
Junior Gabrielle "Gabi" J. Theriot of Covington, Louisiana:
Aug. 2021 graduate Samantha Wilson:
gold in Hospitality (with teammates Hannah Hancock, Katelyn Jenkins, Ashlyn Cummins)