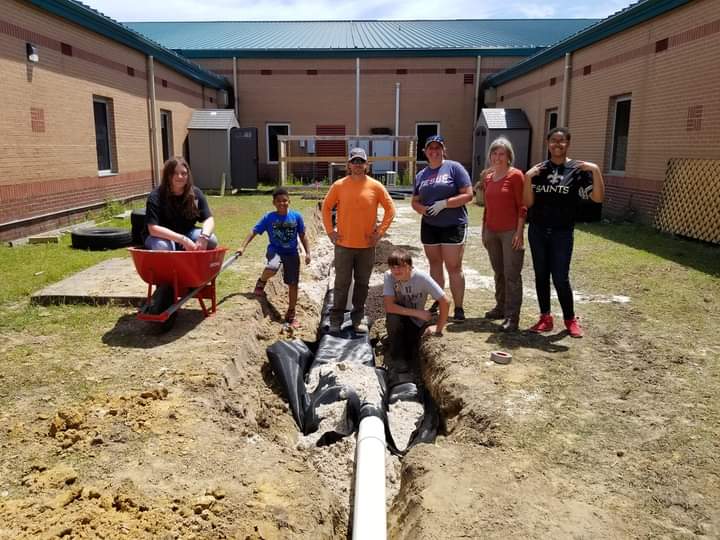 Via Kelsey Johnson | Gulf Coast Community Design Studio
As students in the Bay-Waveland School District wrap up the school year, students, teachers and community partners have been moving forward with significant improvements to an outdoor space at Bay-Waveland Middle School. The outdoor space includes both edible and pollinator gardens; a fishpond water feature; a pavilion for learning, gathering and wellness activities; art; and various stormwater management interventions designed to educate the students and community on Low Impact Development strategies. Work on the project will continue over the summer, and students and teachers will be able to start utilizing the space next school year.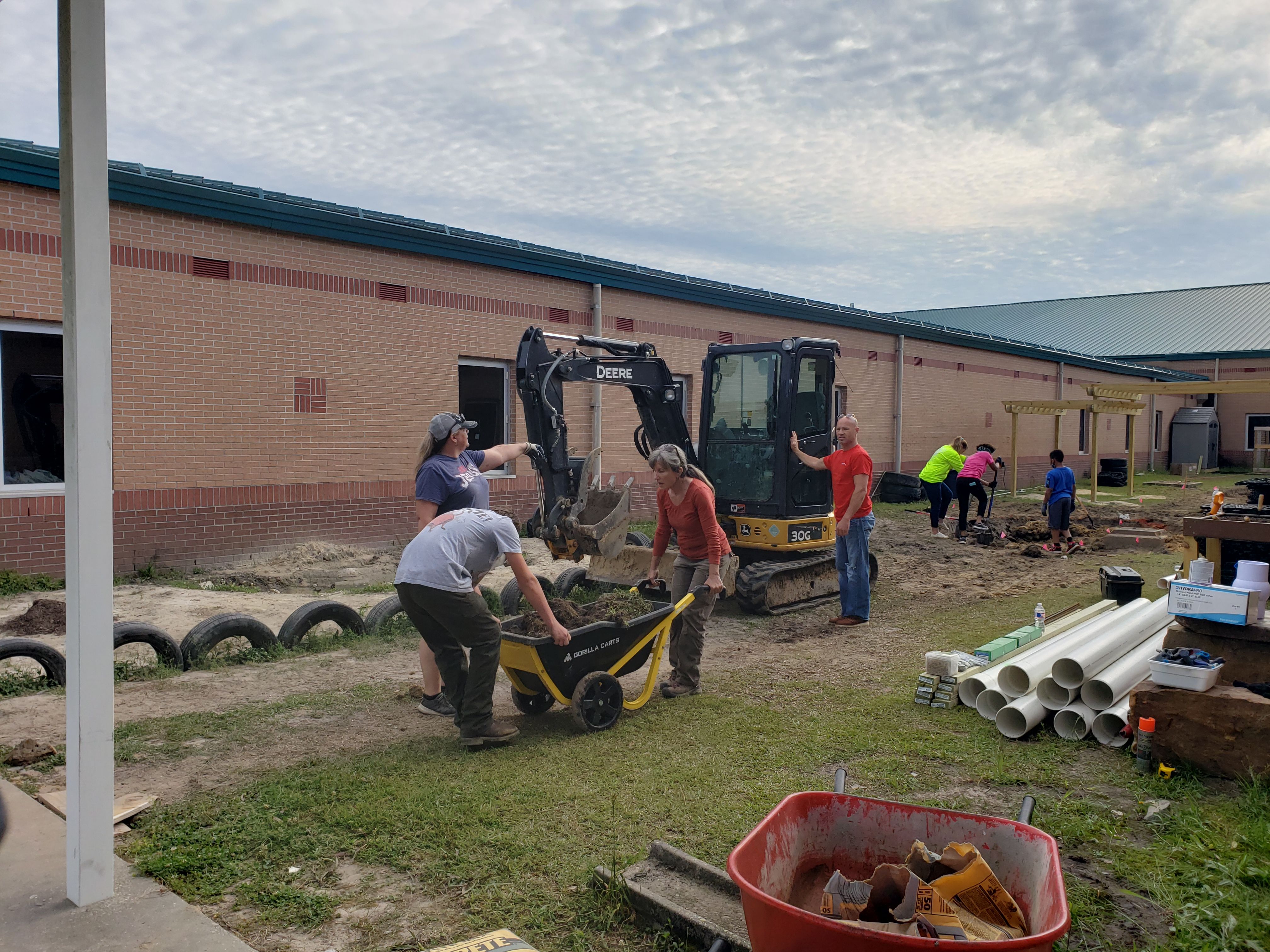 The schoolyard garden is one of the products of several years of watershed education and outreach around Magnolia Bayou Watershed being led by Mississippi State University's Gulf Coast Community Design Studio. Magnolia Bayou is an important coastal stream that flows into the Bay of St. Louis at the Bay-Waveland Yacht Club. While the Bayou is mostly hidden from public view, the Magnolia Bayou Watershed is around 800 acres and includes much of downtown Bay St. Louis.  This means that stormwater runoff from the larger urban area affects the water quality in Magnolia Bayou and the Bay of St. Louis.
The design studio has facilitated various grant-funded programs starting in 2017 to engage students at Bay-Waveland Middle School and the Hancock County Unit of the Boys and Girls Club, along with community leaders and residents, in learning about watershed dynamics and the impacts of stormwater runoff on water quality and quantity. Based on this previous work, GiGi Wheeler, an 8th Grade Science Teacher at Bay-Waveland Middle School, with assistance from the Design Studio, successfully applied for and received funding through a private foundation to plan and implement the garden, art and wellness aspects of the outdoor space. Simultaneously, the Gulf Coast Community Design Studio applied for and received funding through the National Oceanic and Atmospheric Administration's (NOAA) B-WET program to add stormwater management interventions and to use the space as a starting point for watershed-based education with the students and community through July 2022.
Over the past semester, Tracy Wyman, a landscape architect with the Gulf Coast Community Design Studio, has been leading students through the design process for the outdoor space.  One of the challenges with the site is that there is a tremendous amount of stormwater that flows off the school roof when it rains; flooding the area and potentially pushing land-based pollutants into the nearby waterways. Wyman has been working with the students to determine the amount of rain flow coming off the roof and what design interventions can help manage the water onsite to reduce flooding and help filter and clean the water before it enters nearby Magnolia Bayou. These onsite and often nature-based design interventions are known as Low Impact Development and are becoming a widely accepted best practice regionally and across the country. 
The project and schoolyard garden have been a labor of love for GiGi Wheeler, who has been working closely with the Design Studio since 2018. 
"The students have worked so hard over the past year to plan and begin work on what will be an amazing outdoor space for learning and gathering," Wheeler said. "They deserve this space, and we are so thankful for all the community partners and professionals who have volunteered their time and resources. We could not have gotten this far without them!"
Community volunteer groups like the Serve Team with Church of the King, along with a host of local professionals including the following, have been instrumental in bringing the project to this point:
Dr. Christian Stephenson, Extension Agent, MSU Extension - Hancock County
Anthony Kendrick, Project Manager, Construction EcoServices
Jason Chiniche, PA Civil Engineer, City of Bay Saint Louis
Tom Bentley, Residential/Commercial Developer, Triple T Developing LLC
Rachel Ramsey, Garden Caretaker at Ruth's Roots
Jason West, Owner, Express Service Plumbing
Mayor Michael Favre and Jerry Ortiz, City of Bay St. Louis
Additional local professionals and NOAA scientists have also signed on to engage with the students as part of the educational programming that will take place during the upcoming 2021-2022 school year.
"The beauty of these collaborative partnerships and programs is that students learn important science/STEM concepts in the context of real-world scenarios in their own community," said Kelsey Johnson, assistant director and community planner with the Gulf Coast Community Design Studio. "They learn how to affect change in their communities and get to work alongside many different community partners and professionals that they might not otherwise come in contact with."
Work on the outdoor space at Bay-Waveland Middle School will continue through the summer. Volunteer groups and community members/professionals are invited to participate. For more information on the overall project or ways to get involved, please contact Kelsey Johnson at kjohnson@gccds.msstate.edu.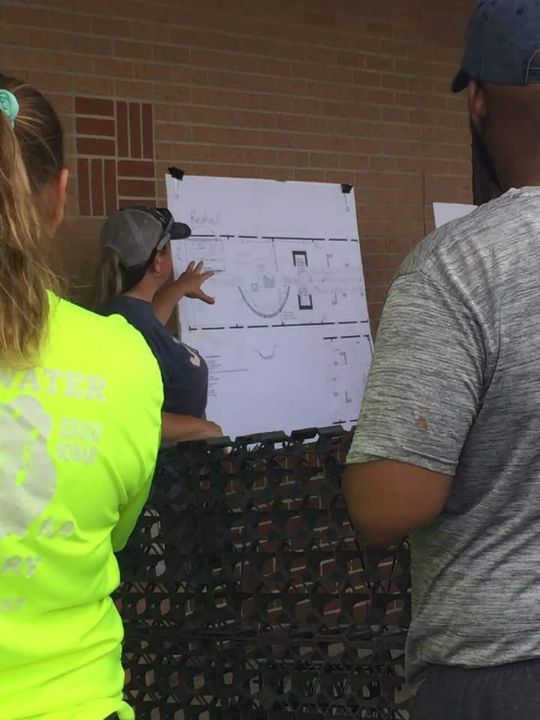 The Gulf Coast Community Design Studio (GCCDS) was established on the Mississippi Gulf Coast in 2005 to work in communities impacted by Hurricane Katrina and has evolved from disaster recovery to addressing long-term issues of community resilience. Located in Gulfport, the GCCDS is a professional outreach arm of Mississippi State University College of Architecture, Art and Design and operates with a full-time staff of around eight architects, landscape architects and planners, always working in close collaboration with multiple non-profit, municipal and professional partners. The work of the GCCDS includes community-based housing design, stormwater and tidal ecology, flood resilient buildings and landscape, and public-driven decision making.
To learn more about Mississippi State University's Gulf Coast Community Design Studio, visit: gccds.org.
To learn more about NOAA and the B-WET program, visit: www.noaa.gov/office-education/bwet