By Sasha Steinberg | Mississippi State University
A collaborative garden project led by faculty in Mississippi State's College of Architecture, Art and Design, and the College of Agriculture and Life Sciences, is receiving national recognition from the Association of Collegiate Schools of Architecture.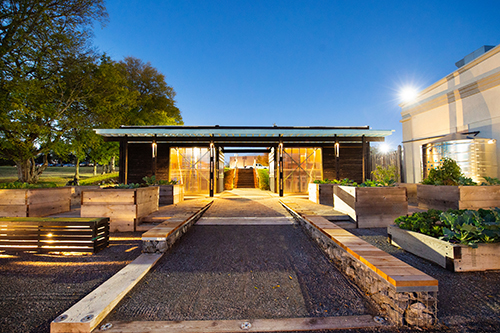 Designed and built by MSU architecture, landscape architecture, building construction science and graphic design students over the course of three academic years, "Cultivating the Future: Enabling, Designing, Constructing and Managing a Didactic Garden" is being honored with the ACSA's Collaborative Practice Award. The award recognizes architectural educators for exemplary work in inspiring and challenging students, contributing to the profession's knowledge base, and extending their work beyond the borders of academy into practice and the public sector.
Winners will be celebrated virtually March 24-26 during the ACSA 109th Annual Meeting.
Serving as a laboratory for learning, the didactic garden is a sustainable space for teaching, research and outreach in support of local food. The garden's design works with the existing site to create a series of "rooms" associated with four terrace levels. A central walk and stair tie the rooms together creating a central axis for service and accessibility.
Numerous educational elements are incorporated into the garden, including Farmbots, an informal amphitheater, a convertible classroom space, potagér sheds, and didactic educational graphics. Mixed-discipline student teams were responsible for the design, refinement, cost, material acquisition and construction of individual elements.
In addition to working directly on the project, some students developed a means for the larger campus and community to assist during organized service days. In total, over 300 community members contributed to the garden in its first full year.
MSU faculty contributors include Hans Herrmann, associate professor in the School of Architecture; Cory Gallo, associate professor in the Department of Landscape Architecture; Suzanne Powney, associate professor in the Department of Art; Peter Summerlin, associate professor in the Department of Landscape Architecture; and Lee Carson, assistant clinical professor in the Building Construction Science program.
For a detailed overview of the project, visit https://www.acsa-arch.org/wp-content/uploads/2021/01/HH-CG-SP-PS-LC-CP-2021Awards-6.pdf.
Founded in 1912 by 10 charter members, ACSA has grown to represent over 200 schools and 6,000 architecture faculty. For more, visit www.acsa-arch.org.
Learn more about MSU's College of Architecture, Art and Design at www.caad.msstate.edu; College of Agriculture and Life Sciences at www.cals.msstate.edu.
MSU is Mississippi's leading university, available online at www.msstate.edu.