By Sasha Steinberg | Mississippi State University
When the global pandemic first impacted Mississippi State nearly a year ago, many classes transitioned to online teaching methods relatively quickly, but Building Construction Science students working on a two-semester project to construct modular buildings "hit a wall."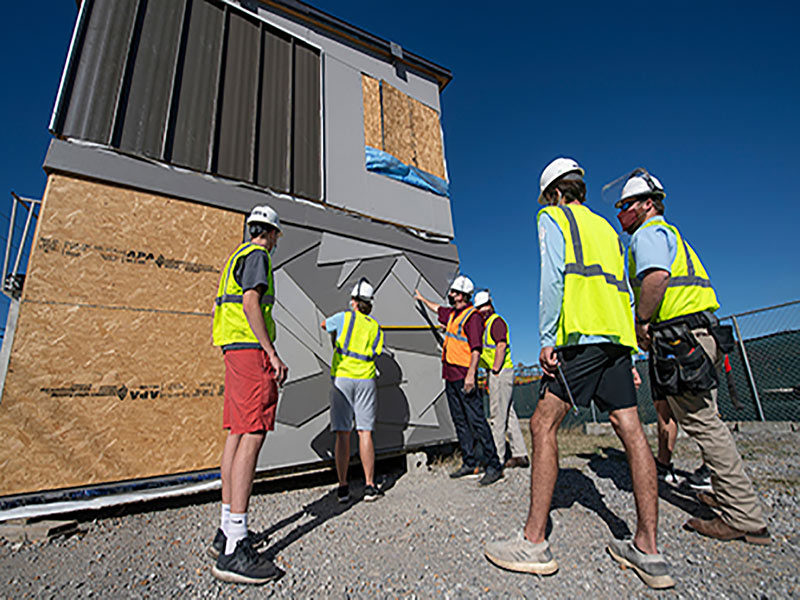 BCS students began the early design and construction process on the buildings during their first year of study in the program in fall 2019, but the COVID-19 pandemic prevented them from completing the build as planned during the spring 2020 semester.
This past fall, in their second year of study and enrolled in a collaborative studio course, this same group of students—now combined with architecture students—again took on the project, adding the exterior finishes for the two buildings they had begun working on a year earlier and seeing construction completed.
MSU architecture alumnus Lee Carson leads the studio as an assistant clinical professor.
"The process of designing and constructing the modular buildings gives the students an engaging and invaluable learning experience to help prepare them for their future education and careers in the construction industry," Carson said. "We are thankful we have been able to complete these structures during this difficult time."
Ciara Presley of Batesville is among the students who has worked on the modular buildings during the pandemic. She said she appreciated MSU's efforts in maintaining a safe, productive learning environment for students under challenging circumstances.
"Our professors have been doing a good job enforcing social distancing and mask protocols, so I have felt safe in class and on the work site. Working on this project during the pandemic has given me an idea of what it's like working through challenges or obstacles in the [construction] field. I think we are poised for the future because we learned how to problem solve and make the most of the situation."
Angi Bourgeois is dean of the College of Architecture, Art and Design, home to the university's Building Construction Science program, along with the Department of Art, Interior Design program and the School of Architecture. A professor of art, she said all of these programs instill a sense of resilience in students throughout their studio training, and the pandemic has enhanced that learning experience.
"It is amazing to see, in a year full of obstacles, how our students, alongside our faculty, have met and overcome these challenges over and over again," Bourgeois said. "I truly believe that these skills of persistence and perseverance through adversity will continue to shape our students and prepare them for lifelong success."
Bourgeois said a recent MSU survey of nearly 100 CAAD alumni is providing positive feedback about how these Bulldogs value their degrees.
"Nothing compares to the strength of our students' love of this place. MSU doesn't just draw hardworking students; it helps create them," she said. "The dedication and drive of our faculty, in concert with so many other aspects of this university, build such a strong sense of community that defines the college experience for our students. "
One alum said in a survey response, "I graduated with designers that I hold as close friends, had professors that wanted us to succeed and met many other previous alumni that championed us once we graduated."
Other alumni pointed out a focus on foundations, real world preparation, high standards for work quality, and relationships with faculty and peers among reasons they value their CAAD degree.
Leslie Murphy, owner and creative director of Murphy Maude Interiors in Memphis, Tennessee, recently shared information with Bourgeois about job and internship successes with her company. Murphy employs three MSU graduates and complimented the students on their training and high technical proficiency. She told Bourgeois that her two most recent hires are "already making a meaningful difference" and "in less than a year's time have helped expand our business significantly."
Bourgeois said she enjoyed another recent discussion with MSU art/graphic design alumna Sarah Foley of New York City who serves as brand manager for Johnson & Johnson. Foley supervised an MSU student who recently completed a remote internship. Bourgeois said graduates like Foley are discussing ways for students to continue with internships throughout the pandemic.
"As we discussed strengths of MSU's art department, Sarah told me she appreciated how MSU art students were always up for a challenge and were seeking to be pushed further and further," Bourgeois said. "It's what I hear repeatedly. I think it's what sets us apart from our peers in many ways."
Learn more about MSU's College of Architecture, Art and Design at www.caad.msstate.edu.
MSU is Mississippi's leading university, available online at www.msstate.edu.