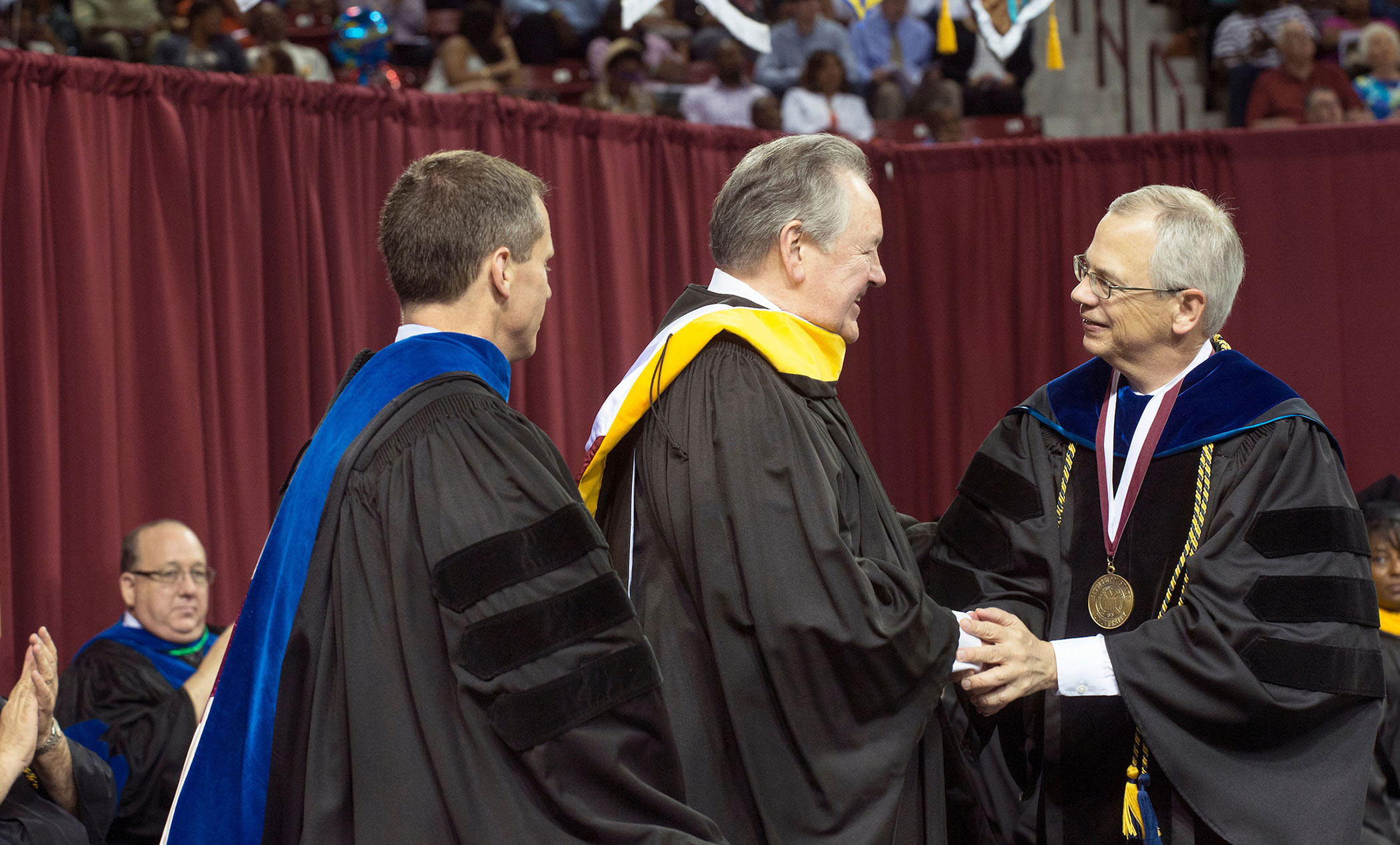 Retired architect and longtime supporter of the Mississippi State University School of Architecture Robert V.M. Harrison passed away on Dec. 29, 2020.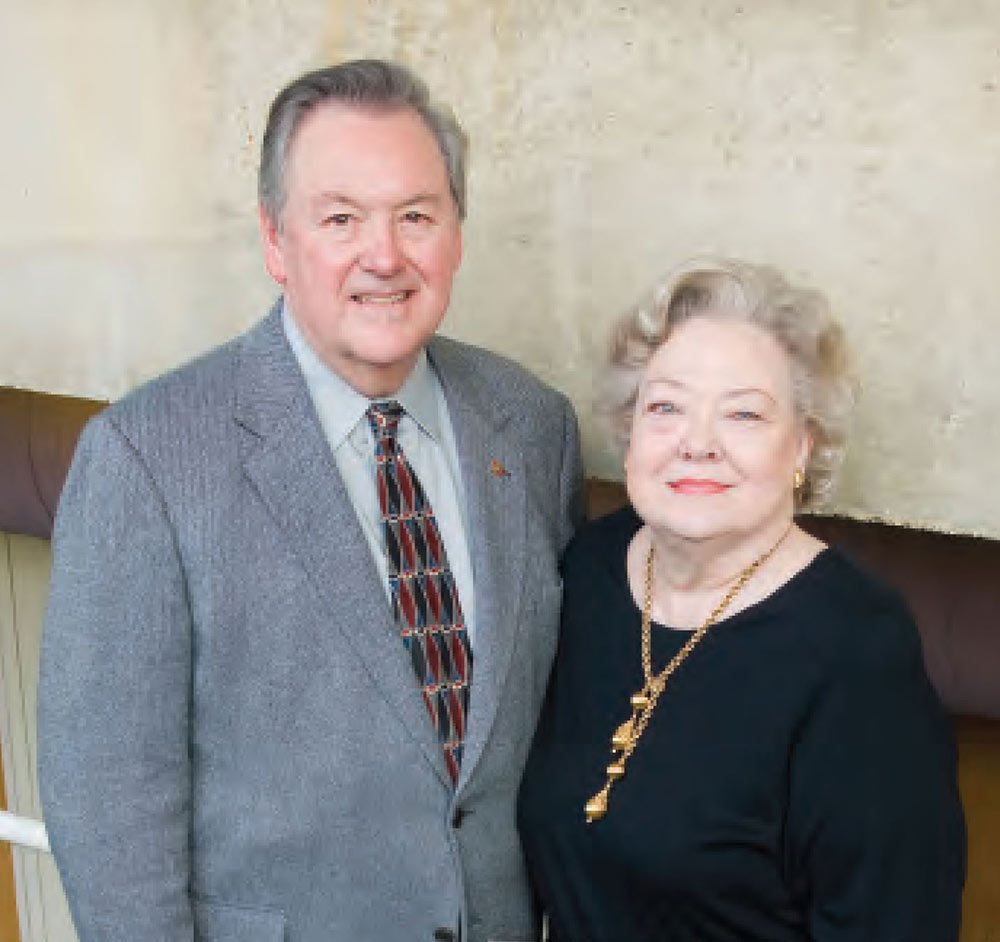 "Bob" Harrison, a Fellow of both the American Institute of Architects and the Construction Specifications Institute, was instrumental in establishing the school at Mississippi State in 1973. He served on its faculty for 13 years, helped establish its Fifth-Year Program in Jackson and has provided guidance as a member of the school's advisory board for more than two decades.
Harrison also supported the School of Architecture financially. He and his wife, Freda, established the Robert and Freda Harrison Endowed Visiting Lecture Series in 2009 and named the Giles Hall auditorium through another endowment the following year.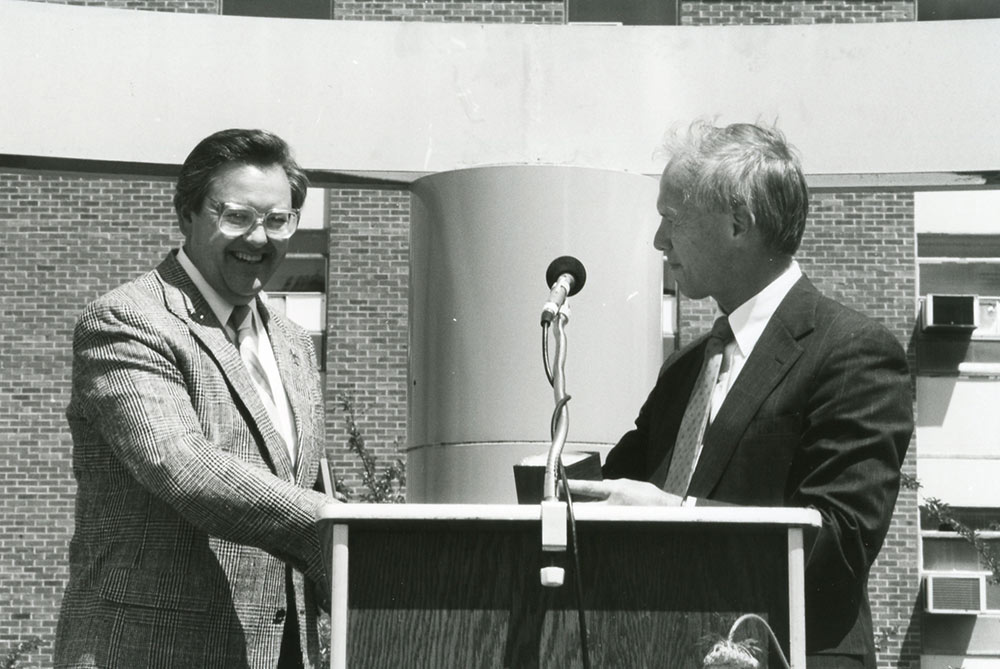 "The first time I met Bob Harrison, he charged me to take care of his baby, the School of Architecture," said Dean of the College of Architecture, Art and Design Angi Elsea Bourgeois. "In that first meeting, he welcomed me to my position and offered his guidance on critical issues in the school and college, demonstrating always his love and dedication to our students and faculty. It is truly impossible to measure the impact that Bob Harrison has had on the School of Architecture, the college and the profession of architecture in the state of Mississippi. His love of the school is evident in many generous gifts of his time, his wisdom and his donations that have and will continue to touch the lives of countless current and future architects. We will miss him, and our prayers are with Freda and his family through this very difficult time."
"I met Bob shortly after I joined the fifth-year faculty in Jackson in 2006," said School of Architecture Jackson Center Director Jassen Callender. "It was clear within the first few minutes of that meeting that he cared profoundly for this school and its legacy, and as I took on the leadership of that program that he would be following our progress closely. In the years since, Bob provided ongoing advice, support and friendship. With his passing, the School of Architecture at MSU, decades of alumni, members of the profession in Mississippi and myriads of architects around the country – many of whom may never know his name or roles he played – have lost an extraordinary voice in the education and professional licensure of architects."
"My most succinct description of Bob Harrison is that he was a force," said Former Dean of the College of Architecture, Art and Design Jim West. "A force for architecture in general and a force for the School of Architecture at Mississippi State, more specifically. It is a rare individual who is named a Fellow in both the American Institute of Architects and the Construction Specification Institute. Bob was named to both. His work led to the internship development program that leads to architectural registration across this country. Bob was the thread of continuity for the School of Architecture that began with his involvement in the inception and formation of the School in 1973. He was instrumental in the selection of the first dean and served on the faculty for 13 years and the School Advisory board to his last day. The School of Architecture had no finer or more diligent mentor and supporter. We will miss Bob deeply; we will not forget him, and his impact will not diminish."
"It was a sad day to learn of Bob's passing," said School of Architecture Director Emeritus Michael Berk. "As well as being a dear friend and colleague, he is, in my humble opinion, the 'patron saint' of the MSU School of Architecture. He inspired and rigorously led a coalition of Mississippi architects, legislators and university administrators in creating and forming our flagship program. This was indeed a heroic venture. He then taught professional practice courses, chaired our advisory board and provided truly significant financial resources, including the endowed Harrison Lecture Series. Frankly, our school never would have achieved national recognition without his mentorship. Not only was Bob's impact felt in Mississippi – at the national level, his master's thesis became the formal template NCARB adopted in the 1980/90s for the Intern Development Program (IDP) leading to architectural licensure. The success of the program, adopted by all the states, continues on as the AXP internship. Quite a legacy. After the COVID dust settles, we will look forward to properly acknowledging and honoring his memory and accomplishments in the Robert and Freda Harrison Auditorium in Giles Hall."
Arrangements are in the care of Parkway Funeral Home & Parkway Memorial Cemetery in Ridgeland. Visitation will be held Fri., Jan. 8, 3-5 p.m., and services Sat., Jan. 9, 11 a.m., both at St. Matthews United Methodist Church in Madison. The family and church request masks and social distancing. Burial will follow at Parkway Memorial Cemetery. In lieu of flowers, donations may be made to St. Matthews, 7427 Old Canton Rd, Madison, MS, 39110, or the Mississippi Community Symphonic Band Instrument Donation Program at www.mcsb.us.
Additional Information
Harrison served two terms as president of the Mississippi Chapter of the American Institute of Architects and was a member of the national AIA board. He was a partner for more than thirty years in the Jackson architectural firm of JH&H and earned an honorary doctorate from Mississippi State in 2013.
Read more about the Harrisons' involvement with the MSU S|ARC.