A May 2020 Mississippi State University Bachelor of Fine Arts graduate is the recipient of second place in an annual international juried competition.
Ronni Brashear's painting, "Fast Satisfaction," was part of her senior thesis body of work.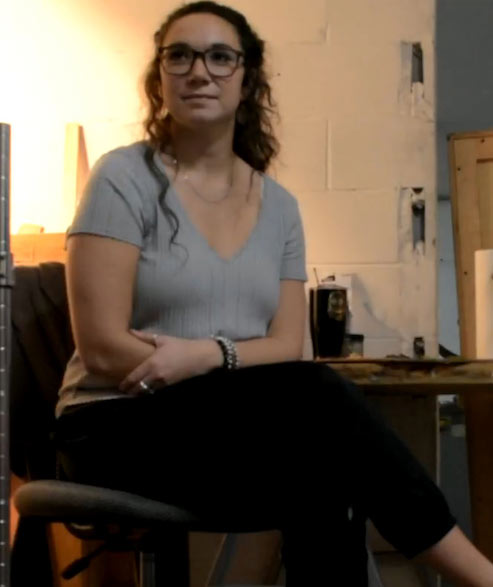 The Arts Council of York County's 31st Annual Juried Competition was juried by Professor of Art at Clemson University David Detrich. He selected 35 works for exhibition out of 109 entries by 54 artists from 21 cities and 6 states. Awards were given out for best of show; first, second, and third place; as well as two honorable mentions.
Brashear's senior thesis concept was based on her view of the romanticization of alcohol. 
"As a figurative painter, my works encourage thoughtfulness about the corruption of the materialistic world. My goal is to create work that explores popular culture and behavior, yet, reflects hope for humanity," she said. 
"The specific work 'Fast Satisfaction,' which was changed to 'Fueling the Fire' in my thesis show, is suggesting potential chaos for those at the bonfire due to drinking too much. The stop sign, snakes and empty shoes hint that something strange is happening."
Brashear said she found the competition through an internet search.
"This is the kind of artist I wanted to become," she said. "I've always wanted my work to be 'good enough' to be accepted into shows and succeed in competitions. I prayed over the past few months if this was God's path for me, and when I found out I had won second place, I was so thankful, grateful and reassured."
The artist plans to continue painting commissions and continue her studio work. 
"I have always been passionate about mental health and especially addiction to alcohol," she said. "I wish to continue my work that challenges social norms of the materialistic world." 
View the 31st Annual Juried Competition Virtual Gallery.
Watch the Gallery Talk with Juror David M. Detrich.
(Brashear's work is discussed at 16:00)
View more work from Brashear on her website at ronnipaints.net, and find her on social media @ronnipaints.