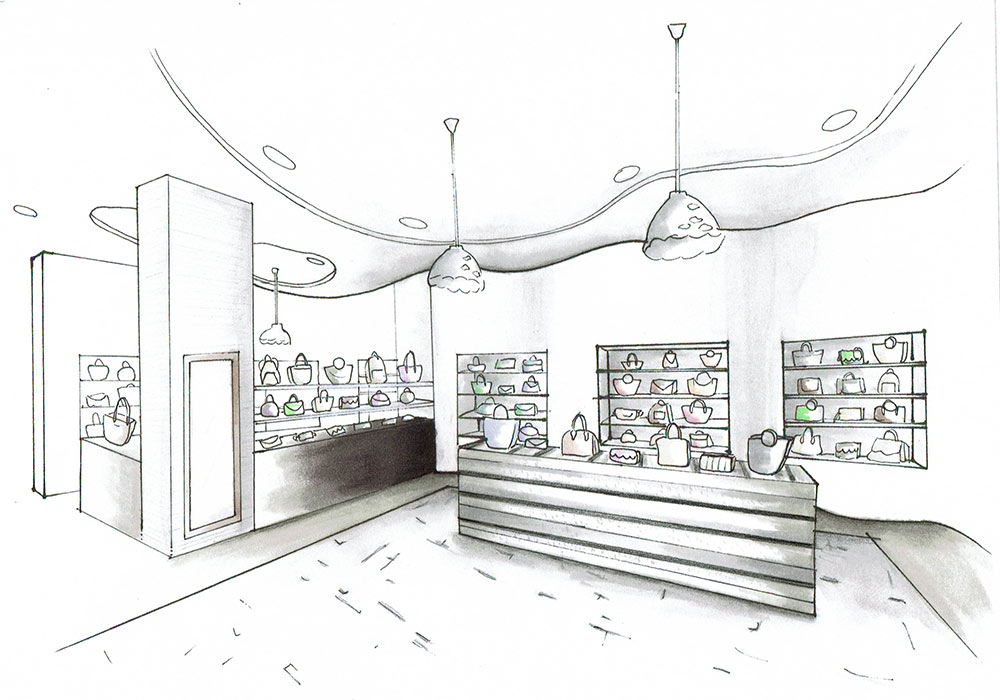 Mississippi State interior design students recently received 31 of 54 possible awards in the 2020 American Society of Interior Designers South Central Chapter Student Work Competition. Originally scheduled to be held in New Orleans this past spring, the society's annual summit was canceled due to the COVID-19 pandemic, and the student awards were announced via email and video.
MSU Interior Design Program Director and Professor Beth Miller, Ph.D., credits her students' success to the exposure of a wide range of project types and to the faculty's guidance and design experience in their respective fields. MSU's interior design program also offers furniture design, numerous computer technology courses, hand rendering and lighting courses that many other universities do not include in their curricula. 
"I am so proud that interior design students took the initiative, even in the throes of the pandemic, to enter their student projects into the competition. Most of the student winners were underclassmen—juniors and sophomores—so our program's future is bright," Miller said. "MSU's interior design program continues to dominate the competition, and we are thankful that the tradition continues even during these difficult times. We maintain the reputation that student work from MSU is high quality and competitive."
The ASID student competition drew representatives from higher education institutions throughout Mississippi, Louisiana and Arkansas.
The 2020 MSU winners and their categories include (by hometown):
BATESVILLE—Senior Addison K. Buntin, silver in both original product design and hand rendering; and bronze in both residential large and hospitality
BIRMINGHAM, Alabama—Senior Mary Beth McClung, silver in original product design
BYHALIA—Senior Jayla J. Dorse, silver in hospitality, hand rendering and original product design
CONWAY, Arkansas—Senior Jordan D. Hester, gold in original product design; two silvers in computer generated rendering; silver in residential small, healthcare, hospitality and hand rendering; and bronze in computer generated rendering
CORDOVA, Tennessee—Sophomore Molly P. Taylor, silver in both new student spotlight commercial and hand rendering
DYERSBURG, Tennessee—Junior Virginia J. "Jenna" Porter, silver in hospitality and two silvers in computer generated rendering
FAIRHOPE, Alabama—Senior Mary K. "Kate" Charlton, gold in hospitality
FLORENCE—Senior Katelyn M. Jenkins, gold in hospitality, original product design and hand rendering; and silver in hospitality
GULF BREEZE, Florida—Senior Jennifer P. Langham, silver in healthcare
HOLLANDALE—Junior Jill M. Lewis, bronze in hand rendering
HORN LAKE—Senior Sharnae T. Hayslett, silver in healthcare
LONG BEACH—Senior Hannah N. Hancock, silver in both hospitality and original product design
LOUISVILLE—Senior Samantha R. Wilson, silver in hospitality
MERIGOLD—Senior Ashlyn M. Cummins, bronze in original product design
NEW ALBANY—Senior Emily C. Gafford, bronze in both original product design and hospitality
OLIVE BRANCH—Junior Jaylin A. Gilland, silver in both original product design and healthcare
OXFORD—Senior Jessica N. McEachern, gold in hospitality and silver in healthcare
RIENZI—Senior Megan P. Robinson, silver in healthcare
STEENS—Senior Ryann N. Cook, silver in hospitality, healthcare and workplace; and bronze in both institutional and portfolio
View the full gallery of winners online.
Watch the video presentation of the winners on YouTube.
See the gallery of the MSU winning entries.
Accredited by the Council for Interior Design Accreditation and National Association of Schools of Art and Design, MSU's interior design program is part of the College of Architecture, Art and Design. Its curriculum provides a broad background in interior elements, materials, sources and practical experiences. For more, visit www.caad.msstate.edu/id and on Facebook, Twitter and Instagram @CAADatMSU.
MSU is Mississippi's leading university, available online at www.msstate.edu.