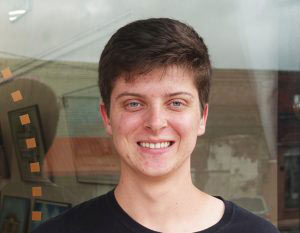 A Mississippi State junior is the latest selection for the Method Studio Undergraduate Research Fellowship.
Third-year architecture student John Spraberry of Clarksville, Tenn., will receive $3,000 to conduct research for Method Studio, a Utah-based architectural design firm.
"I'm excited and honored to receive this award because it gives me an opportunity to learn about a unique field in architecture and work in close proximity to a highly successful faculty member," said Spraberry, adding that the fellowship will also prepare him for graduate research.
Jacob Gines, an associate professor of architecture who also is Method Studio's research and design vice president, will supervise this research.
"Applied research opportunities are critical to preparing 21st century architects. The school is lucky to have professional partners who understand the value of such experiences to both the academy and industry alike," said Jassen Callender, the school's interim director. "Method Studio's support is a testament to the incredible work of our students, faculty and staff."
Located in Salt Lake City, Method Studio specializes in creative solutions that allow collaborations between clients and professional designers. For more about the firm, visit www.method-studio.com.
A major unit of MSU's College of Architecture, Art and Design, the School of Architecture offers the only curriculum in Mississippi leading to a professional degree in architecture.
MSU is Mississippi's leading university, available online at www.msstate.edu.