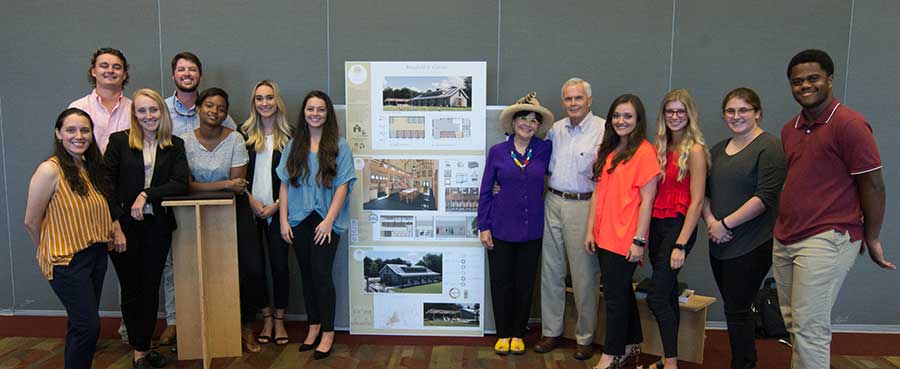 By Christie McNeal | Mississippi State University
A renovation project for a structure on Spirit Hill Farm in Holly Springs has given student teams in Mississippi State's College of Architecture, Art and Design a chance to hone their collaborative and competitive skills for the past six weeks.
The annual Brasfield and Gorrie Student Design Competition at MSU has seen 110 architecture, art/graphic design, building construction science and interior design seniors teaming up to develop proposals for a barn renovation on the north central Mississippi farm, which was donated by MSU alumni and owners Bob and Sheryl Bowen. Read more about the gift at http://www.infiniteimpactmsu.com/bowen.
Brasfield and Gorrie General Contractors, one of the nation's largest privately held construction firms based in Birmingham, Alabama, has sponsored the annual event for the past nine years.
"Through the generous support of Brasfield and Gorrie, students in all four programs in our college are challenged to come up with viable design and construction solutions for a real-world client," said Dean of the College of Architecture, Art and Design Angi Elsea Bourgeois. "By working in teams, they truly learn the values of collaboration such as compromise, leadership and communication while also developing a successful outcome for the specific needs of Spirit Hill Farm and the Bowen family."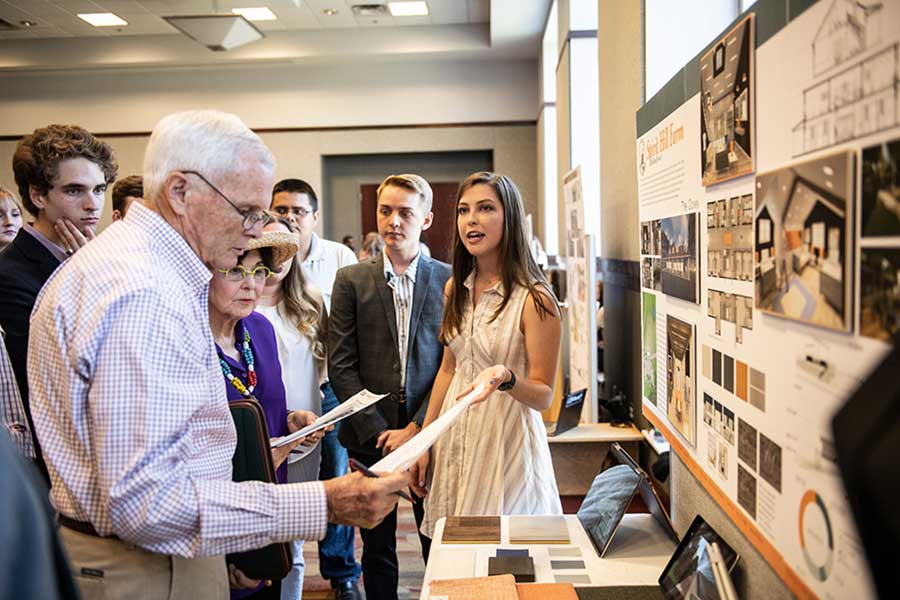 The teams each worked to craft a cohesive design that reuses the existing barn to create housing for Mississippi State students conducting research at the farm. They were challenged to integrate their design with the existing aesthetic of other structures on the farm and use existing furniture pieces throughout the space. Other project requirements were branding, material selection, the application of building codes, zoning, the Americans with Disabilities Act, egress, creation of a construction budget and schedule, Leadership in Energy Environmental Design (LEED) and WELL Building Certification.
The winning teams were selected following informal presentations to the Bowens, Brasfield and Gorrie representatives, and college administrators. The top three projects—first place and a tie for second place—were chosen based on evidence of collaborative efforts, meeting the clients' needs and overall project completion. 
The first-place group credited its success to working well together as a team.
"From the beginning of this project, I quickly realized that the individuals on my team were very talented, and the final product was going to be something truly special," said building construction science major Ryeley Jacobs of Ocean Springs. "After meeting with the Bowens, we decided to go with a design that stayed true to the original aesthetic, while making it accommodating and comfortable to the individuals who will be enjoying the space for years to come. I believe our design achieved everything we had imagined and so much more."
Honorees included (by hometown):
FIRST PLACE
ABERDEEN—Megan M. Henry, interior design
BIRMINGHAM, Alabama—Emily A. Purner, interior design
BELZONI—Caleb Q. Shaw, architecture
FLORA—Gregory R. "Chip" Goza, building construction science
HERNANDO—Brianna M. Brown, architecture
IUKA—Malik D. Henley, art/graphic design
OCEAN SPRINGS—Ryeley K. Jacobs, building construction science
PICAYUNE—Danielle M. Leclercq, architecture
SPRING HILL, Tennessee—Victoria A. "Tori" Thompson, building construction science
STEENS—Madison C. Holbrook, architecture         
VAIDEN—Ashtyn R. Carpenter, interior design
SECOND PLACE (TIE)
FLORA—Cassidy H. Jones, interior design
GIBSON—Kerry E. McElroy, architecture
GRENADA—Melissa L. Sones, interior design
HUNTSVILLE, Alabama—Shelby C. Jaco, architecture
KILN—Owen H. McCallum, building construction science
MADISON—Ashley E. Casteel, architecture; Joshua T. Jacobs, building construction science; Case L. Woodward, building construction science
OLIVE BRANCH—Demarques T. Nevels, art/graphic design
SOUTHAVEN—Mariah J. Green, architecture
STARKVILLE—Savannah L. Crew, interior design
SECOND PLACE (TIE)
BILOXI—Tyler E. Roch, building construction science
FLORENCE—Lilah S. Smith, art/graphic design
HATTIESBURG—William H. McMahon, interior design
HOOVER, Alabama—Jackson S. Warren, building construction science
JACKSON—Olivia A. Baker, architecture
MADISON—Casey L. Pennebaker, building construction science
MERIDIAN—Isaac L. Johnson, architecture
RIDGELAND—Pablo Vargas, architecture
STARKVILLE—Felipe M. Olvera, architecture
VICKSBURG—Olivia T. Frazier, interior design
WEST POINT—Steven C. Dragoo, building construction science
MSU faculty overseeing the competition included Lecturer of Art/Graphic Design Eric Abbott, Associate Professor of Architecture Alexis Gregory, Associate Professor of Building Construction Science Michele Herrmann, Associate Professor of Interior Design Lyndsey Miller, Professor of Architecture John Poros, and Assistant Professor of Building Construction Science Alireza Shojaei.
Learn more about MSU's College of Architecture, Art and Design and its academic programs at www.caad.msstate.edu and on Facebook, Twitter and Instagram @CAADatMSU.
MSU is Mississippi's leading university, available online at www.msstate.edu.
See more photos from the project.