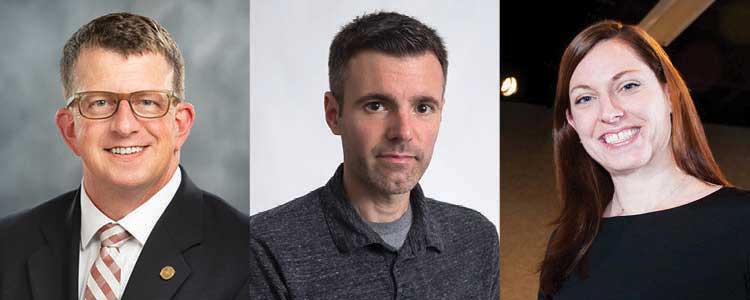 Three Mississippi State University Department of Art faculty members have received funds from the Mississippi Arts Commission (MAC).
Associate Professor and Department Head Critz Campbell will use his $4,000 MAC Artist Fellowship for the execution of new work.
Associate Professor of Photography Dominic Lippillo plans to use his $500 MAC Mini Grant to purchase supplies
Gallery Director Lori Neuenfeldt's $4,400 MAC Community Arts Grant will help fund an exhibition and programming titled "UNPACKED: Refugee Baggage." Organized by the Department of Art Galleries in collaboration with the Department of Anthropology and Middle Eastern Cultures, the exhibition will display work by Mohamad Hafez and will be on display in the Cullis Wade Depot Art Gallery from Sept. 30 – Nov. 1.
These funds are a portion of the nearly $1.4 million in grants the commission awarded in Fiscal Year 2020 and are made possible by continued funding from the Mississippi State Legislature and the National Endowment for the Arts. 
"Mississippi boasts an embarrassment of riches when it comes to artistic talent in our state," said Malcolm White, executive director of MAC. "MAC is proud to support the artists selected to receive grant awards from MAC this year. These individuals should be commended for their commitment to artistic excellence as well as their ability to communicate complex thoughts and emotions through the arts."   
The Mississippi Arts Commission (MAC) is a state agency serving more than two million people through grants and special initiatives that enhance communities, assist artists and arts organizations, promote arts education and celebrate Mississippi's cultural heritage. MAC is funded by the Mississippi Legislature, the National Endowment for the Arts, the Mississippi Endowment for the Arts at the Community Foundation for Mississippi and other private sources. For more information, visit www.arts.ms.gov.
For information about the Mississippi Arts Commission, please contact Anna Ehrgott, Communications Director, 601-359-6546 or aehrgott@arts.ms.gov.