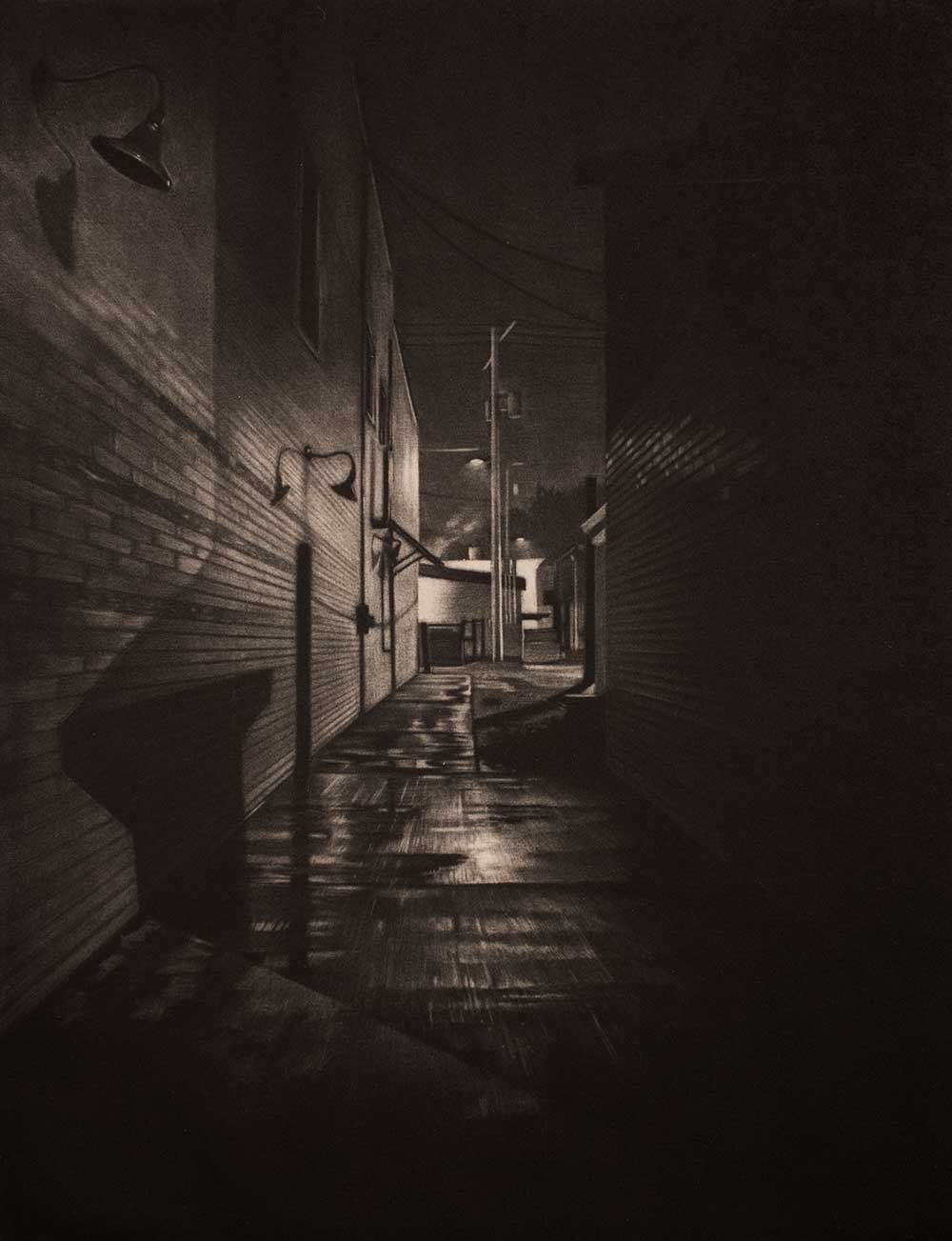 By Christie McNeal | Mississippi State University
A Mississippi State Department of Art faculty member is one of five artists being honored nationally with a purchase award from the prestigious Boston Printmakers 2019 North American Print Biennial.
Jacob Crook, the department's exhibition coordinator and a foundations courses lecturer, has received the Otis Philbrick Memorial Prize for his mezzotint engraving titled "Nightrise II," a piece that showcases a dimly lit alley on Lafayette Street in downtown Starkville. As part of the award, Crook's work is being placed in the Print and Drawing Permanent Collection at the Museum of Fine Arts Boston. 
"I happened upon it one night on a drizzly evening walk and was immediately captivated by the angularity of the shadows cast from various light sources and sparkling reflections in the rainy concrete and felt compelled to spend time with the composition," Crook said of his image.
The biennial received a total of 1,701 entries, with only 111 being selected for exhibition by juror Shelley R. Langdale, president of the Print Council of America and the Park Family Associate Curator of Prints and Drawings at the Philadelphia Museum of Art. 
Crook, a native of St. Louis, Missouri who joined MSU's faculty in fall 2017, will teach all levels of printmaking courses during the upcoming academic year following the retirement of longtime printmaking coordinator Linda Seckinger.
"The Department of Art is very proud of Jacob's research and the national recognition this purchase award brings to his work," said Department of Art Associate Professor and Head Critz Campbell. "We are extremely lucky to have Jacob as a member of our faculty and are excited about his new role in the printmaking area. I cannot wait to see what his students produce."
Crook works primarily in the intaglio printmaking technique of mezzotint but also is trained as an observational oil painter and draftsman. He received his Bachelor of Fine Arts with emphasis in painting from the University of Missouri in 2009 and his Master of Fine Arts in printmaking from Syracuse University in 2014. Crook's works have been exhibited both nationally and internationally, at the Yekaterinburg Museum of Fine Arts in Russia, Fort Wayne Museum of Art, Museum of Fine Arts Boston, and in numerous academic institutions and private collections.
His creative research explores often-overlooked aspects of the built environment.
He described his works as "primarily night-time, starkly lit streetscapes that act as empty stage sets, portrayed in such a way that they appear simultaneously long abandoned or soon-to-be entered, suggesting untold narrative possibilities just out of reach."
Crook's current work explores the similarities of these streetscapes to an abandoned shopping mall. Through this, he is looking at how relatively recent changes in consumer activity—from shopping downtown, to shopping malls, to online retail—can impact the appearance and experience of the built environment. More details about Crook and his work are online at www.crookstudio.net.
The Boston Printmakers 2019 North American Print Biennial is set to be on display from Aug. 26­-Sept. 29 at Jewett Art Gallery at Wellesley College in Wellesley, Massachusetts, where a juror's talk will be held on Sept. 8 at 1 p.m. along with a public reception from 2-5 p.m.
Part of MSU's College of Architecture, Art and Design, the Department of Art is the longtime home of the state's largest undergraduate studio art program. Learn more about the college and department at www.caad.msstate.eduand on Facebook, Twitter and Instagram @CAADatMSU.
MSU is Mississippi's leading university, available online at www.msstate.edu.