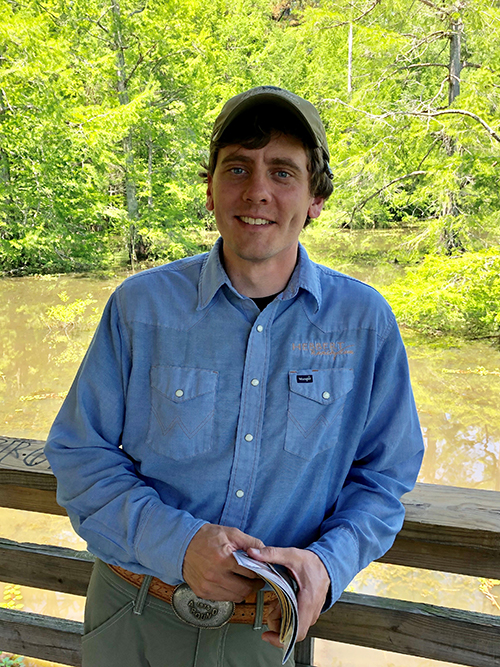 By Sasha Steinberg | Mississippi State University
A young creative from Nebraska is bringing his talents to the Magnolia State as Mississippi State's newest artist-in-residence.
On the 48,000 acres of the Sam D. Hamilton Noxubee National Wildlife Refuge, Jake Hebbert is spending nearly two weeks exploring his passion for sculpture and painting.
On Thursday [May 9] at 4 p.m., Hebbert is leading a free oil painting demonstration at the new Idea Shop in downtown Starkville.
The native of the Cornhusker State learned the craft of bronze sculpture from renowned wildlife artist William Davis who died in 2010. Hebbert has now been sculpting for 12 years and also has worked in the movie industry molding and building special effects. He holds a Bachelor of Fine Arts from the University of Nebraska at Kearney. In addition to sculpture and painting, he works in digital media. For more, visit https://j-a-hebbert.com.
Located 12 miles south of the Starkville campus, the Refuge is a federal reserve spanning into Oktibbeha, Noxubee and Winston counties. Established in 1940, it serves as a feeding and resting area for migratory birds and resident wildlife, including white-tailed deer, alligators and beaver. Wetlands, cypress groves, prairie grasslands and forest also are among its many features.
The annual artist-in-residence program is a collaborative effort of MSU's Department of Art, the Refuge and its Friends of Noxubee Refuge support organization, as well as the Starkville Area Arts Council.
Lori Neuenfeldt, MSU art instructor and gallery director, said the program plays an integral role in promoting the creative process for innovative visual, performance and literary artists. Visiting professionals receive complimentary Refuge housing and are welcome to experiment and further develop their skills during time spent at MSU's art facilities, she explained.
"The Refuge residency provides emerging and established artists the opportunity and workspace to research and create art within the beautiful natural surroundings of Northeast Mississippi," Neuenfeldt said. "Residents have the freedom to explore and interact with native wildlife, as well as with members of the Refuge staff and campus and local communities."
Among others, previous artists-in-residence have included MSU art/fine arts graduates Kara VonKanel of Caledonia, Jordan Knight of Brandon and Darren Cheairs of New Albany; painter and sculptor Caitlin Albritton of Tampa, Florida; and visual artist and art educator Gillian Furniss of New York.
For more on the Noxubee National Wildlife Refuge and its Artist-in-Residence program, visit https://www.fws.gov/refuge/Noxubee/artist_in_residence.html.
Part of the College of Architecture, Art and Design, MSU's Department of Art is the longtime home of the state's largest undergraduate studio art program. Learn more at www.caad.msstate.edu.
MSU is Mississippi's leading university, available online at www.msstate.edu.