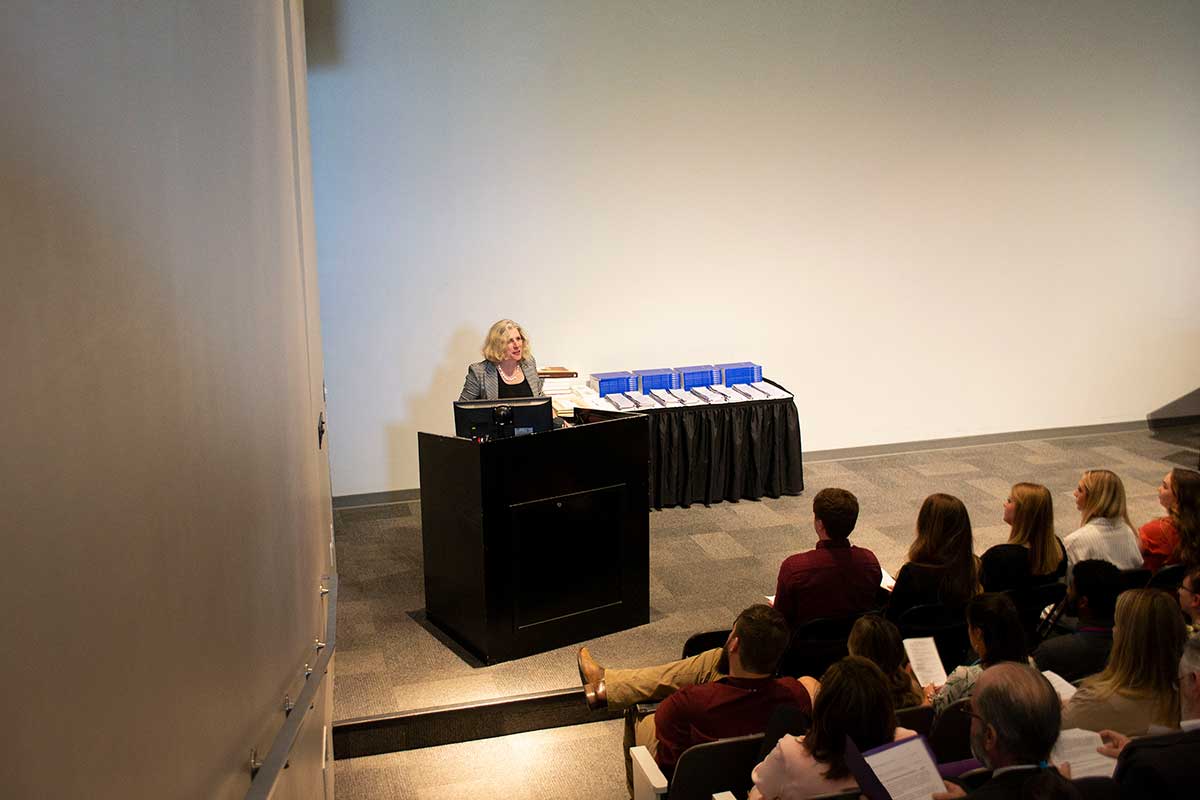 May 3, 2019
By Sasha Steinberg | Mississippi State University
As the featured speaker for the School of Architecture's 28th Annual Dr. William L. and Jean P. Giles Memorial Lecture, Katie Blount enjoyed the "golden opportunity" to inspire graduating Mississippi State seniors to lead the way in interpreting, preserving and telling the state's many stories.
"Graduates of the Mississippi State University School of Architecture have had a tremendous impact on Mississippi and well beyond Mississippi, and I know that you all will go on to the same," said Blount, who has served since 2015 as director of the second-oldest state department of archives and history in the U.S.
Blount is a Master of Arts graduate of the Southern Studies program in the Center for the Study of Southern Culture at the University of Mississippi. Prior to becoming MDAH director, she served for four years as the department's deputy director for communication, overseeing the completion of the internationally recognized Mississippi Civil Rights Museum and Museum of Mississippi History, which opened in 2017 during the state's bicentennial. Among other duties, her role as director involves supervision and oversight for more than 120 employees and multiple historic facilities around the state.
"Our mission and vision at the Department of Archives and History is empowering people through Mississippi's many stories, and our built environment reflects our stories," Blount said. "You graduates are the people who will be carrying our stories forward, telling new ones and interpreting and preserving existing ones in the coming decades."
Blount said she also was excited to visit the Starkville campus to see firsthand the "outstanding preservation work" that has been done under the leadership of "remarkable stewards of the historic resources," including MSU President Mark E. Keenum and Vice President for Campus Services Amy Tuck. Keenum was elected to the MDAH board of trustees in 2018.
MSU F.L. Crane Professor and School of Architecture Director Michael A. Berk also used "remarkable" to describe the experience of witnessing young architects' progress throughout their academic journeys.
"The seriousness demonstrated by these students is unwavering," Berk said. "Their honesty, ruggedness and inquisitive nature is relentless, and their intellect is unsurpassed. I'm confident that these attributes and their experiences here at Mississippi State will serve them well as they move into their careers and lives."
Angi Bourgeois, professor and dean of the College of Architecture, Art and Design, thanked parents and others for their support and willingness to trust their graduates to MSU.
"I want each of you to celebrate what you have accomplished," Bourgeois told the graduates. "As you move forward, I want you to know we will always be a part of who you are, and we will always be here any time you need us."
Tuck also congratulated the Class of 2019, who are among "the state's best and brightest students."
"We're very proud at Mississippi State to be the No. 1 choice for high school graduates in our state. Non-resident students also are finding that this university is a true destination for an exceptional education that prepares them to meet whatever challenges come their way and to capitalize on every opportunity," Tuck said. "I know you graduates will make things happen for our state, our nation and around the world because your commitment to excellence, your vision, your goals and your dreams will ensure a brighter tomorrow for future generations."
Part of the College of Architecture, Art and Design, MSU's School of Architecture is the state's only curriculum leading to a professional degree in architecture. Learn more at www.caad.msstate.edu.
MSU is Mississippi's leading university, available online at www.msstate.edu.