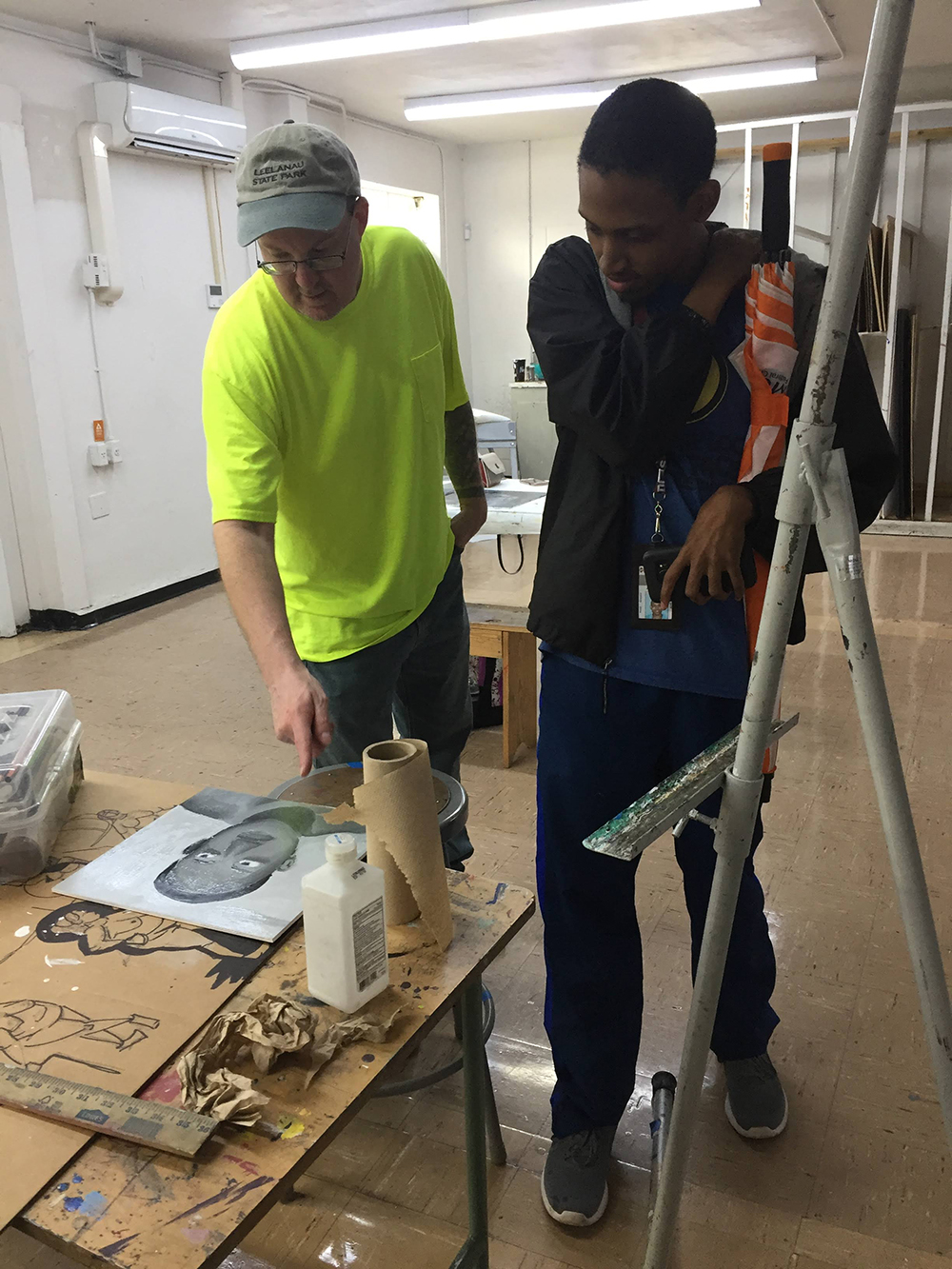 Bryan Sanders talks with a student about his self-portrait in Associate Professor Alex Bostic's class.
Artist Bryan Lewis Saunders visited Mississippi State University on Feb. 6.
Saunders' packed itinerary included one-on-one time with Department of Art students and faculty. He visited Associate Professor Alex Bostic's figurative painting class, Assistant Professor Greg Martin's figurative drawing class, and met with several students to discuss their work and methodologies.
The visiting artist was impressed with the Mississippi State students' work.
"I could tell who they belonged to," he said, referring to black and white oil self-portrait paintings in Bostic's class. "They really looked like them."
Saunders also had a chance to tour campus and was especially impressed with the Bob and Kathy Luke Library, a separate university library dedicated to the arts, which he said is something he has not seen on other campuses he has visited. The library acquired several books from Saunder's collection, including The Interviews (vol. 1) and Just Noticeable Difference Issue 2: 30 Days Totally Blind.
The visit concluded with a lecture on his life's work and influences. Saunders discussed the entirety of his oeuvre, ranging from his first self-portrait sketches in 1995 to his blind and deaf month performances from 2018.
The talk concluded with a lively question and answer session and one-on-one discussions with the students and faculty.
Since 1995, Saunders has worked to excavate the varied nature of his creative process, a task documented in his daily self-portraits series that spans over two decades. He currently lives and works in Johnson City, Tenn., where he attended East Tennessee State University. Reviews and critical inquiries of his work have appeared in Vice, CNN, Hyperallergic, WIRED, and The Huffington Post. Saunders has performed with Lydia Lunch, Eugene S. Robinson and Bibbe Hansen at the International Poetry Festival; exhibited alongside Basquiat, Damien Hirst, Henri Michaux, and Witkacy as part of the Sous Influences: Artists et Psychotropes at La Maison Rouge in Paris, France; and was part a 2015 exhibition titled De Maakbare Mens at the Dolhuys Museum in the Netherlands ­– an  exhibition that featured his work alongside Vincent Van Gogh and Willem Van Genk. Most recently, he spent 30 days in self-initiated blindness and deafness for a performance titled, Blind and Deaf Months, at the Bunk Spot in Cincinnati, Ohio. 
See more photos and add yours from the visit here!