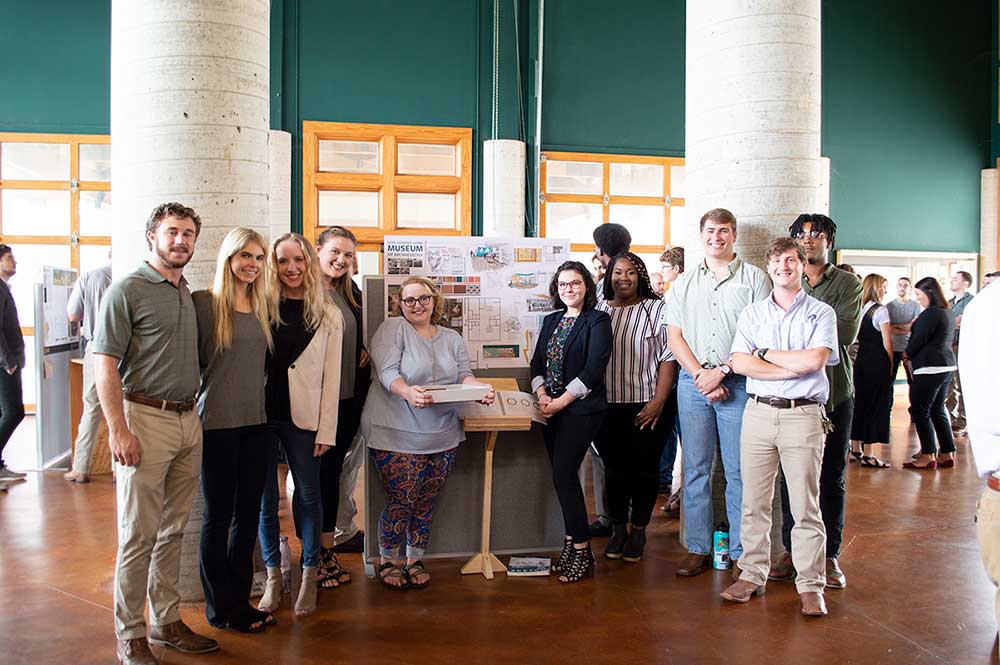 September 26, 2018
A redesign project for Mississippi State's Lois Dowdle Cobb Museum of Archaeology in the Department of Anthropology and Middle Eastern Cultures gave students in the College of Architecture, Art and Design a chance to hone their collaborative skills as part of a team effort.
Brasfield and Gorrie General Contractors, one of the nation's largest privately held construction firms based in Birmingham, Alabama, has sponsored the annual Brasfield and Gorrie Student Design Competition at MSU for the past eight years.
Since the start of the fall semester, 94 architecture, art, building construction science and interior design seniors have been working in teams to develop proposals for the redesign of the Cobb Museum, researching and determining how exhibits should be reorganized and considering such factors as space and circulation.
"This competition provides our students with a real-world experience of high-pressure and high-stakes collaborative work," said Dean of the College of Architecture, Art and Design Angi Elsea Bourgeois. "By learning the rewards and challenges of true collaboration, they will be better positioned to transition seamlessly into today's job market, which requires these skills more than ever before."
Students worked together in all disciplines to create a cohesive design that is constructible and considers aspects of Leadership in Energy Environmental Design (LEED) and a WELL Building Certification. Other design requirements were to add a gift shop and direct attention to the museum—located in the basement—from the front of the building.
The top five teams then presented their final work to Cobb Museum faculty and staff, as well as Brasfield and Gorrie representatives, who recognized the top three teams with a monetary prize.
The first-place group credited its success to good communication and trust among members, along with a well-thought-out plan.
"Everyone was really easy to talk to," said Mary Moore, the group's sole graphic designer.
"We came up with a concept on day one, which really helped us to all stay on the same page," added team member Sydney White.
Brasfield and Gorrie project manager Rivers Price said, "You could tell the team had great chemistry, and they knocked it out of the park."
Honorees for superior design included, by hometown:
FIRST PLACE
BRANDON—Sydney A. White, interior design
GRENADA—John Douglas "J.D." Staten, building construction science
GULFPORT—Heather L. Gillich, architecture
HUNTSVILLE, Alabama—Shelby C. Jaco, architecture, and Tyler R. Letson, building construction science
JACKSON—Jordan X. Smith, architecture
LAUREL—Gaybrail "Gabby" Jones, interior design
MADISON—Clayton "Clay" Crossman, building construction science
PONCHATOULA, Louisiana—Olivia B. Duhe, interior design
RIDGELAND—Mary E. Moore, art/graphic design
SECOND PLACE
BALDWYN—Reagan B. Richey, building construction science
BIRMINGHAM, Alabama—Grant R, Hyche, building construction science
HOLLY SPRINGS—Kirkland C. Webber, architecture
HOUSTON—McCarley K. Hood, interior design
JACKSON—Charles M. Bowman, building construction science
JACKSON, Tennessee—Samantha K. Sullivan, interior design
MCCOMB—Margaret C. "Maggie" Clark, senior interior design
STARKVILLE—Daniel H. Ruff, architecture
TERRY—Jasmine J. Dennis, architecture
TUPELO—Katherine Huang, art/graphic design
TUSCALOOSA, Alabama—Meredith A. Hutto, architecture
THIRD PLACE
BLUE MOUNTAIN—Abigail "Abby" Jackson, architecture
BLUE SPRINGS—Blake Farrar, architecture
BRANDON—Bailey E. Cummins, interior design
CANTONMENT, Florida—Luke A. Nunley, building construction science
CLARKSDALE—Taylor E. Knight, art/graphic design
HUNTSVILLE, Alabama—Nicholas R. James, building construction science
MABEN—Kaitlin W. Huguley, interior design
NORTHPORT, Alabama—Isaiah Brooking, building construction science
STARKVILLE—Jon M. Russell, building construction science, and Robert A. Scott, architecture
WEST POINT—Carlie R. Teffeteller, interior design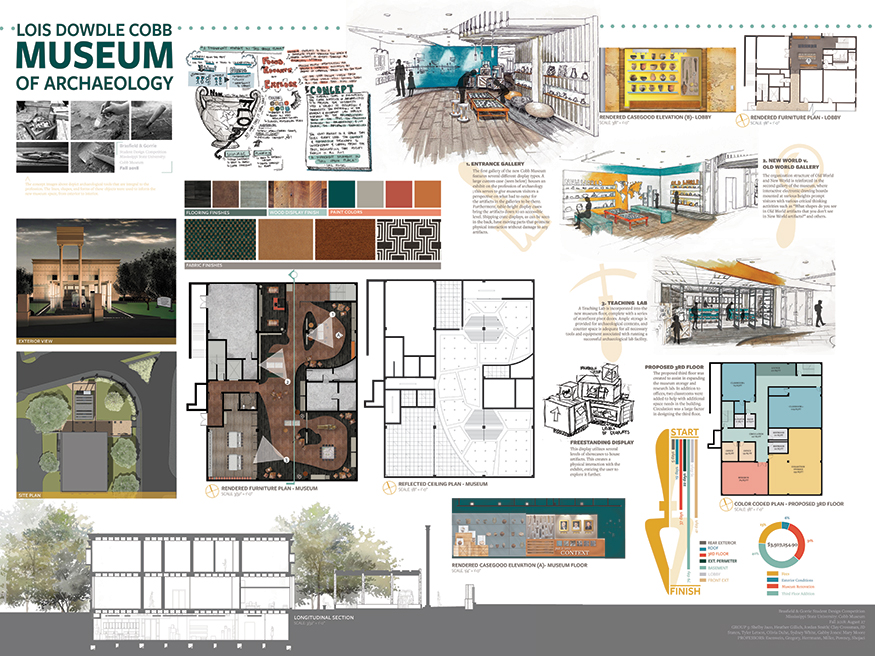 MSU faculty overseeing the competition included Assistant Professor of Architecture Fred Esenwein, Associate Professor of Architecture Alexis Gregory, Assistant Professor of Building Construction Science Michele Herrmann, Associate Professor of Interior Design Lyndsey Miller, Associate Professor of Art/Graphic Design Suzanne Powney, and Assistant Professor of Building Construction Science Alireza Shojaei.
Learn more about MSU's College of Architecture, Art and Design and its academic programs at www.caad.msstate.edu and on Facebook, Twitter and Instagram @CAADatMSU.
MSU is Mississippi's leading university, available online at www.msstate.edu.