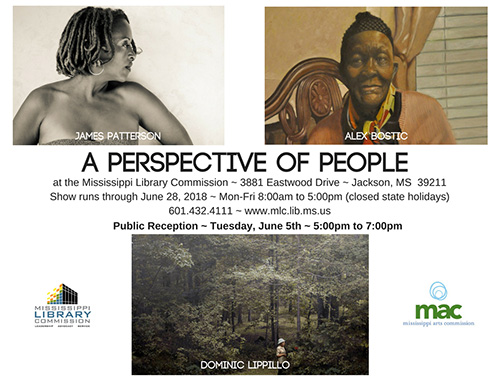 Two faculty members in Mississippi State University's Department of Art will be featured in an upcoming exhibition organized by the Mississippi Library Commission and Mississippi Arts Commission.
On display June 5-28 at the Mississippi Library Commission's 3881 Eastwood Drive location in Jackson, "A Perspective of People" showcases work by artists who have been honored through MAC's highly competitive Visual Artist Fellowship Grant program. Featured artists include MSU associate professors Alexander Bostic and Dominic Lippillo, along with Jackson-based photographer James Patterson. A public reception in their honor takes place June 5 from 5-7 p.m. in the same location.
"Each year, MAC is proud to honor local artists who create exemplary work in their chosen field through our Artist Fellowship program," said Malcolm White, MAC executive director. "Thanks to this important partnership with the Mississippi Library Commission and our shared vision for enhancing exposure to the arts across our state, we have a great opportunity to spotlight the work and achievements of this year's fellows."
Celebrating its 50th year, MSU's Department of Art is home to the Magnolia State's largest undergraduate studio art program. Learn more at www.caad.msstate.edu and follow on Facebook, Twitter and Instagram @CAADatMSU.
MSU is Mississippi's leading university, available online at www.msstate.edu.
See the story in the Maroon Memo.