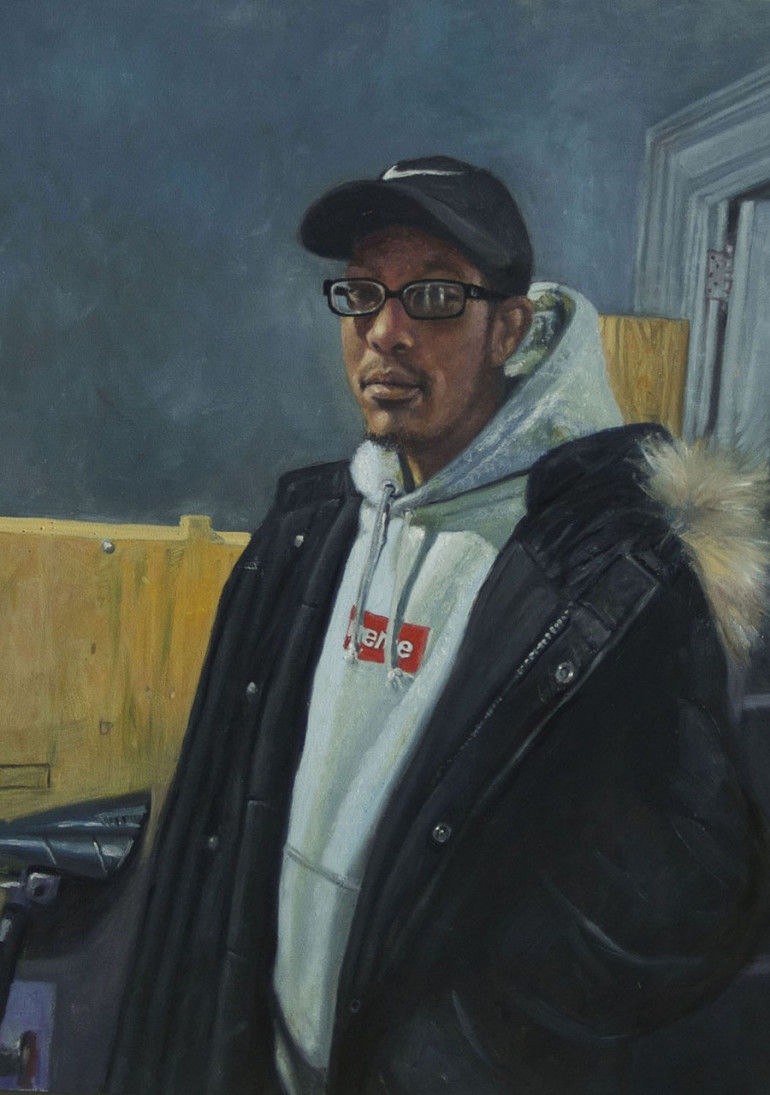 "Dupree" by Alexander Bostic
By Dianne Poston Owens | SCNOW Morning News
LAKE CITY, S.C. – Though Alex Bostic left Bennettsville with his family when he was 4, and his time in the northeast became essential to his becoming the artist he is today, he still has cousins, namely Diane and Caroline, to whom he gives a shoutout in his hometown.
Now an art professor at Mississippi State University and living in Starkville, Mississippi, Bostic, who entered an oil painting of his son "Dupree" in this year's ArtFields competition, credits his time spent in the Pratt Institute art school and his seventh-grade art teacher, Ellen Kuenzel, with helping him achieve his fine artist status.
In Brooklyn Heights, Bostic said, Kuenzel would give me him lessons and talk to him about art.
"I grew up in Brooklyn, and my art teacher, Ellen, mentored me. … To this day I talk to her at least twice a week," Botic said. "All through my career from seventh grade until now, we have talked. I had lessons on Saturdays, and on Sundays she took me to galleries. … I understood art way better than a seventh-grader should.
"I think that's why I teach."
Pratt's programs are ranked among the best in the nation, with its faculty and alumni among the most renowned artists, designers and scholars in their fields.
Bostic is an illustrator and fine artist. In additional to being on the Mississippi State faculty, he has worked at the Kansas City Art Institute, Woodburry University, Pratt Institute and Virginia Commonwealth University.
After getting his bachelor of fine arts from Pratt, he earned his master of arts degree from Syracuse University and became a studio artist, working in Kansas City, Missouri; Los Angeles; and New York City.
In 2015, Bostic made it to the second round of the ArtFields' Portrait Artist Competition.
His brother accompanied him on his trip, and the two agreed that Lake City, and ArtFields, was a venue and competition worth revisiting.
"I visited all the works on display and was interested in entering," Bostic says. "There was outstanding work, and I wanted to be a part of it. When the opportunity came [to enter his work], I took it."
Bostic said he had just finished the piece "Dupree" and believes it is a good representation of the work he does, and it offers a positive look at a good kid. The painting has been in a show in Chicago and elsewhere.
Bostic said his son, Dupree, is excited that the painting has had its own life.
"He's in New York City right now, living there," Bostic said, adding that the painting was done while he helped his son move to the city for a new job. He particularly likes the "determined kind of look on his face."
It was an important time for the two, Bostic said.
Outside of his art, Bostic collects toys.
"I have a big toy collection," he said.
His newest one is a figurine of the Incredible Hulk that his son sent to him.
"I've got vintage ones, but I like the current ones, too," Bostic said.
As an educator for the past 34 years, Bostic said he believes in the craft of art, and he wants to "spread that kind of energy all over as much as I can." His favorite enjoyment is teaching non-art students to draw, he said.