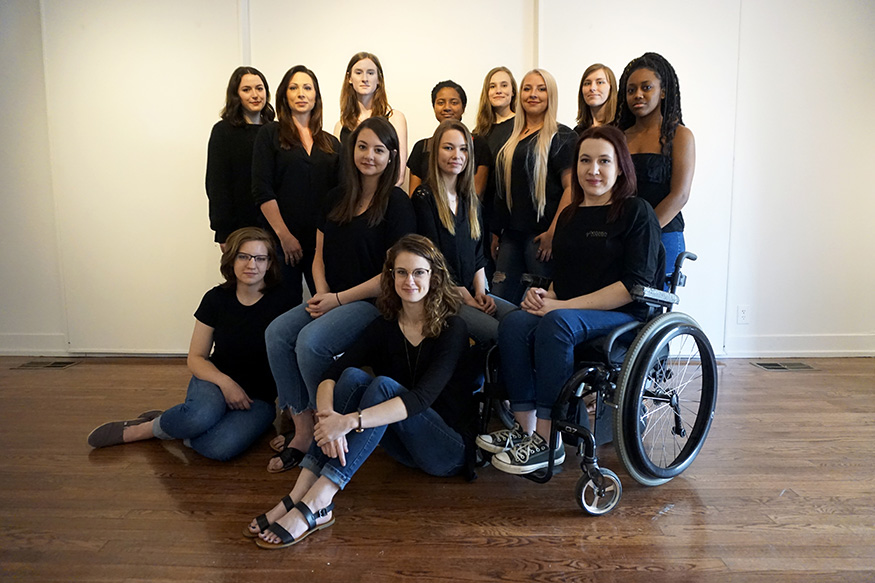 By Sasha Steinberg | Mississippi State University
From illustration and web development to branding and package design, 13 fine art seniors at Mississippi State are showcasing a variety of skills in a new exhibition at the university's Visual Arts Center Gallery.
On display April 17-21 at 808 University Drive, "Layered" celebrates the all-female graduating class's completion of studio work in MSU's Department of Art.
In addition to physical displays, the students' portfolio books and self-promotional pieces will be available for viewing on opening night. For a preview, visit layered2018.com and follow on Instagram @layered_2018.
"Each designer brings a new dimension and unique style just as each layer adds depth to a design," said student exhibitor Jennifer K. "Jenn" McFadden of Huntsville, Alabama.
A 6-7:30 p.m. opening reception in the students' honor takes place Tuesday [April 17] at the Visual Arts Center Gallery, where complimentary refreshments will be available.
Gallery hours are 12:30-5 p.m., Monday-Friday, and 1-4 p.m. Saturday. The exhibition will be open April 21 during MSU's Super Bulldog Weekend and Starkville's Cotton District Arts Festival.
The "Layered" exhibitors include (by hometown):

AMORY—Amy Frances Farrar and Reagan N. Huffman

BRANDON—Alison P. Meeler

CLEVELAND—Justice B. Williams. She also is concentrating in photography

ELK RIVER, Minnesota—Sarah Tewolde

HUNTSVILLE, Alabama—Jennifer K. "Jenn" McFadden

LITTLE ROCK—Abbey E. Rigdon

LONG BEACH—Morgan N.A. Linnett

MADISON, Alabama—Lauryn O. Rody

MADISON—Madeline K. "Maddie" Marascalco

MENDENHALL—Samantha J. Sumrall

MERIDIAN—Caitlyn Ainsworth

PETAL—Haylee R. Upton
Celebrating 50 years, MSU's Department of Art is home to the Magnolia State's largest undergraduate studio art program. For more, visit www.caad.msstate.edu and follow on Facebook, Twitter and Instagram @CAADatMSU.
MSU is Mississippi's leading university, available online at www.msstate.edu.