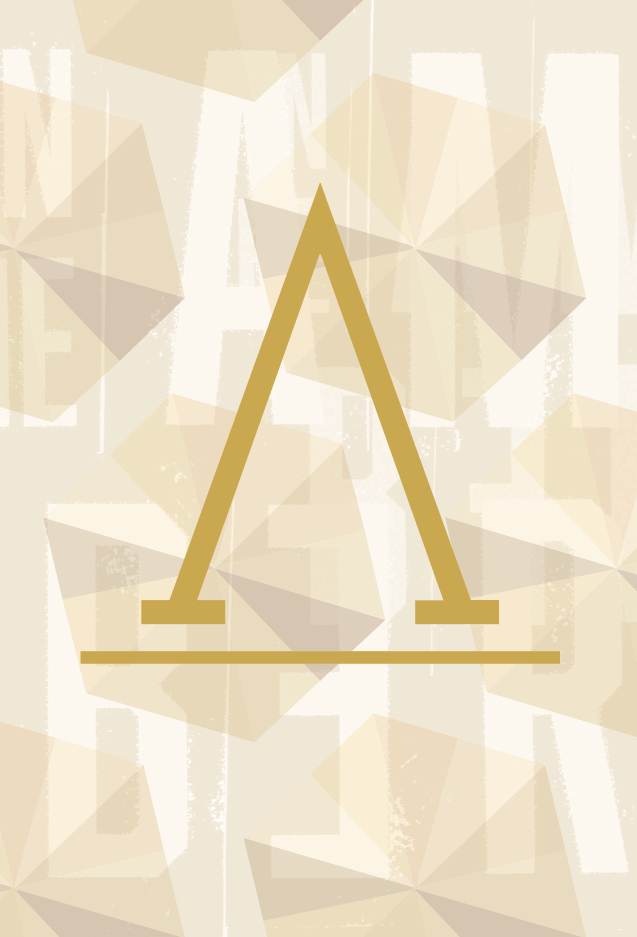 Via Brent Funderburk
"That is a very earthly question to ask…Why you? Why us for that matter? Why anything? Because this moment simply is. Have you ever seen bugs trapped in amber?…well here we are…trapped in the amber of the moment. There is no why."
— Kurt Vonnegut, Slaughterhouse-Five
Exhibit in three galleries on campus from April 28 to May 2
During April and early May, an exhibition in three Mississippi State University galleries will showcase 16 senior fine art students' visions of life in the present. Their show, "In the Amber," presents a year of reflection and offers a potent metaphor for our times.
The concept of "In the Amber"
Each spring the graduating fine art students in Mississippi State's Department of Art are tasked with creating a theme for their capstone thesis exhibition. This year, the students titled their show "In the Amber," inspired by a quote from Kurt Vonnegut's classic novel Slaughterhouse-Five. Explaining the reasoning behind this title, the thesis students stated, "In order to protect themselves from contaminants and to mend broken branches, trees produce resin which will, under special circumstances, fossilize into amber. During the fossilization process, any plants, insects or other material trapped inside the resin are immaculately preserved. In Kurt Vonnegut's Slaughterhouse-Five, amber is a symbol that represents a fixed point in time, and the people who share the experience of that time are like bugs trapped in the amber." Similarly, the Mississippi State University Bachelor of Fine Art Thesis Show could be compared to the process of something of the moment stilled in timeless amber. "In the Amber" is the manifestation of each student's college career, showcasing 16 unique and personal bodies of work covering into one location and time.
Show and reception details
"In the Amber" will be on display from Sat., April 28 through Wed., May 2, 2018. Between five and 15 works by each student will be exhibited in the Department of Art Gallery in McComas Hall, the MSU Welcome Center's Cullis-Wade Depot Gallery and the CAAD Visual Arts Center Gallery (808 University Drive, Starkville). Each space will house five to six different students' bodies of work. An opening reception will be held on Sat., April 28 from 2 – 4:30 p.m., starting in the Department of Art Gallery in McComas Hall, moving on to the other two locations at 3 and 3:45 p.m. respectively. Introductions of all the students will begin at 2:30 p.m. in McComas. This reception is open to the public, and food and drinks will be provided. View a map of all the exhibits.
Student artists represented by over 100 works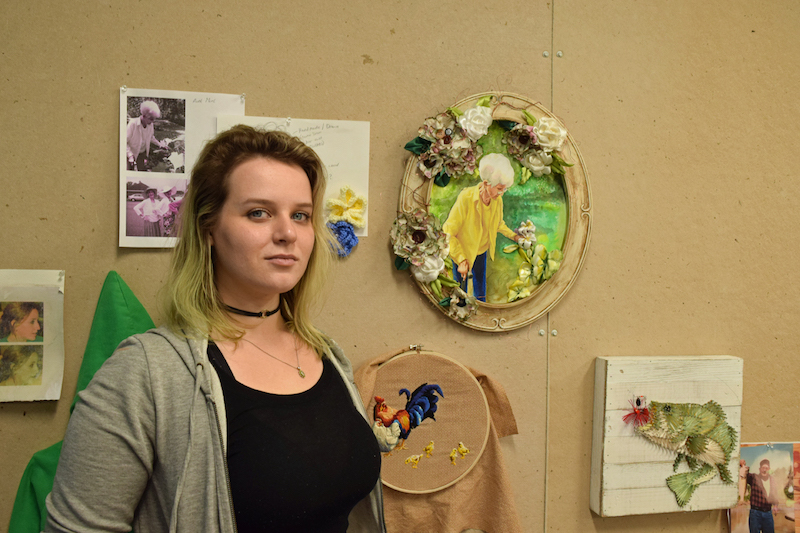 In October of 2017, Victoria Allgood of Madison experienced the death of two very important people in her life. With no time to mourn, she channeled the memories of her lost family members into her thesis work. Allgood's mixed media work combines portraits and photos of her deceased family with everyday objects in order to capture the presence of each individual. Through her thesis, she has been able work through her emotions surrounding these tragic events.
As a Christian, student and MSU football player, Tré Braswell of Olive Branch calls attention to student athletes and Christianity through four large-scale oil and acrylic paintings. His paintings depict both male and female athletes from a variety of MSU sports. Braswell feels he and other student athletes have been limited in their ability to express their faith during the sports they play for the university, and his work brings light to this issue.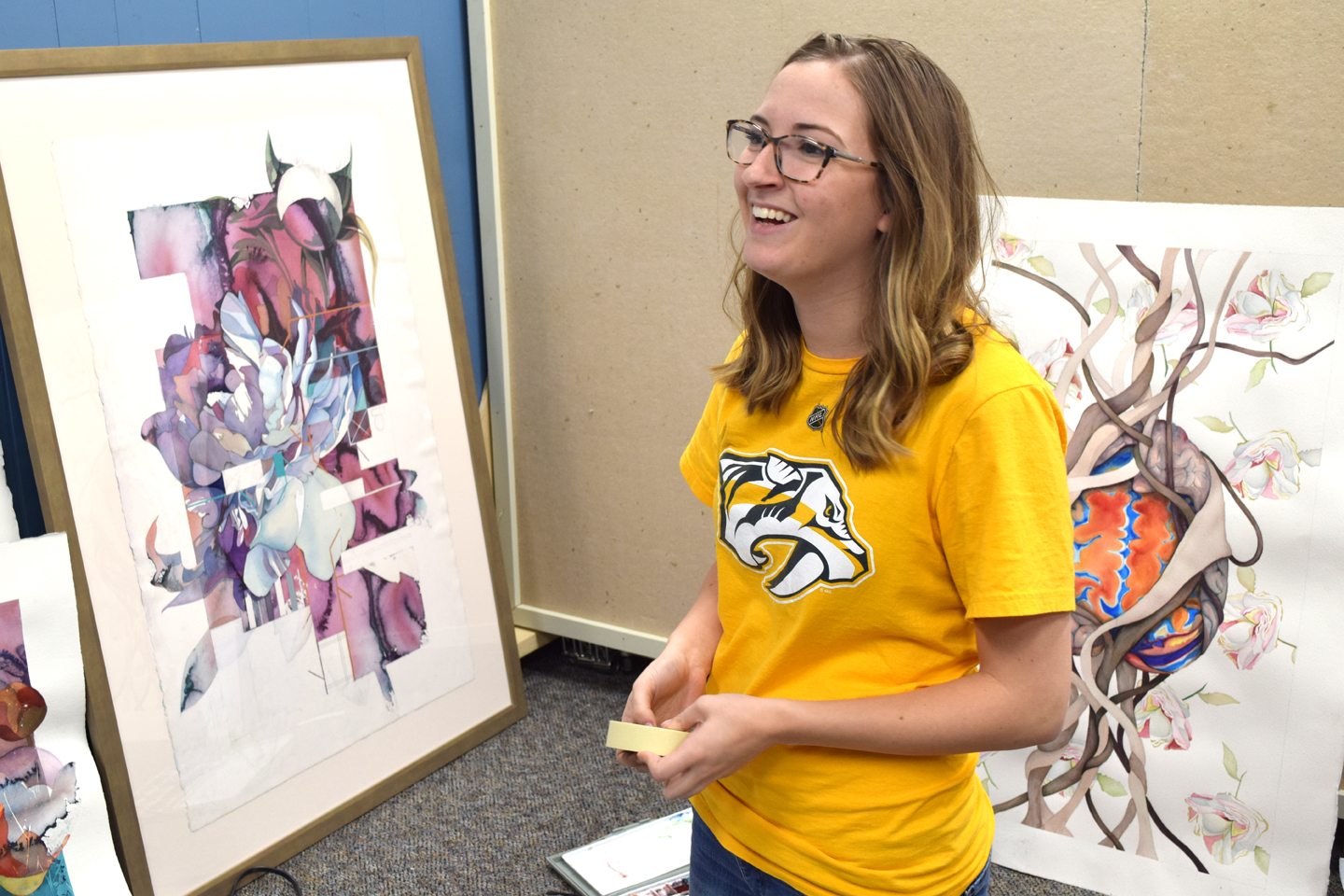 Combining art, science and religion using watercolor, Claire Burgett of Nashville, Tenn., reveals her world to the viewer through the peony. Representing herself, the peony highlights the patterns created by God and nature. With the addition of collages and geometric patterns, Burgett gives new meaning and life to a simple flower.
In his series of intaglio prints, Alex Cayson of Tupelo, depicts himself exploring ancient ruins and encountering various mythical beings. Each piece focuses on a specific ancient culture, and the shape and color of each work is made to resemble various artifacts. His work captures the excitement of exploration, the wonder of discovery and the arcane beauty of ancient ruins.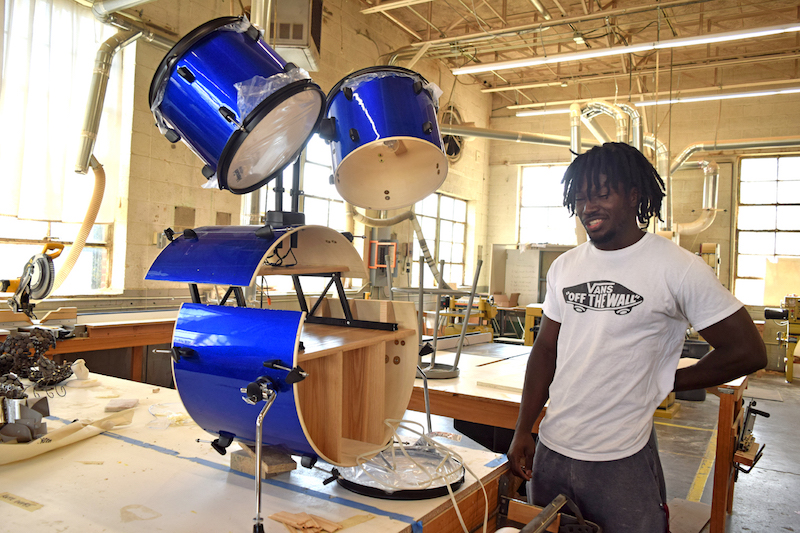 Coming from a musical family in New Albany, musical instruments have always been a part of Darren Cheairs's life. His interest in these instruments, however, lies in exploring ways they can serve a purpose other than making music. Cheairs's thesis consists of several sculptural works that cause viewers to reconsider the function of an object.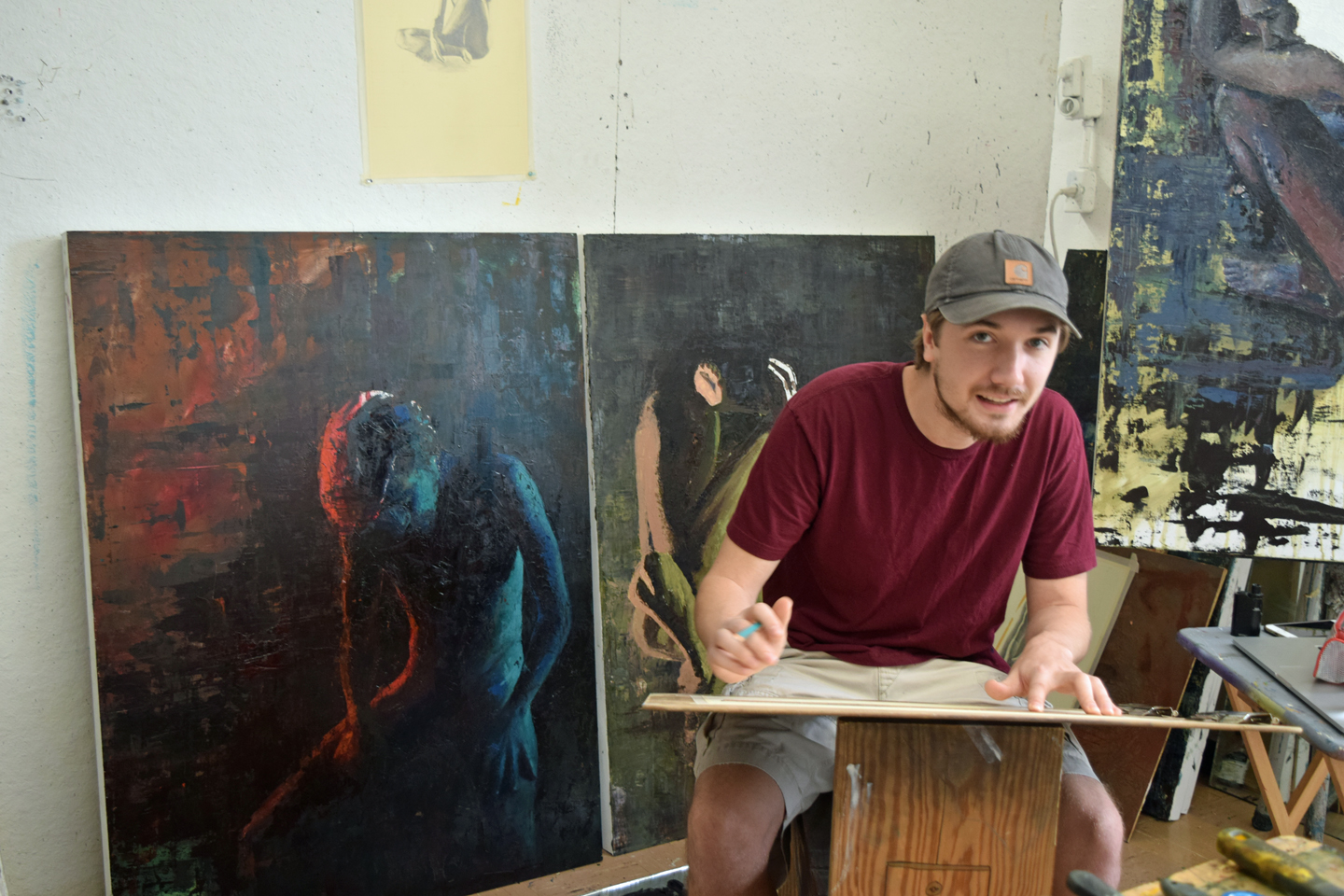 From Kosciusko, Madison Cheek's series of paintings centers around his mental space which he depicts as an abstracted cavern in various atmospheric color schemes. Following several years of suffering from depression, he now considers his mental space as "a more peaceful grotto of self-reflection and progress." By exploring the relationships between his past, present and future selves, Cheek's work has helped him find meaning in the unnamable emotions that linger after going through depression.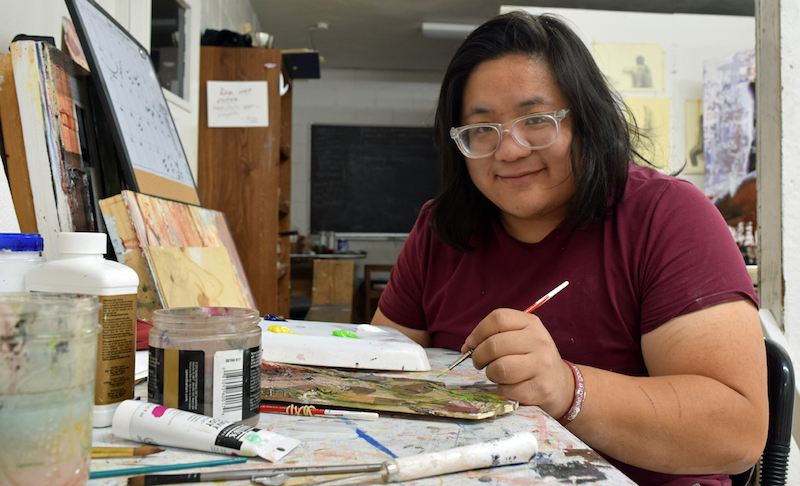 Daniel Clark of Tupelo presents a body of work that uses abstract imagery to inspire a discomfort that he considers his norm. Made from a variety of media such as acrylic paint and glaze, modeling paste, charcoal and colored pencils, his heavily textured works lure viewers into experiencing unpleasant feelings.
Drawing on her Cambodian heritage, the works of Isabelle Cottrell of Starkville are dedicated to the refugees, survivors and victims of the Khmer Rouge—a genocide in Cambodia that killed 2 million people. By including traditional Cambodian textiles in her mixed media work, Cottrell creates pieces that represent the artifacts that are still embedded in the ground and trees at the Killing Fields in Cambodia.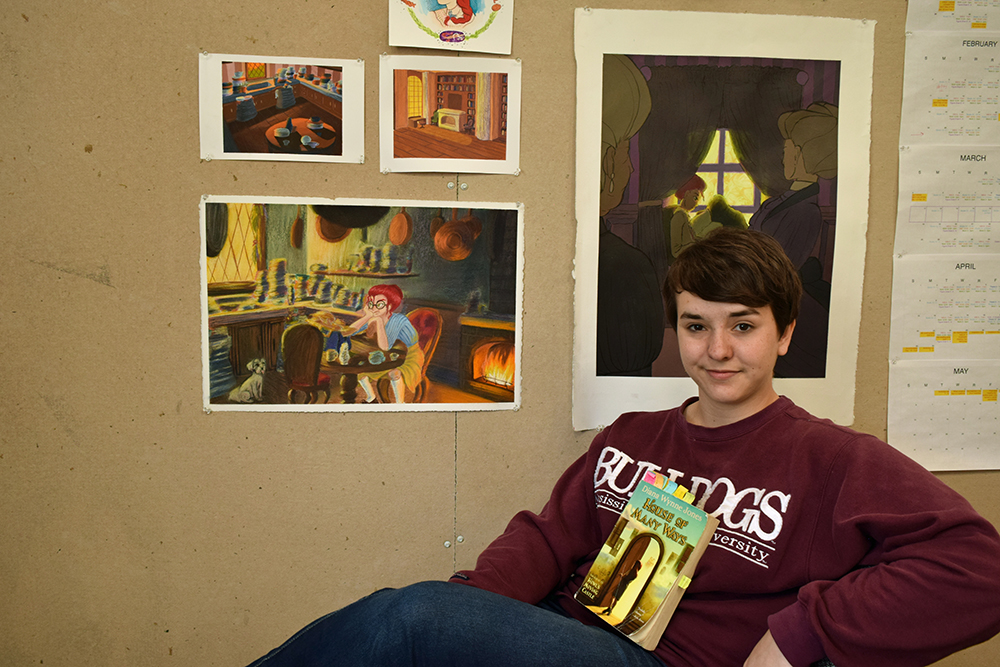 Inspired by the visual development and concept art of animated films, Phoebe Fitzgerald of Decatur, Ala., has created a body of work utilizing both traditional and digital media. This body of work consists of concept art and visual development for an imagined animated film based on House of Many Ways by Dianna Wynne Jones, a favorite book from her childhood. Fitzgerald's work imbues the characters and environments from the story with life, color and vivacity in order to inspire love for and interest in the stories that inspire her.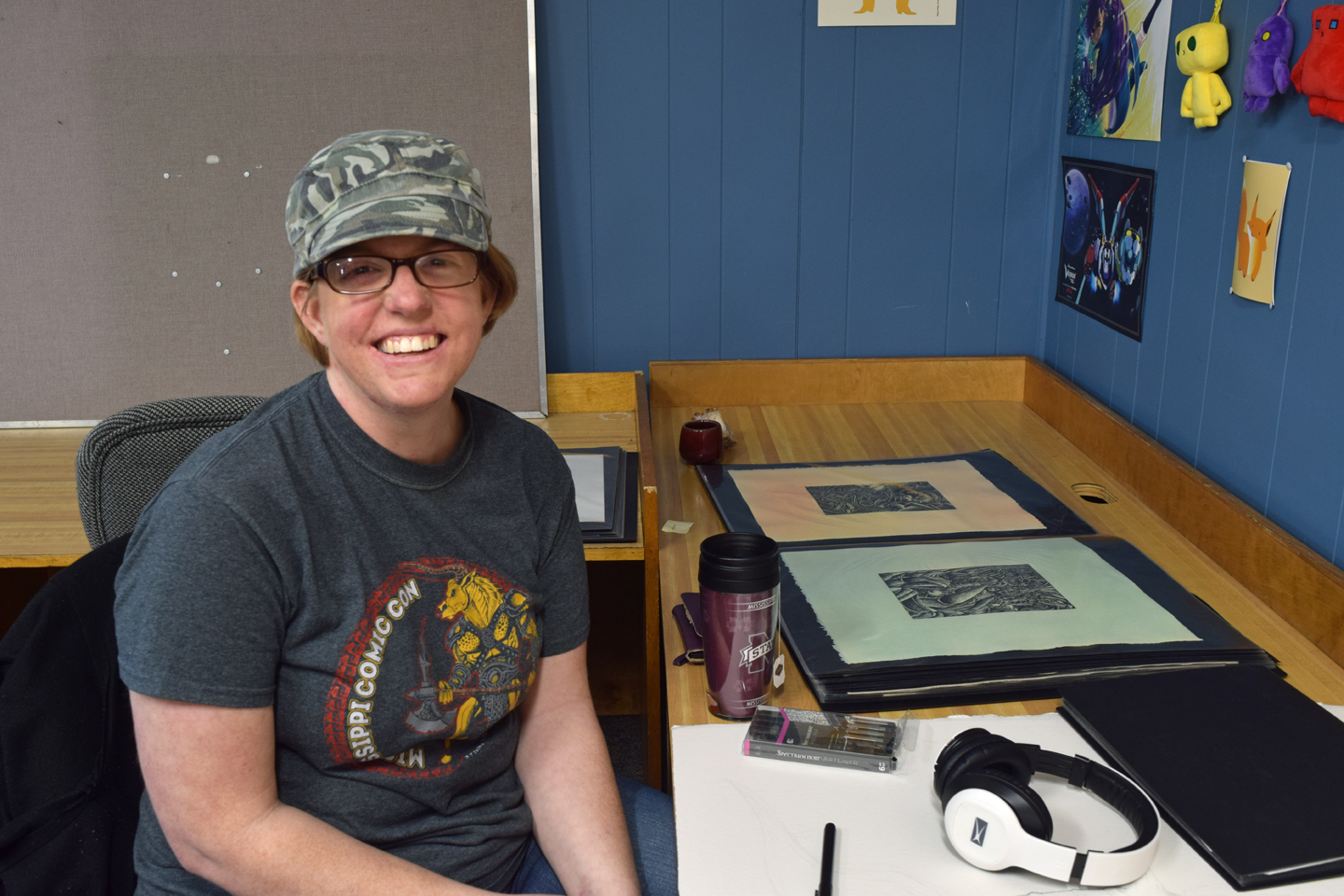 From Summit, Nicolette Johnson depicts an original story inspired by classic Greek myths through a series of intaglio prints. Set in the fictional underworld of the kingdom of Kingzvire, her story presents a retelling of Persephone's and Hades's forbidden love. Her characters experience adversity on their journey that serves as a parallel to the tests everyone experiences in their own lives.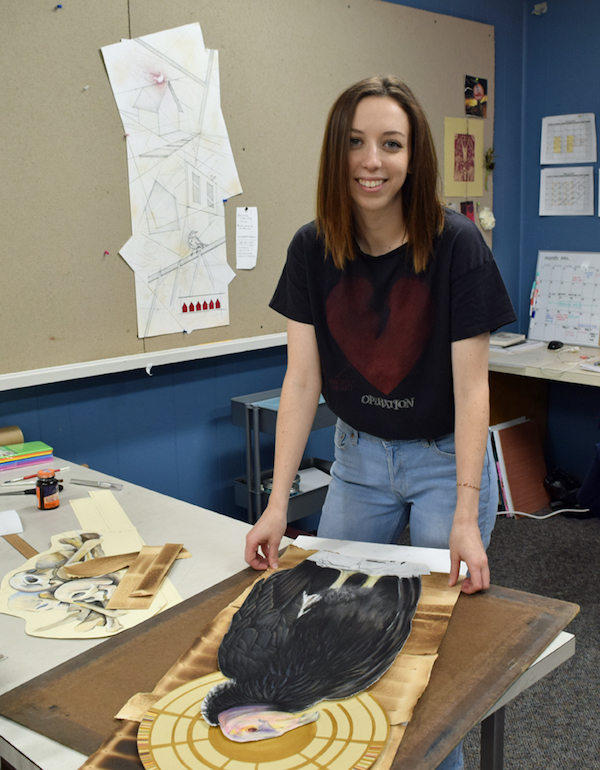 Through her mixed media drawings, Jordan Knight of Brandon brings light to endangered species of birds in America. Her pieces, which require intense research, combine the unique aspects of each bird—such as their color, wingspan and environment—into a cohesive drawing that gives a voice to these beautiful, yet, endangered birds.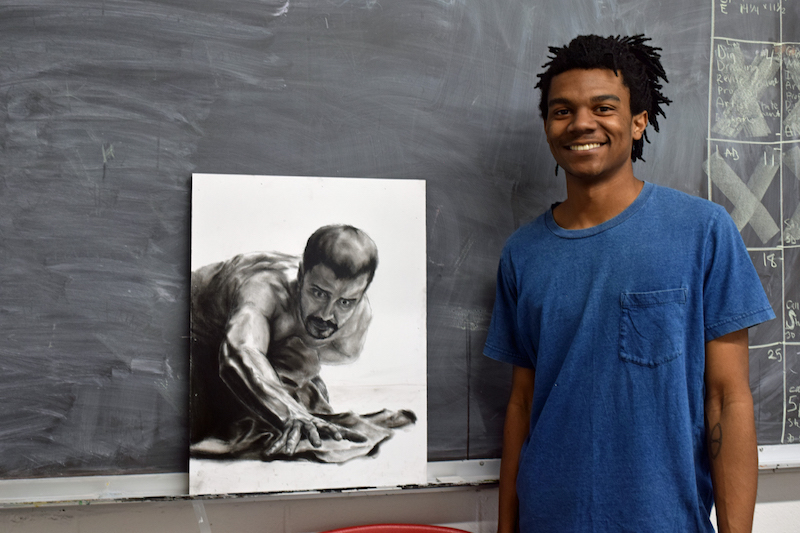 From Flowood, Justin Mayfield enjoys arranging models, photographing them and constructing their portraits. The portraits of the characters in his thesis series personify the cardinal sins of this life. Mayfield's portraits are made with charcoal, which allows both a smooth transition of value across the form and a deep, contrasting black that creates "a most abysmal void."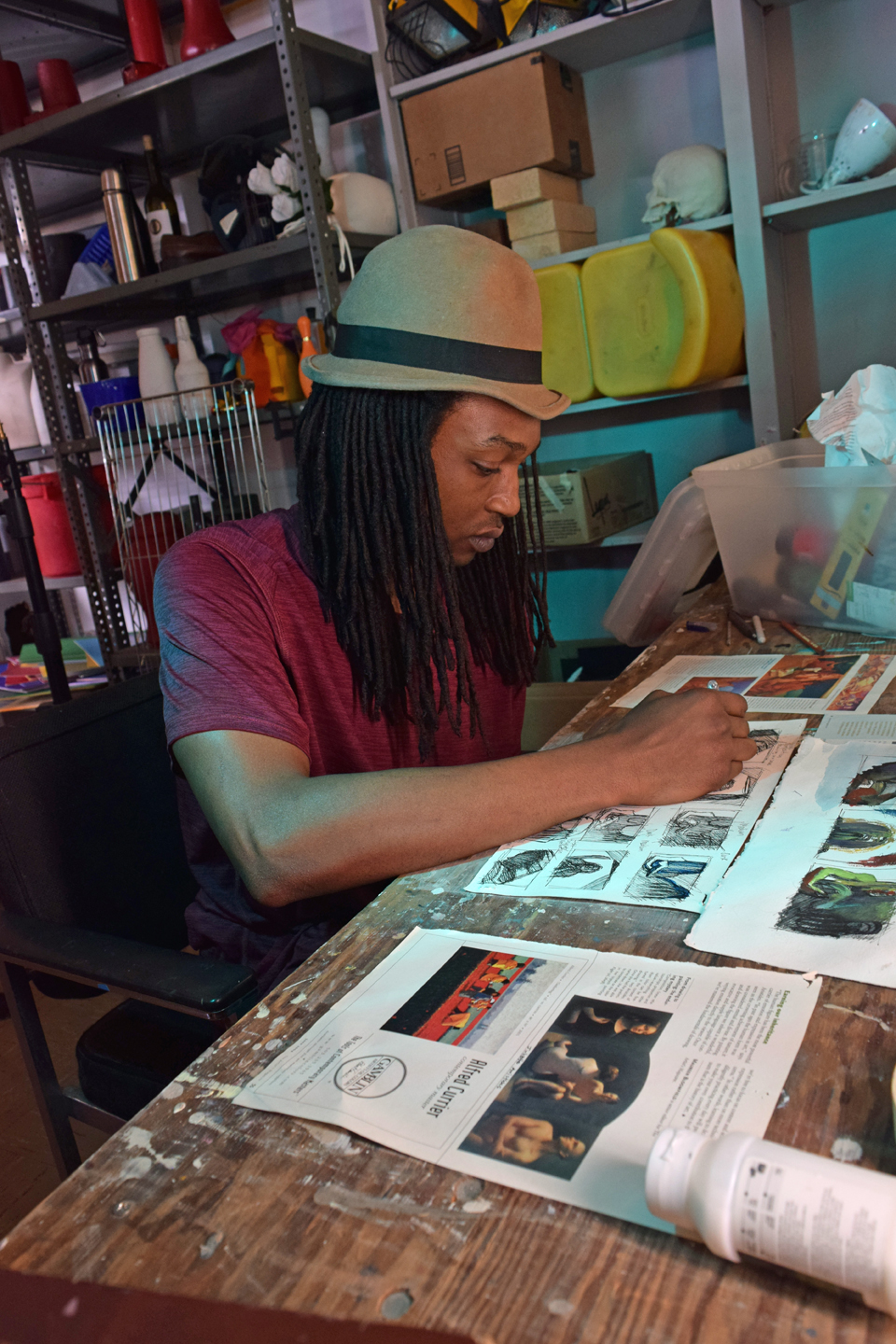 Vernon McCoy of Jackson uses his work to visualize the lifelong obstacles he has faced in his journey to lead his family out of financial oppression and limited education. His thesis reflects the "path of sunlight shining through a storm" that he lived through as a poor child who is now a college graduate and business owner. His paintings utilize strong lighting, self portraiture, emotional color and perspective to create compositions that express his life experiences.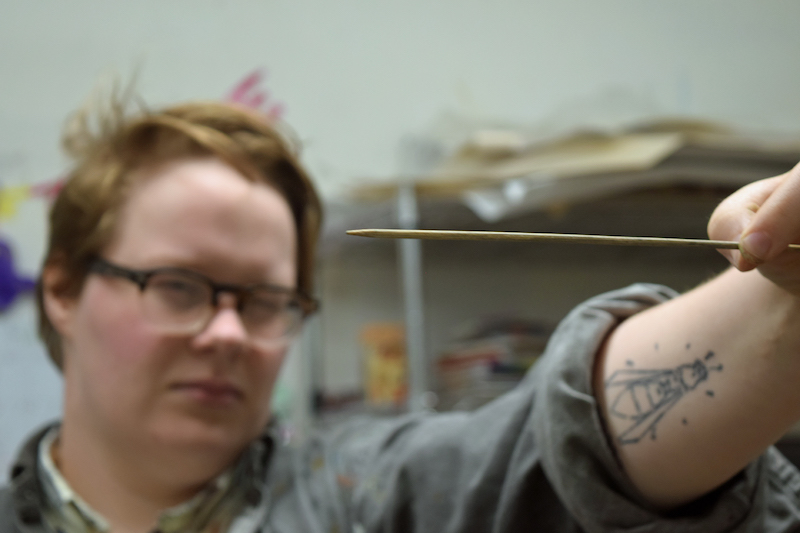 Inspired by film photography from various eras, Carly Melton of Clinton employs the inherent sentimentality, honesty and nostalgia of family snapshots in a series of acrylic paintings. Melton's paintings feature a cast of characters and settings that depict a personal narrative of closeted trans-masculine identity. The process of creating this body of work proved extremely cathartic to Melton.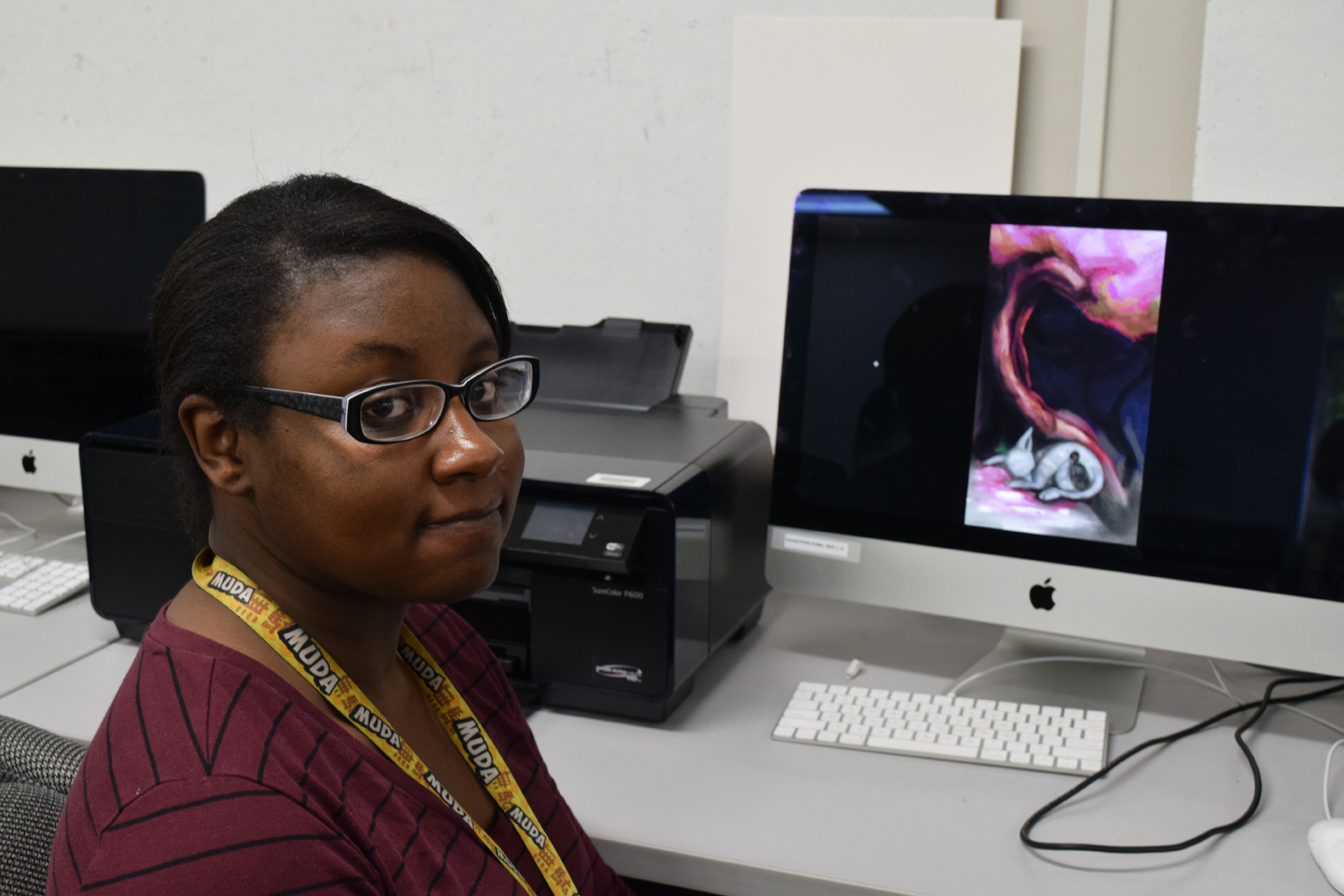 In her series of digital illustrations, Kristan Williams of Ocean Springs depicts two characters as they episodically travel together through a challenging landscape. Inspired by the films of Hayao Miyazaki, the works are an exploration of themes of companionship and self-discovery.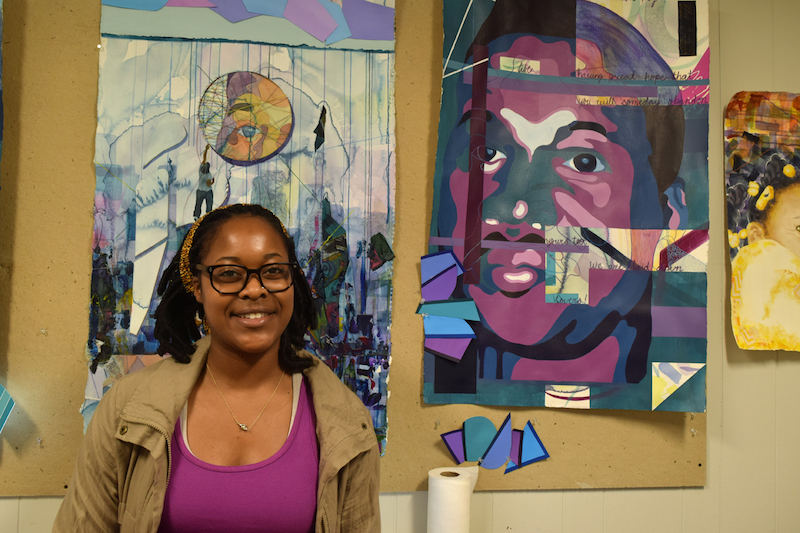 Through her watermedia works, Shawna Williams of Hattiesburg combines her love of music and her identity as a Christian. Throughout her life, Shawna has used music and art to help her cope with difficult family situations. Her works express the different challenges she has faced during these situations through a unique language of musical and visual terms, forms and mediums.
Art Department celebrating its 50th anniversary
The BFA Fine Art Thesis Exhibition is part of a required sequence of professional preparation courses in Advanced Studio, Senior Research and Senior Thesis courses for the art major in the fine art concentration at Mississippi State University. A program in the College of Architecture, Art and Design, the Department of Art is the largest undergraduate program in the state of Mississippi, currently celebrating its 50th anniversary in 2018.
Contact: Brent Funderburk, Professor and Senior Fine Art Thesis Coordinator/bfunderburk@caad.msstate.edu/662-325-2970.
Read the story at msstate.edu.