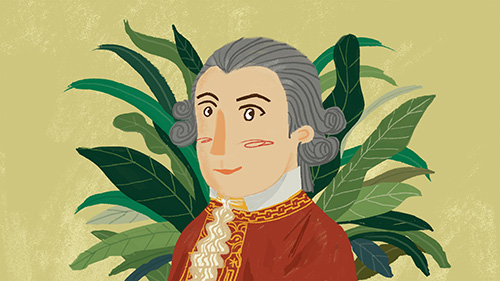 On April 6 and 7, the Mississippi State University Opera Workshop program is hosting family-friendly performances of scenes from Wolfgang Amadeus Mozart's operas. (Original illustration by Ginnie Hsu)
By Sasha Steinberg | Mississippi State University
Under the direction of internationally acclaimed soprano Roza Tulyaganova, the Mississippi State University Opera Workshop is hosting two performances of scenes from Wolfgang Amadeus Mozart's operas.
The family-friendly performances take place at 7:30 p.m. April 6 and 7 at First United Methodist Church's Connection Center. General admission tickets are $10 for adults and $5 for children and MSU students with ID. Tickets may be purchased in advance by contacting Cathy Evans in the Department of Music at 662-325-3070.
The downtown Connection Center is located a short distance east of the church at the intersection of East Lampkin and South Washington streets in Starkville.
Considered by many to be some of the greatest vocal compositions, Mozart's operas touch on a wide variety of topics—love, loss, intrigue, class conflict and passion—and are as relevant today as when they were written. Combining scenes from four of Mozart's major operas, "Dreaming of Mozart" tells the story of two young people who, after getting lost in the woods and falling asleep, wake up to find themselves within Mozart's operas.
"Roza Tulyaganova has created a story that connects the scenes in a way that allows the audience to enjoy and follow the story without knowing the synopses of the operas themselves," said Ryan Landis, MSU voice instructor. "Originally written for orchestra, this production will feature the MSU Faculty Wind Quintet."
Throughout the program, original illustrations by students in MSU's Department of Art will be projected on a screen behind the performers. The illustrations were completed under the guidance of MSU Assistant Professor Shih  "Ginnie" Hsu.
A native of Uzbekistan, Tulyaganova is an MSU assistant professor of voice and opera. The Opera Workshop program provides music majors and non-majors with opportunities to perform a wide variety of opera, musical theatre and operetta music.
Recent Opera Workshop productions include a fully staged performance of the Baroque opera "Dido and Aeneas"; well-known Broadway musicals "Ragtime," "Guys and Dolls" and "Into the Woods"; and "Bulldogs on Broadway," a Cabaret performance produced by Mississippi Opera in Jackson.
For more Opera Workshop information, contact Tulyaganova at rozat@colled.msstate.edu.
Part of MSU's College of Education, the nationally accredited Department of Music is online at www.music.msstate.edu, as well as Facebook, Twitter and Instagram @MSStateMusic.
MSU is Mississippi's leading university, available online at www.msstate.edu.