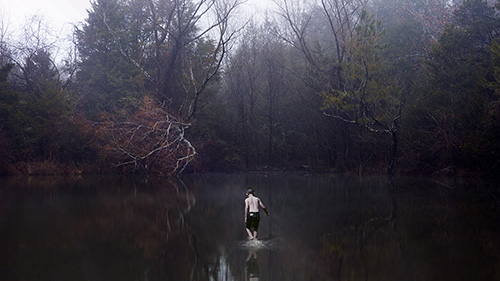 "Pond," an ink jet print from Dominic Lippillo's "Stories We Tell Ourselves" series
By Sasha Steinberg | Mississippi State University
A faculty member in Mississippi State University's College of Architecture, Art and Design is being recognized for his role in advancing Southern vitality through the arts.
Dominic Lippillo, an associate professor in the university's Department of Art, is among nine visual artists from around the region receiving a $5,000 State Fellowship from Atlanta, Georgia-based nonprofit South Arts. In addition to Mississippi, this year's recipients represent Alabama, Florida, Georgia, Kentucky, Louisiana, North Carolina, South Carolina and Tennessee.
Selected from nearly 700 visual artists by a panel of four jurors, the State Fellowship recipients now are in consideration for the South Arts Southern Prize, which includes $25,000 and a two-week residency at the Hambidge Center for the Creative Arts and Sciences in Rabun Gap, Georgia. One fellow also will be named a finalist and receive a $10,000 prize.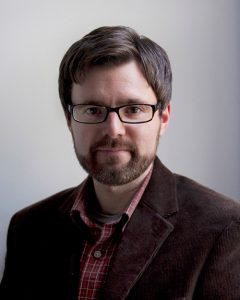 All of the award winners will be recognized at an April 16 ceremony in New Orleans.
Now in their second year, the South Arts State Fellowships and Southern Prize mission is to celebrate and support the highest quality artistic work being created in the American South. Visual artists living in South Arts' nine-state region and producing crafts, drawing, experimental art, painting, photography, sculpture, mixed media and multidisciplinary work are eligible to apply. For more, visit www.southarts.org.
"We are very proud to support Southern artists," said Susie Surkamer, executive director of South Arts. "These State Fellows reflect the richly diverse arts and culture of our region, and each offers a distinct viewpoint with their work and background. The Southern Prize and State Fellowships are an important vehicle for artistic and professional growth of artists in the South."
An MSU faculty member since 2010, Lippillo earned his bachelor's in photography from Youngstown State University in 2005 and master's in photography from Ohio University in 2009. Digital photography and photography survey are among courses Lippillo has taught at MSU.
Lippillo's solo and collaborative work addresses ideas pertaining to memory, space and place, and vernacular photographic images. His photographs are included in the permanent collections of the Museum of Photographic Art; The Museum of Fine Arts, Houston; and universities of Alabama and North Dakota.
His work also has been published in the journal "Exposure" and in the supplement of images accompanying Bruce Warren's textbook "Photography: The Concise Guide" (2nd Edition, March 2011). Lippillo's other honors include a 2013 MSU Faculty Research Award and 2016 Mississippi Arts Commission Fellowship. For more, visit https://dominic-lippillo.pixpa.com.
Celebrating 50 years at MSU, the Department of Art is home to the Magnolia State's largest undergraduate studio art program. Learn more at www.caad.msstate.edu and follow on Facebook, Twitter and Instagram @CAADatMSU.
MSU is Mississippi's leading university, available online at www.msstate.edu.