By Sasha Steinberg | Mississippi State University
STARKVILLE, Miss.—Iconic works from the archives of a historic Nashville letterpress print shop are on display through March 2 at Mississippi State University's Visual Arts Center Gallery.
Free to all, the exhibition in the gallery at 808 University Drive in Starkville features vintage and contemporary posters from Hatch Show Print, the "Music City"-based shop housed in the Country Music Hall of Fame and Museum.
Since 1879, HSP has worked to educate diverse audiences by creating and sharing a vast collection of well-known designs commemorating America's evolving identity. The company's first print job was a handbill announcing the appearance of Rev. Henry Ward Beecher, brother of Harriet Beecher Stowe, author of "Uncle Tom's Cabin."
HSP has created handmade posters for musicians such as the late, legendary African-American jazz and blues entertainers Duke Ellington and Louis Armstrong, as well as show posters for country music icons including the late Johnny Cash and Willie Nelson. The shop's print work in the 21st century has expanded to designs for vinyl record covers, packaging and books. For more, visit http://hatchshowprint.com.
VAC Gallery hours are 1-5 p.m., Monday-Friday, and 1-4 p.m., Saturday.
A 5-6 p.m. reception will take place Thursday, Feb. 15, at the VAC gallery. Refreshments will be available, and all are welcome.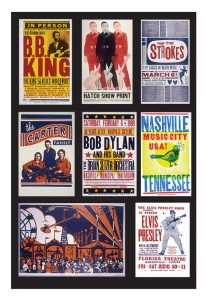 Celene Aubrey, manager of Hatch Show Print, will give a 12:30 p.m. public presentation Friday, Feb. 16, in the Fazio Jury Room at Giles Hall, home to MSU's College of Architecture, Art and Design.
Lori Neuenfeldt, the MSU Department of Art's gallery director, expressed appreciation for Professor and Graphic Design Coordinator Jamie Mixon and other departmental colleagues who assisted in making the exhibition and related programs possible.
For more information, contact Neuenfeldt at 662-325-2970 or LNeuenfeldt@caad.msstate.edu.
Learn more about MSU's College of Architecture, Art and Design and its Department of Art at www.caad.msstate.eduor follow on Facebook, Twitter and Instagram @CAADatMSU.
MSU is Mississippi's leading university, available online at www.msstate.edu.