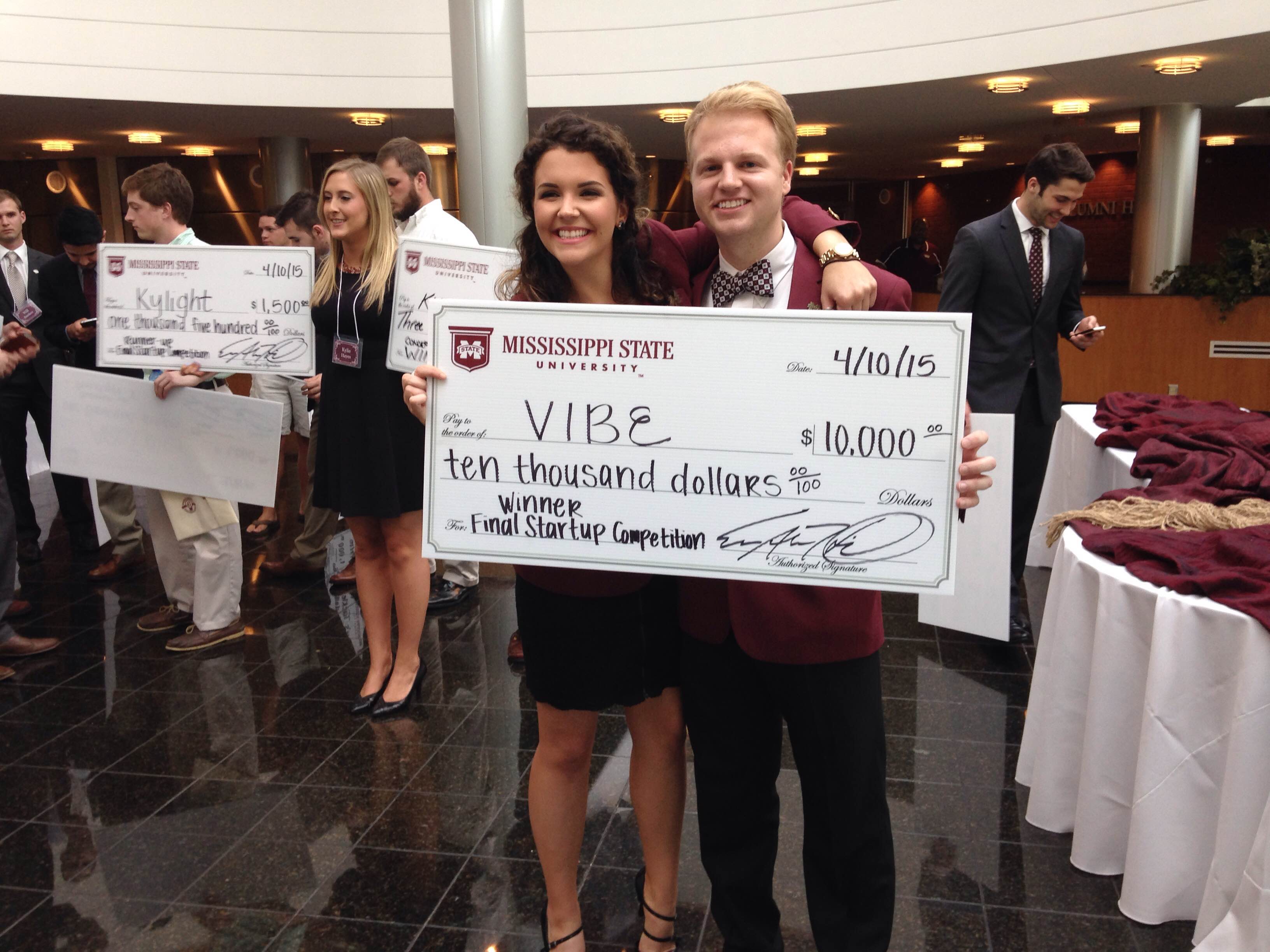 Kaylie Mitchell (left) and Hagan Walker shown when they won a competition with the university's E-Center that helped them get their company Glo started.
Glo plans to shine in new home on Lampkin Street
By: MARY RUMORE | Starkville Daily News
 
A Starkville business recently moved in to a new home downtown after its humble beginning in a closet three years ago.
Glo is a line of liquid-activated, glowing cubes used as drink enhancers. Glo also partnered with Musee to create bath bombs with a glowing cube inside.
The company was founded by Mississippi State University students Hagan Walker and Kaylie Mitchell in 2015.
"My cofounder, Kaylie, and I, were both students at State," Walker said. "She was in graphic design and I was in electrical engineering, and this was one of her classroom projects. The idea behind it was to create a conceptual company that drew your eye to the product, and Kaylie always said, 'If it lights up, people are going to look at it.'"
Walker said he helped make the product liquid-activated, and the pair won $15,000 in an entrepreneurship competition at MSU through the E-Center.
"When we first started, our first prototypes were made in my walk-in closet in a house I was renting in town," Walker said. "Then we moved to the Research Park and had a very small office over there. Then we were in the Partnership building for a little while before we moved here."
Glo's new location had been empty for about a year before the company began leasing the building from owner Rick Underwood, who owns Rick's Furniture, Walker said.
The front space in the new building will be used for office space for the Glo team and for retail space. A small back portion of the building will be used for inventory and supplies. A larger area in the back of the building will be used by young entrepreneurs from MSU to rent while they start their new businesses.
"Kaylie and I ran into this issue when we first started," Walker said. "We couldn't afford rent anywhere, and the university had to help us. Our idea is you start at the E-Center, then if you want to pursue your idea you come here, and then you'll move down to some space they have at the Partnership. This whole thing is us trying to give back to Starkville."
Glo will host an open house at 4 p.m. Jan. 26 to celebrate their new headquarters and release their newest product, glowing bath toys for children.
"It's been crazy. Literally we started our first prototype in a closet three years ago," Walker said. "To go from 10 square feet to 5,000 plus is pretty cool. And a lot of people like the story of Glo, but we want to tell them about the space in the back and how we want other young people to stay in Starkville as well."
While the Glo cubes are made in China, all the packaging and printing is done in-house in Starkville. Glo currently employs five people and has several interns throughout the semester, Walker said.
"Some of them are internships, but thinking that we're creating jobs for people is really cool," Walker said.