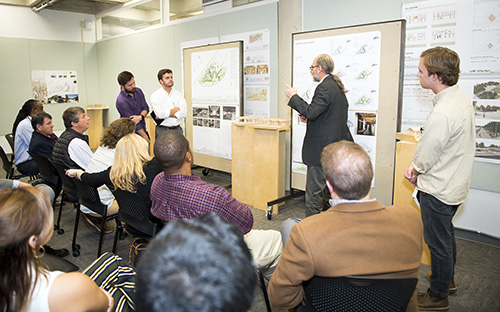 By Sasha Steinberg | Mississippi State University
Mississippi State's Fred Carl Jr. Small Town Center has collaborated with students in the university's College of Architecture, Art and Design to reimagine a popular site in Ripley as part of a proposed master plan for the Tippah County town.
Director Leah F. Kemp said the STC began work on the Ripley master plan this past August. For the project, the center solicited help from MSU Assistant Professor Fred Esenwein's fourth-year architecture studio class to generate ideas for the 50-acre First Monday Trade Days and Flea Market site in Ripley.
Throughout the fall semester, Esenwein's students worked in groups to develop a master plan featuring cohesive structures for the site, which has brought together craftsmen, artists, farmers, ranchers and other community members for more than 120 years. Ripley residents and STC staff also provided feedback to students over the course of the project.
Kemp said the architecture students received words of praise while recently presenting their completed projects to Ripley stakeholders at the Fred Carl Jr. Small Town Center in MSU's Giles Hall. The center will incorporate the students' design recommendations into a master plan fostering economic growth and community development in Ripley and Tippah County as a whole.
"The Small Town Center is a valuable resource for the School of Architecture as it provides a meaningful way to link students to communities and their needs," Kemp said. "It also provides students with the opportunity to engage in public interest design."
Asher Paxton, a senior architecture major from Murfreesboro, Tennessee, was among students who participated in the STC project. He enjoyed interacting with Ripley residents and stakeholders on-site, as well as during their recent visit to the Starkville campus.
"For us architecture students, having the clients come to our fourth-year studio review to critique our work was super beneficial," Paxton said. "It helped us think about the site in a real-world way."
Greenwood resident Fred E. Carl Jr., a major Mississippi State benefactor and the Fred Carl Jr. Small Town Center's namesake, founded and served as the first president and CEO of nationally recognized Viking Range Corp. A one-time architecture major at MSU, he endowed the university's statewide community design outreach program in 2004.